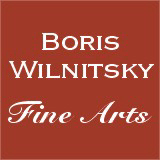 SALE!!! SAVE MONEY !! 1 EUR = 1 USD
# 40596
August Grahl (1791-1868) "Portrait of a Young Lady", Large Miniature from Schidlof Collection!!
5900 EUR
FINAL DISCOUNT PRICE= 5900 USD
( for EUR price see date rate )
Please note: Shipping and insurance costs are not included in this promotion, ONLY ITEM PRICES!
(please note additional 13% tax applies for transactions concluded within the European Union)
THE SELLER WILL COVER SHIPPING WITH REGULAR MAIL FOR THIS ITEM!

A typical large portrait miniature by the very well-known German miniaturist August Grahl.
August Grahl (1791 Proppentin/Mecklenburg - 1868 Dresden) was one of the most important European miniaturists and the best German miniaturist of the 19th century. He studied from 1811 at the Berlin Academy of Fine Arts, took part in 1813 as a "Black Hussar" in the battles of the Napoleonic war (came back home as an officer) and in 1816 received his first commission to copy a portrait of the Prussian King Friedrich Wilhelm III after a painting by Gerard.
In 1817-1818 Grahl travelled in Italy (Rome, Florence, Milan), in 1821 (after the death of his first wife) went to Vienna and then again to Italy: Venice, Bologna, Florence and Rome. He stayed in Rome until 1830 and lived there together with his friend Julius Schnorr von Carolsfeld in Palazzo Caffarelli as a guest of the German ambassador von Bunsen. In 1830 he came back to Berlin and in 1831 went to England. In Windsor the artist portrayed Queen Adelaide and many members of the court society. From 1832 he was again in Berlin and in 1835 settled in Dresden where he lived until his death.
According to Lemberger, Grahl´s miniatures can be divided into three groups:
1) originals, which came into possession of the sitters
2) replicas, which he painted for himself and kept
3) sketches in which only the head was painted.
After his stay in England (1831), the artist followed a contemporary trend there and used very large ivory plates adding a piece of wood or pasteboard to the edges of the plate (in size up to 40 by 40 cm / 15.7 by 15.7 inches !!).
Works by Grahl can be seen in the museums of Dresden, Karlsruhe and Nantes and in many important high noble collections. Among his sitters were such famous personage as Tsarina Maria Fedorovna of Russia, Countess Potocka, Poniatowski, Architect Schinkel, Queen Pauline of Wuerttemberg, Laetitia Bonaparte, Louis Bonaparte, Queen Hortense de Beauharnais, Queen Christine of Spain, Felix Mendelssohn, etc.
Provenance: Collection Leo R. Schidlof ; Claudia Hill, London, Collection Dr. Georg Fischer (Vienna)

28dec15
Condition: Good
Creation Year: ca 1850
Measurements: UNFRAMED:12,7x9,7cm/5,0x3,8in FRAMED: 14,0x10,8cm/5,5x4,3in
Object Type: Framed painting
Style: Portrait miniatures
Technique: watercolor on ivory
Inscription: -
Creator: August Grahl
To see other works by this artist click on the name above!
Creator Dates: 1791 Proppentin-1868 Dresden
Nationality: German
2-3 days door-to-door shipment, professionally packed by Mail Boxes Etc and shipped with DHL (calculated for US): 91,03 EUR + insurance 1,8% of item price
Shipping cost to other destinations (worldwide) on request
Shipping price may be reduced if you dispense with the frame


Cheaper alternative (may be further reduced if you dispense with the frame): professionally packed by Mail Boxes Etc and shipped with regular Austrian mail - upon request under office@wilnitsky.net (OBS: In this case maximal refunded insurance value is EUR 500 if shipping destination was the US. In Europe sometimes more, depending on destination.)
Click here for images free of watermark!
Click on images or on

to see larger pictures!