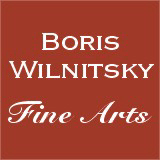 SALE!!! SAVE MONEY !! 1 EUR = 1 USD
# 40589
Josef Grassi (1757-1838) "Portrait of a young lady", important miniature!!, ca.1800
6000 EUR - 25% DISCOUNT = 4500,00 EUR
FINAL DISCOUNT PRICE= 4500,00 USD
( for EUR price see date rate )
Please note: Shipping and insurance costs are not included in this promotion, ONLY ITEM PRICES!
(please note additional 13% tax applies for transactions concluded within the European Union)
THE SELLER WILL COVER SHIPPING WITH REGULAR MAIL FOR THIS ITEM!

Although it is unsigned, we are strongly convinced that this miniature, with a portrait of a young lady with landscape in the background, is an absolutely authentic work of the famous neoclassical portraitist, Josef Grassi. A comparison with his other works (for example, see our first additional image of the illustration of one of Grassi's works from a Russian art book and second with illustration from Nora Keil "Die Miniaturen der Albertina in Wien") convincingly confirms this statement.
Josef (Maria Giuseppe) Grassi was born in Vienna on 22. April 1757, as the younger brother to the sculptor and porcelain modeller Anton Grassi. Their father, Ottilio, was a goldsmith from Udine, Italy. In 1768, aged 11 (!), he began studying at the Vienna Academy of Fine Arts, and very soon achieved great success, especially among women, as a skilled portraitist, miniaturist and later as painter of larger portraits in oil. Nevertheless, at the end of his studies, in 1791, he felt that he was being treated unfairly at the Academy when he lost a competition for a travel scholarship; hence he took the advice of some friends who were Polish nationalists and moved to Warsaw. There he became a teacher of Teresa Jablonowska and established himself as a successful portrait painter. On the recommendation of Jean-Baptiste Lampi, he even got the vacancy of a painter at the court of the Polish King Stanislaus August II and advanced to the favourite portraitist of Polish court and high aristocracy.
In 1791 the Vienna Academy elected him member of Academy for his portrait works.
When the Kosciuszko Uprising broke out in 1794, he was able to leave the battle zone through mediation of Kosciuszko, whose portrait he had painted. Together with his pupil Johann Niedermann who also stayed in Poland during that time he returned to Vienna.
1797 was obviously the year of Grassi's first visit in Castle Sagan in Silesia (now Zagan, Poland). Later stays at the castle followed. The Duchess Wilhelmine von Sagan is supposed to be the person who helped Grassi to commissions and to an Academy professor title (1799) in Dresden, where he taught along with Anton Graff. He took two leaves of absence during his stay in Dresden, one to Gotha in 1804 where he decorated a bedroom for Duke August of Saxe-Gotha-Altenburg, painted portraits of the Duke and his wife and scenes illustrating literature works of the Duke, and another to Rome from 1808-1810 as a member of the Accademia di San Luca. From 1816 to 1821 he stayed in Rome again, serving as the "Director of Studies for Saxon Artists in Italy". At that time, however, the Nazarene movement came into vogue, and his work was ignored so he returned to Dresden. Here, he lived a secluded life without any official job, and died on 07. January 1838.
He was a bearer of the Grand Cross of Saxonian Civil Order and had a title of "Geheimer Legationsrat" (Privy Legation Councilor) which he obtained from Duke August of Saxe-Gotha-Altenburg.


Provenance: Collection Dr. Georg Fischer (Vienna)

28dec15
Condition: good, in original brass standing frame
Creation Year: ca 1800
Measurements: UNFRAMED:7,0x6,0cm/2,8x2,4in FRAMED: 8,5x7,5cm/3,3x3,0in
Object Type: Framed watercolor
Style: Portrait miniatures
Technique: Watercolor and gouache on ivory
Inscription: -
Creator: Josef Grassi
To see other works by this artist click on the name above!
Creator Dates: 1757 Vienna-1838 Dresden
Nationality: Austrian / German
2-3 days door-to-door shipment, professionally packed by Mail Boxes Etc and shipped with DHL (calculated for US): 81,89 EUR + insurance 1,8% of item price
Shipping cost to other destinations (worldwide) on request
Shipping price may be reduced if you dispense with the frame


Cheaper alternative (may be further reduced if you dispense with the frame): professionally packed by Mail Boxes Etc and shipped with regular Austrian mail - upon request under office@wilnitsky.net (OBS: In this case maximal refunded insurance value is EUR 500 if shipping destination was the US. In Europe sometimes more, depending on destination.)
Click here for images free of watermark!
Click on images or on

to see larger pictures!