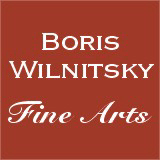 If you have a question about this item,
please contact us at: office@wilnitsky.net
# 39971
Hans Zatzka (pseudonym "C. Briand") "Beautiful gardeners", two oil on panel paintings, early 20th c.
Price: EUR
(please note additional 13% tax applies for transactions concluded within the European Union)
SOLD!!!

Alike our web #39555, these two oil paintings made with oils on mahagony panels and signed "C. Briand", are original works of well-known Austrian decorative artist, Hans Zatzka. The subject matter of both works, as well as their compositions, shapes and sizes are all very typical for the latter's works. Also, the use of mahogany panels (as painting base) presents strong evidence of Zatzka's authorship. In other words, the fulfillment of all of the above criteria allows us to maintain that we are dealing with a 100% authentic work of the famous Viennese decorative painter of La Belle Epoque, Hans Zatzka. The signature "C. Briand" is not the name of any actual French artist, but another one (thus far unknown to art historians) of pseudonyms of this 1st-class painter (for example, "J. Bernard" - see our web # 35593 and our image nr.18, "Joseph Bernard", "Pierre de Ronsard", "Zabateri", "Bernard Zatzka"). We become further convinced after examining a number of other (available on the Web) paintings (see our images nr.21-29) that are all signed "C. Briand" and, just like "our" painting, demonstrate Zatzka's typical style and quality of execution.
We would like to add that the multitude of Zatzka's pseudonyms could be explained by his inexhaustible resourcefulness. According to the author of Wikipedia article about Zatzka (see our images nr.19-20), the artist always painted his works without making preparatory ones, i.e. directly on the painting base.
In about 1906, Zatzka was discovered by Adolf May, who was the owner of the Dresden "Bilderfabrik" (paintings factory). The great quantity of this kind of "bed-room" paintings which Zatzka made for Adolf May and later for Berlin wholesale dealer Felix Freund (he delivered two paintings every week) explains use of artist's different, "French-sounding" pseudonyms (Zatzka's works must have numbered in hundreds in those years). This action was needed in order to appease wealthy buyers, otherwise distrustful of too many works of the same artist overflowing the marketů
Hans Zatzka (1859 Vienna - 1945 Vienna) was a very well-known Austrian decoration, still life and religious painter. He studied in 1877-1882 at the Vienna Academy under Griepenkerl, Wurzinger and Blaas and was active as church altar painter in various Austrian churches, many of the works being still present in the churches. As decoration painter he favoured subjects from Wagner's operas and mythological scenes.


CLICK HERE, to see other works of Hans Zatzka.

Provenance: private estate, France

mimai28ap15
Condition: fairly good
Creation Year: early 20th Century
Measurements:UNFRAMED:52,0x26,0cm/20,5x10,2in FRAMED: 69,0x44,0cm/27,2x17,3in
Object Type:Framed oil paintings
Style: La Belle Epoque
Technique: both: oil on mahagony panel
Inscription:both: signed with pseudonym "C. Briand"
Creator: Hans Zatzka
Creator Dates: 1859 Vienna-1945 Vienna
Nationality:Austrian
SHIPPING COSTS UPON REQUEST:
office@wilnitsky.net
Click here for images free of watermark!
Click on images or on

to see larger pictures!