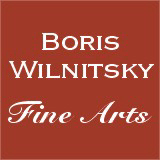 SALE!!! SAVE MONEY !! 1 EUR = 1 USD
# 39968
Anton Karlovich Vighi-Attrib. "Glorification of Mitropolit Michail", important oil painting!!, 1821
14000 EUR
FINAL DISCOUNT PRICE= 14000 USD
( for EUR price see date rate )
Please note: Shipping and insurance costs are not included in this promotion, ONLY ITEM PRICES!
(please note additional 13% tax applies for transactions concluded within the European Union)
Here, with an almost 100% possibility we are dealing with a (unique for the current antique market) work of well-known Russian decorative and religious painter of Italian origin, Antonio (in Russia - Anton Karlovich) Vighi (see our images nr.20-21 and 24). This relatively small oil painting is superior in quality and stylistically extremely close to works of this artist (see comparison images nr.24-34).
This work (it was listed under the name ""Apotheosis of a monk" by the auctioneers of French auction house "Binoche"; see provenance below amd our image nr.38) turned out to be an allegory of glorification (or rather the Ascension!) of Mitropolit (English: Metropolitan) Michail (secular name - Matphei Michailovich Desnitski; 1761-1821), who died on March 25, 1821 in St. Petersburg, and who was from April 7, 1818 the Head of the Russian Holy Synod (see our images nr.15-17; also CLICK HERE).

Besides Mitropolit himself, the viewer's attention is drawn to two other important figurative groups:

1) the three figures (see image nr.5) perched atop a cloud (lower left corner) above the roofs of St. Petersburg (among them, the dome of St. Isaacs Cathedral - see image nr.4). They are (from right to left, respectively):
a) Tsar Alexander I (immediately recognizable, although he is depicted with his back to the viewer; see also our comparison image nr.18)
b) Widowed Empress Maria Fedorovna (mother of Alexander I and his siblings).
c) Crown Prince, Grand Duke Nikolai Pavlovich (Alexander I' younger brother and future Tsar Nikolai I)

and

2) the multi-figured group with the Orthodox Patriarch on the front, placed above the three aforementioned members of Romanov family (see image nr.6). This group is a symbol of the Russian nation: among the figures, one recognizes those of Peter the Great and his wife Catherine I, as well as those of "kupetz" (merchant) and warrior (Kuzma Minin and Prince Dmitry Pozharsky - see our comparison image nr.19), etc.

These two figurative groups are gazed at in awe by three archangels hovering above them in the sky (image nr.7).

The figure of Mitropolit (aided by his congregation (image nr.3) he is ascending into heaven) is juxtaposed by a group of sinners (lower right corner - image nr.8) on their way to purgatory.


Antonio (Anton Karlovich) Vighi (1764 France - 1844 St. Petersburg) was a graduate and later member of the Accademia di San Luca in Rome. In 1799 (some sources imply 1797), on invitation of Tsar Paul I, Vighi went to work in St. Petersburg on decorations of Michailovsky Castle. There, he produced plafonds for the Oval and Arabesque Halls and (together with Pietro Scotti) the ceiling and wall paintings of the Raphael Gallery. In 1806, he was granted a membership at St. Petersburg Academy for his painting "Belisarius with an Attendant" (1805; see our image nr.25). In the same year, Vighi returned to Rome (he arrived there on November 15, 1806) and remained there until July 4, 1807. He then went back to Russia (see our image nr. 22 and CLICK HERE ). While in Rome, he obviously painted (or perhaps even brought with him) his self-portrait, for it was presented by him at his alma mater, Accademia di San Luca (see our image nr. 23).
Again in Russia, he became acquainted with Italian architect Carlo (Karl Ivanovich) Rossi, who was living in St. Petersburg at that time. Basing his work on the latter's drafts, Vighi (together with Rossi's nephew Giovanni Battista Scotti (see our web # 29338)) made interior decorations for Yelagin Palace in St. Petersburg (1822), Michailovsky Castle (White Column Hall, Chapel; 1823-1825), and interiors of the Foreign Office, etc.
In 1818, 1827/28 and after 1837, Vighi decorated interiors of the Winter Palace (Malachite Room, Hermitage Museum); in 1824 - Ekaterininsky Palace in Tsarskoe Selo; in 1832 - St. Petersburg Imperial Theater. He also decorated interiors of Yusupovsky Palace.
He also painted portraits of Yu. P. Litta (see our image nr. 35), Peter the Great (sic! - see our image nr. 36), Alexander I (sic! - see our image nr. 37), G.A. Potemkin, etc.

Yet, in Russia, Vighi was especially known as an icon painter (CLICK HERE ), who worked in the manner of Italian Old Masters. He made icons on either metal or canvas (sic!) for St. Nicolas Chapel of Yelagin Palace, St. Michael Chapel of Michailovsky Castle, as well as for number of St. Petersburg cathedrals: Knyaz-Vladimirsky (St. Vladimir's) Cathedral (Novosiltsevskaya Church), Transfiguration Cathedral (Spaso-Preobrazhensky), Church of the Holy Martyr Georg in the General Headquarters building on Palace (Dvortsovaya ) Square (iconostasis), Church of Tsarevna Alexandra at Alexandrinskaya Womens Hospital (iconostasis), Church of St. Archangel Michail on Gorokhovaya Street (iconostasis), etc., etc. He also made traveling iconostasis for Tsar Nikolai I (non-extant). His icons could also be seen outside of Russia: for instance, in Greco-Russian Alexander Nevsky (Alexandrovsky) Cathedral in Warsaw.
It is very likely that our small (virtually icon-sized) painting was made soon after the death of Mitropolit Michail, as early as 1821, for the Dukhovskaya Church (or Church of the Holy Spirit, on the territory of Alexander Nevsky Lavra in St. Petersburg), erection of which begun on the initiative of Mitropolit in the last year of his life and where he was burried after his death .

Provenance:
1.) Probably Dukhovskaya Church (Alexander Nevsky Lavra, St. Petersburg)
2.) Chapel of a noble castle (residence of a family with Russian background?) in Sologne area (region Centre, France)
3.) Auction house "Binoche", Orleans / France, March 14, 2015, lot 59 (see our image nr.38); erroneously attributed to French artist Francois Joseph Heim (for comparison, see our image nr.39 explaining this wrong attribution)

mimai27ap15
Condition: good; in original frame
Creation Year: 1821
Measurements: UNFRAMED:36,2x24,8cm/14,3x9,8in FRAMED: 48,2x36,8cm/19,0x14,5in
Object Type: Framed oil painting
Style: 19th century Russian paintings
Technique: oil on canvas
Inscription: inscribed in pencil on strecher: P.Guerin (pre-owner's name?)
Creator: Antonio (Anton Karlovich) Vighi
To see other works by this artist click on the name above!
Creator Dates: 1764 France-1844 St. Petersburg
Nationality: Italian / Russian
SHIPPING COSTS UPON REQUEST:
office@wilnitsky.net
Click here for images free of watermark!
Click on images or on

to see larger pictures!