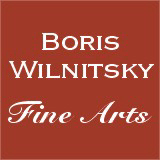 SALE!!! SAVE MONEY !! 1 EUR = 1 USD
# 39897
Boris Deutsch (1892-1978) "Clown", drawing, ca. 1925
850 EUR - 25% DISCOUNT = 637,50 EUR
FINAL DISCOUNT PRICE= 637,50 USD
( for EUR price see date rate )
Please note: Shipping and insurance costs are not included in this promotion, ONLY ITEM PRICES!
(please note additional Austrian VAT tax applies for transactions concluded within the European Union)
Boris Deutsch was born in Krasnogorka, Jewish shtetl in Latvia (at that time - province Kurland of the Russian Empire) on June 4th 1892. He began drawing at the age of five. When he was still a young boy, his family settled in Riga (now Latvia), where he went on to attend Bloom Academy of Art and Polytechnic School. At the age of 17 he came to Berlin, where he attended the School of Applied Arts (Kunstgewerbeschule) for a few months. Back in Riga, shortly thereafter, he was drafted into the Russian tsarist army and sent off to serve (as a private) in Kiev.
Soon after the outbreak of war, his troop was ordered to move to the Caucasus. Deutsch could not whatsoever come to terms with prospect of himself- a young Jewish man from distant Latvia with poor Russian skills - being killed in this "someone else's" war, instead of becoming a professional artist, what he always dreamt of. Therefore, he made a spontaneous decision, which he immediately carried out. First, he forged a pass that allowed him to leave the barracks, borrowed some money from friends, and, having changed into civil clothes, took off. He proceeded to send his mother a telegram, in which he asked her to meet him in Vilna (present day Vilnius, Lithuania). Further, he took a train to Vilna without carrying any identification and constantly at risk of detention by military patrols. His mother accompanied him to Riga and hid him there for some time, until she was able to procure false papers for him. These documents allowed Deutsch transit to Harbin, China, where he spent some time, until in 1916 he traveled (via Japan) to the US and settled in Seattle.
He lived there until 1920 earning his bread with commissioned art works. When his parents came to the US as well, the family moved to Los-Angeles, and the artist went on to support himself with commercial art and movie set designs. He also taught painting at the Otis Art Institute in Los-Angeles. In the early 1930s, he was associated with the Federal Project, sketching workers as they resettled onto farms.
During the late 1930s he received several mural commissions from the WPA, including Hot Springs, New Mexico Post Office, Reedley, California Post Office, and 11 murals in the Los-Angeles Terminal Annex Post Office. He continued drawing, painting and printmaking for decades until he died on January 16th 1978 in Los-Angeles.
Works of Boris Deutsch are housed in Carnegie Institute, National Museum of American Art, Los-Angeles County Museum of Art, Scribal Museum, Pomona College Museum of Art, Metropolitan Museum of Art, San-Diego Museum of Art, etc.
mimai05ap11
Condition: fairly good
Creation Year: ca 1925
Measurements: UNFRAMED:19,2x9,2cm/7,6x3,6in FRAMED: 30,2x23,0cm/11,9x9,1in
Object Type: Framed drawing
Style: Art Deco
Technique: indian ink on paper, laid on mount on upper corner
Inscription: monogrammed: B.D.
Creator: Boris Deutsch
To see other works by this artist click on the name above!
Creator Dates: 1892 Krasnogorka-1978 Los-Angeles
Nationality: Russian / Jewish / Latvian / American
2-3 days door-to-door shipment, professionally packed by Mail Boxes Etc and shipped with DHL (calculated for US): 115,93 EUR + insurance 1,8% of item price
Shipping cost to other destinations (worldwide) on request
Shipping price may be reduced if you dispense with the frame


Cheaper alternative (may be further reduced if you dispense with the frame): professionally packed by Mail Boxes Etc and shipped with regular Austrian mail - upon request under office@wilnitsky.net (OBS: In this case maximal refunded insurance value is EUR 500 if shipping destination was the US. In Europe sometimes more, depending on destination.)
Click here for images free of watermark!
Click on images or on

to see larger pictures!