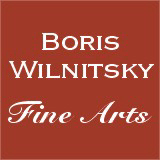 SALE!!! SAVE MONEY !! 1 EUR = 1 USD
# 38700
Lucian Lyudvigovich Lantier (1879-1960) "Portrait of a Russian Lady", oil on canvas, ca. 1910
3200 EUR
FINAL DISCOUNT PRICE= 3200 USD
( for EUR price see date rate )
Please note: Shipping and insurance costs are not included in this promotion, ONLY ITEM PRICES!
(please note additional 13% tax applies for transactions concluded within the European Union)
An extreme rarity at the current antique market, it is a "Russian" work of well known Russo-French artist Lucien Lantier.
Painted (according to sitter's dress and hair-style) about 1910 (as we will see below, from 1909 the artist spent five years in his native Russia), this superior quality female portrait offers another proof of its Russian origin: note the Orthodox icons and cross hang on the wall in sitter's background.
It is difficult to say where exactly this portrait had been made, for, after a short stay in Odessa (1909), the artist first moved to Moscow and then to St. Petersburg…
Lucien Louis Bernard (in Russia: Lucian Lyudvigovich) Lantier (in Russian phonetic transcription - Lant'e) was born on the 27th of July 1879 in Odessa (then - part of the Russian Empire; now - Ukraine) as a son of a French couple living in this city: the co-owner (together with his brother Jules) of Odessa's best clothing shop in Ekaterinskaya Street No. 9 (CLICK HERE), Louis Auguste Marie (in Russia - Lyudvig Augustovich) Lantier and his wife, Elisabeth Lucie Juliette, nee Romquaud. In 1889, when the boy was 10, his parents sent him to Paris to study at the prestigious Lycée Janson de Sailly. In 1897, he received his bachelor's degree from this institution.
Parallel to his studies at the Lycée, he attended the Parisian l'Ecole des Beaux-Arts. A fine draughtsman, Lantier aspired to continue his art studies and soon returned to his parents to Odessa, where for the next three years he studied painting under one of the city's best artists, Kiriak Kostandi.
In 1900, after reaching the age of 21, he was (as a French citizen) drafted into the military service in France. He then promptly returned to France and served there until 1903.
In 1904, he began attending the l'Ecole Supérieur des Beaux-Arts in Paris, where he became a pupil of Gabriel Ferrier. In 1908, he debuted at the Salon de Paris.
In 1909 he once again returned to his native Odessa. After a several months stay (in this period he exhibited with the Union of South-Russian Artists; see our image nr.10), he went to Moscow and, thereafter, to St. Petersburg. Everywhere he went, Lantier took part in various exhibitions.
One of the paintings he exhibited at that time was noticed by the wealthiest man of the Russian Empire, member of the Royal Family, Prince Felix Yusupoff. This concurrence helped Lantier to get introduced to the Nikolai II' court, for which he produced a great deal of portraits.
At the onset of WWI, he hurried back to France, in order to join the fight against Germany. In December 1915 he was wounded and (until August of 1916) remained under hospital care in Bourgoin-Jallieu by Lyon. During this period, on the 23rd of June 1916, he married Helene Anaïs Henry. However, after the birth of their son in 1917, the couple got a divorce.
During the same period, Lantier had also written eight novels, two of which were dedicated to war. At that time, his friend, the artist Emile Chapotat, financially supported him. Lantier's own success reached him when the state acquired for the Museum of War three of his drawings shown at the Exhibition of Combatants in Paris. This occurrence aided in his 1917 appointment as a graphic artist at the American General Head-Quarters.
At the end of WWI he returned to Paris and proceeded to paint a cycle of paintings with scenes from Bessarabian (Romanian) life that he witnessed as a child. In 1923, he settled in Verdun. In 1927, he stayed in Longwy, where he too had produced a large number of paintings. In 1936, he was appointed director of Princerie-Museum in Verdun.
In 1940, for fear of life (he was a Jew), Lantier and his second wife had to leave Paris. They settled in Branoux-les-Taillades, department Gard, region Languedoc-Roussillon, yet, already in 1942, they had to flee again. Until 1944 they lived in a peasant house in the Provence. After the war, the family returned to Branoux, where the artist died on the 21st of April 1960.
Our image nr.12 shows one of his paintings offered at the international art auction market in the last years. Also, CLICK HERE.

Provenance: French private collection

misept09ap14
Condition: good; one minor patch on verso (professionally restored dot-like hole; nothing is visible on the front of the painting)
Creation Year: ca 1910
Measurements: UNFRAMED:67,7x56,2cm/26,7x22,1in FRAMED: 85,0x74,0cm/33,5x29,1in
Object Type: Framed oil painting
Style: 19th century Russian paintings
Technique: oil on canvas
Inscription: signed: Lucien Lantier
Creator: Lucien L. Bernard Lantier
To see other works by this artist click on the name above!
Creator Dates: 1874 Odessa-1960 Branoux
Nationality: French / Russian / Ukrainian
SHIPPING COSTS UPON REQUEST:
office@wilnitsky.net
Click here for images free of watermark!
Click on images or on

to see larger pictures!