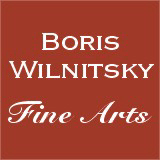 If you have a question about this item,
please contact us at: office@wilnitsky.net
# 38630
"Moritz von Liechtenstein, Commander of Austrian 2nd Uhlan Regiment", important miniature!!, 1801/05
Price: EUR
(please note additional 13% tax applies for transactions concluded within the European Union)
THIS ITEM IS NOT AVAILABLE (SOLD)!

Formerly in Collection A. Bogdanowicz in then Polish town Lwow (in 18/19th century Austrian Lemberg, now West Ukrainian Lviv), painted by early 19th century Austrian or German artist this miniature portrait of anonimous uhlan officer (initially thought to be a Prussian) turned out (due to found on Web (CLICK HERE) very interesting article by Moscow uniformologist Stanislav Lyulin (web-nickname "Prussian Leib-Hussar")) to be a portrait of an officer of the Austrian 2nd Uhlan Regiment "Prince Schwarzenberg". His hair-style corresponds to fashion of early 1800s; monogramm "F II" on his cockade (see image nr.4) is that of Kaiser Franz II who in 1806 lost his crown of Holy Roman Empire and became Kaiser Franz I of Austria (respectively with monogramm "F I"). As Mr. Lyulin convicingly argues, the color of officer's regimental on this miniature was iinitially green; actual blue color is in reality a regenerated green one!!
Besides that the sitter bears red-white-red ribbon for Knight Cross of Austrian Military Order of Maria-Theresia what helps to find his name among the bearers of this high award.

Our image nr.10 shows clips from the well-known refference book "Die Reiter-Regimenter der k. k. österreichischen Armee", Wien 1866. In the article about 2nd Uhlan Regiment we find the decisive information - in the period between 1800 and 1809 only one officer of this regiment was a bearer of the cross of Maria-Theresian Order. His name was Prince Moritz von Lichtenstein (1775-1819); from 1800 to 1805 he was (in rank of a colonel) commander (!) of this regiment; his Knight Cross of Maria-Theresian Order he obtained on 18th August 1801, being then 26-year-old!
And as we look (see our image nr.13) at his portrait from 1816 (i.e. 12-15 years later; he is depicted as already chief of 6th Curassier Regiment) we nevertheless immediately recognize our sitter!

Moritz Joseph Johann Baptist Prince von und zu Liechtenstein was born on 21 July 1775 in Vienna as a second son of Field-Marshal Prince Karl von Liechtenstein (1730-1789) and his wife Marie Eleonore von Oettingen-Spielberg (1745-1812). In 1772 he entered military service as Unterleutnant in the 1st Carabinier Regiment "Sachsen-Teschen" No.5. In July 1776 he became Major and Flügel-Adjutant to Erzherzog Carl. Two years later (1798) he was promoted to Oberstleutnant (lieutenant-colonel) in 2nd Uhlan Regiment "Prince Schwarzenberg". On 25-26 March 1799 he fought at Stockach; here, the Austrian advance guard was cut off by the French in the wood at Orsingen; Liechtenstein gathered the remnants of the Austrian cavalry, charged in the face of two French batteries firing canister and cut his comrades out. On 16 October, Ney's division assaulted the Neckar bridge near Wienheim nine times, but Liechtenstein's rearguard repelled all assaults thus saving the Austrian field hospital, the magazines and the army artillery reserve. Liechtenstein was wounded in this action. At Mösskirch on 5 May 1800, Liechtenstein commanded the advance guard; by a decisive charge against superior enemy cavalry, he saved many of the Austrians from captivity.
In 1800 he was promoted to Oberst (colonel) and appointed Commander of 2nd Uhlans. On 19 December 1800 he saved the Austrian train from capture after the defeat at Hohenlinden, by holding up the French until it crossed the River Traun. Unfortunately, the train was captured later anyway. On 18 August 1801, he was awarded the Knight Cross of the Military Maria-Theresian Order.
On 1 September 1805 the prince received his promotion to Generalmajor (major-general) but unfortunately was captured in the capitulation of Ulm (see our web # 33257). He negotiated with Napoleon, who was impressed with him. He then fought at Austerlitz in the Avantgarde under Kienmayer, commanding the 4t Brigade, 1st Column.
Moritz von Liechtenstein was very distinguished in the 1809 campaign at Hausen on 19 April as a brigade commander in Prince von Hohenzollern's III Corps. He was again wounded, promoted to Lieutenant-Field-Marshal on the field on 27 May. That year he also was made proprietor of Cuirassier Regiment No. 6.
In 1813, he commanded the 1st Light Division; after the Battle of Dresden, he fought a successful rearguard action at Pretschendorf on 28 August and at Pretsch on 10 October, where he stopped Marshal Augereau's advance, causing him 1,500 casualties for 500 of his own. He also fought at Kösen on 21 October and at Hochheim on 9 December.
On 14 February 1814, the prince took Auxerre and advanced along the Rhone on Paris to fight there. On 23-24 February, he was defeated by Baron Auguste-Jean-Joseph-Gilbert Ameli's 12th Light Cavalry Brigade at Troyes. He fought in the allied victory at La Ferte-sur-Aube on 28 February. After the war of 1815 he commanded a division in Austria until his death on 24 March 1819 in Vienna.
We add also, that on 13 April 1806 prince married in Eisenstadt (residence town of Esterhazy family) Princess Leopoldine Esterhazy (1788-1746; see our image nr.14). They had four children (three (all girls) survived).
Provenance:
1) Collection A. Bogdanowicz, Lvov (in the period from late 18th century to end of WWI this town bore the Austrian name Lemberg, between two World Wars the name Lwów in Poland; now - Lviv, Ukraine)
2) private collection, Germany
3) auction house "Leonhardt", Ibbenbueren, North Rhine-Westphalia, Germany

miaug01ap13
Condition: good
Creation Year: 1801/05
Measurements:UNFRAMED:7,2x5,8cm/2,8x2,3in FRAMED: 13,4x10,8cm/5,3x4,3in
Object Type:Framed miniature
Style: Portrait Miniatures
Technique: watercolor and gouache on ivory, laid on mount
Inscription:-
Creator: Austrian/German School
Creator Dates: -
Nationality:Austrian / German
We will cover shipping with regular registered mail (delivery between 7-14 days) for this item.

OBS: Austrian mail refunds cases of loss or damage with maximum EUR 500.


Fully insured 2-3 days DHL service available upon request and subject to extra charges: office@wilnitsky.net
Click here for images free of watermark!
Click on images or on

to see larger pictures!