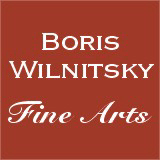 If you have a question about this item,
please contact us at: office@wilnitsky.net
# 38486
Sensational St. Petersburg golden box with miniature by "Russian" Chateaubourg!!, 1800
Price: EUR
(please note additional 13% tax applies for transactions concluded within the European Union)
THE SELLER WILL COVER SHIPPING WITH REGULAR MAIL FOR THIS ITEM!

SOLD!!!!°

This piece was acquired after a "fierce" battle during the telephone bidding (we went as far as offering a bid 50 (!) times higher than the original starting one), despite its very weak photograph in the online sale catalogue (see our image nr.16), at the sale of US auction house "Leslie Hindman" that took place on the 20th of May 2014.
This golden box with Russian marks and a miniature on ivory housed in its lid (the online catalogue entry only mentioned a certain signature but never showed its photograph) turned out to be a real sensation once it reached our gallery in Vienna: the signature was clearly readable - "Chateaubourg p.(inxit) 1800". Moreover, St. Petersburg annual mark of 1800 (see our image nr.11) was the best indication that both the box and the miniature were produced at the same time and were two composites of one commission: the person who ordered this piece intended to present this "love messenger" (cupid with arrow) to the subject of his devotion.
Besides the aforementioned St. Petersburg annual mark of 1800, on the inner side of the lid, we found two other marks, namely one of an unknown goldsmith "AO" (either in Roman or Cyrillic alphabet and not in Postnikova's book) and one Cyrillic "A. Ya" (see our images nr.9 and nr.16) of St. Petersburg assay master Alexander Il'ich Yashinov (or Yashenkov).
Besides that one finds a French import mark for the time span covering 1864-1893 (it was in this particular period that the box left Russia).
This box strongly resembles another St. Petersburg box with miniature by Augustin-Christian Ritt (also showing a child allegorized as angel!), which was sold at Christie's London for over US$ 170,000 - see our image nr.25).
The resemblance of these two miniatures is not a coincidence. Michael Asvarishch writes in his recent article about the author of our miniature (see our images nr.18-23): "De Chateaubourg's brushwork closely resembled that of Ritt, their speed of work and even their age were similar, so De Chateaubourg filled a certain artistic vacuum left by Ritt's death (1799 - B.W.; our images nr.26-27 with similar works of Ritt are good proofs of these words).

Until today there was a quite confusion in biographical information concerning the French miniaturist Charles-Joseph de la Celle, Chevalier de Chateaubourg (1758 Nantes - 1837 ibidem). A number of sources say that the artist lived in St. Petersburg from 1800 to 1805, from where he made trips to Tver and Moscow. Also the sources say that his sitters of this Russian period were exclusively member of high artistocracy and royalties.

An article by the Russian art historian Michael Asvarishch published in 2012 under the title "Emmanuel de la Selle, Chevalier de Chateaubourg (1762-1806)" is drawing a line between two artists bearing the same surname, one of whom really stayed in Russia and the other one did not. In his article (see our last image) Mr. Asvarishch tells about two brothers - Emmanuel de la Selle, Chevalier de Chateaubourg (1762-1806) and his elder brother (so Asvarishch; after a close web research we think they were cousins) Charles-Joseph de la Celle, Chevalier de Chateaubourg. According to the logic of Mr. Avarishch (which we share entirely!) the here presented miniature was painted by Chateaubourg Junior.
Well, Emmanuel Malo de la Selle, Chevalier de Chateaubourg was born on 18 October 1762 in Rennes, France. In 1773 he became a page at court, then in 1778 he began his military service. In 1785, as a sub-lieutenant, he served under Louis Joseph, Prince of Condé in Vendée. After the revolution he joined the Nobiliary Infantry Regiment (le régiment noble à pied) in the Corps of the Prince of Condé. He held the rank of lieutenant when he retired in 1791 and emmigrated to Britain. In the period from 1794 to 1797 he travelled around the German states, growing in fame as a miniaturist until he finally settled in Berlin in 1797. He received portrait commissions from numerous German ruling princes and also from the Prussian Royal family. In 1800 the artist moved to Saint Petersburg where he became one of the most sought after painters among the high aristocracy and royalties. He filled a certain artistic vacuum left by August Christian Ritt's death in 1799. Emmanuel stayed in the Russian capital until his death on 14 April 1806. The author of an obituary included in the edited in 1816 in St. Petersburg edited "Ephémérides Russes Politiques, Littéraires, Historiques et Nécrologiques" strangely calls him by the first name "Dominique Emmanuel" (see our last additional image).
mijun11ap14
Condition: box: very good; miniature: good
Creation Year: 1800
Measurements:UNFRAMED:7,0x7,0cm/2,8x2,8in FRAMED: 7,7x7,7cm/3,0x3,0in
Object Type:box with miniature
Style: Russian portrait miniatures
Technique: box: gold; miniature: watercolor on ivory
Inscription:signed and dated: Chateaubourg p(inxit). 1800
Creator: Emmanuel Malo de la Selle, Chevalier de Chateaubourg
Creator Dates: 1762 Rennes-1806 St. Peterburg
Nationality:French/Russian
We will cover shipping with regular registered mail (delivery between 7-14 days) for this item.

OBS: Austrian mail refunds cases of loss or damage with maximum EUR 500.


Fully insured 2-3 days DHL service available upon request and subject to extra charges: office@wilnitsky.net
Click here for images free of watermark!
Click on images or on

to see larger pictures!