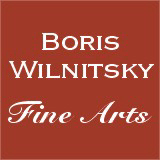 SALE!!! SAVE MONEY !! 1 EUR = 1 USD
# 38363
"Piotr Christianovich Wittgenstein and his wife", two important Russian portraits!, early 19th century
22000 EUR - 25% DISCOUNT = 16500,00 EUR
FINAL DISCOUNT PRICE= 16500,00 USD
( for EUR price see date rate )
Please note: Shipping and insurance costs are not included in this promotion, ONLY ITEM PRICES!
(please note additional 13% tax applies for transactions concluded within the European Union)
We are dealing here with two important (and extremely rare!) portraits of young (probably newlywed) married couple. The portrait of the husband is (as it will become clear below) the earliest known portrait of one of the famous future generals of the Russo-French (Patriotic) War of 1812, Count Piotr Constantinovich Wittgenstein (1765-1843). He is depicted at the visual age of 30/35 (the fact that he bears the neck cross of the Russian Order of St. Anna of the 2nd Class, which he received later than February 7th 1798 (on that date he was awarded the 3rd Class of the same order), indicates that he is portrayed at the age of (at least!) 29!). Additionally, he bears the chest cross of the Russian Military St. Georg Order of the 4th Class (he received this award on January 1st 1795 for the Battle of Ostrolevka during the Polish campaign) and the red sash of the Russian Order of Alexander Nevski added by the artist (the sitter received this order on July 29th 1812; the two copies mentioned above were probably (alike the other two from our web # 38365) made shortly after this date). He wears the uniform of Mariupolski Hussar Regiment (for comparison, see image nr.21), the chief (proprietor) of which he became (while promoted to major-general) on June 20th 1799 (this date thus offers the lower time margin of this representation; *we'll let slip that these two portraits are in fact two early-19th-century copies after two original (as we suppose - miniatures of unknown whereabouts) works that were made 10-15 years earlier (the stylistic criteria of the female portrait strongly resemble that of the works of the artist, who at the turn of the 19th century worked in Silesia (now Poland) and - from 1806 - in Russia, Alexander Moliniari)).

While we have already established the lower time margin of original portrait's execution, the upper margin is provided by Wittgenstein's other awards that are absent from this (and, respectively, from the original (lost) portrait). His next order conferral - as we learn from Count Wittgenstein's biography - took place on January 12th 1806; on this date he was simultaneously awarded St. Georg of the 3rd Class and St. Anna of the 1st Class). However, we are inclined to believe that both original (lost) portraits were made several years prior, for the sitters' wedding took place in 1798 (the bride was 19 then). In 1806 Countess Wittgenstein was already 27 - a fact that, in our opinion, contradicts with her visual age of a younger woman.
We suspect that the original portraits (miniatures?) were ordered by Piotr Christianovich just after his wedding (the usual practice of that time) and that the real date of their execution could in fact lie between 1799 and 1802 (similarly, the wife's dress, her hair style, and head adornment support this estimation).

Count Piotr Christianovich Wittgenstein (Ludwig Adolph Peter zu Sayn-Wittgenstein-Berleburg) was born on January 6th 1769 as a second son of Russian Major-General Count Christian-Ludwig-Kasimir Wittgenstein (1725-1797 and his first wife Amalia Ludovika, nee Countess Finck von Finkenstein (1740-1771; see our web # 38365).
He was born at one of his father's estates in Ukraine: either by Pereyaslav in Poltavskaya gubernia or by Nezhin in Chernigovskaya gubernia.
When he was two years old, his mother died while giving birth to his sister Amalie-Luise (1771-1853). His upbringing was entrusted into the hands of the relatives of his stepmother, his father's second wife, Princess Anna Petrovna Dolgorukova, who was the widow of Count A.A. Bestuzhev-Ryumin (she died in 1789, when Piotr was already 20).
According to customary practices of that time, at the age of 12 Piotr (a nobleman's son) was enlisted as a sergeant into the Leib-Guards Semenovski Regiment. In 1789 he was transferred in the rank of a vachmistr to Leib-Guards Konny Regiment. The year 1790 marked his promotion to cornet (ensign) and 1792 - to podporuchik (2nd lieutenant). In 1793 he was raised in rank to premier-major and at the same time transferred to Ukrainski Legko-Konny (Light-Mounted) Regiment. In 1796 he became a lieutenant-colonel and fought in Poland in the ranks of Ukrainski Regiment. In the same (1796) year he was transferred to Elisavetgradski Hussar Regiment and in 1797 - to Rostovski Dragoon Regiment. Four months later (in the same 1797) he was transferred to Achtyrski Hussar Regiment. In 1798 he was raised in rank to a colonel (and Commander of Achtyrski Hussars). He was married in the same year. On June 20th 1799 he was promoted to major-general and simultaneously appointed chief (proprietor) of Mariupolski Hussar Regiment.
On January 1st 1801 (the original (lost) portrait could have already been made by then), Piotr Christianovich fell into disgrace with Emperor Paul I and sent into retirement, yet summoned to return into the army by Alexander I 3,5 months later. On January 1st 1802 he was reappointed (!) chief of Mariupolski Hussars and several years later became the commander of one of brigades of the 9th Division.
On January 12th 1806 he was awarded St. Georg of the 3rd Class; on October 29th 1807 appointed chief of Leib-Hussar Regiment and 1,5 months later raised in rank to lieutenant-general. Between this date and July of 1812 he became (in order of succession) Commander of the 5th Division, Commander of Corps covering the 5th and 14th Divisions, and Commander of the 1st Corps.
On July 25th 1812 Piotr Christianovich was awarded St. Georg of the 2nd Class; on October 22nd 1812 promoted to General of Cavalry.
On April 16th 1813 he became Commander-in-chief of the Russian Field Army and fought against Napoleon during the so-called "foreign campaign" (Liberation War on the territories of Poland and the German states). On May 20th 1813 he was awarded the highest Russian award - Order of St. Andrew the First-Called. In the same year, after the famous Battle of Leipzig, he obtained the golden sword "For Bravery" with diamonds and laurels.
On May 3rd 1818 he became the Commander of the 2nd Army and (3,5 months later) appointed Member of the State Council.
On January 28th, for the third time in his life (!) he was appointed chief of Mariupolski Hussar Regiment. The regiment was consequently renamed after him becoming Hussar- of General Count Wittgenstein-Regiment. On August 28th 1826 he was promoted to General-Field-Marshal.
On June 9th 1828 he was awarded St. Andrew the First-Called with diamonds.
On February 9th 1829 he was relieved of his army commander's duties.
On June 16th 1834 Nikolai I granted him with permission to accept a Prince's title bestowed upon him by the Prussian King.
Count (Prince) Piotr Christianovich Wittgenstein died on June 11th 1843 while in transit in Lviv (then - Lemberg, Austro-Hungarian Empire).
For extensive biographical materials pertaining to his life (CLICK HERE, HERE, HERE, and HERE; for his later-day portraits, see also our images nr.17-19).

Only one (much later) portrait of Piotr Christianovich's wife - 10 years his junior Countess Antoinette Stanislavovna (Antonie Caecilie) Snarskaya (Snarska; 1779-1855) was known thus far, namely the one by V. L. Borovikovski (see our image nr.20). While still a very young woman in our portrait, she was already a "stats-dama" (lady-in-waiting). In 1812 she was awarded Russian Imperial ladies Order of St. Catherine.
The couple had eight children. One of them - their son Lev (1799-1866) - belonged to the "Decembrists" group (he was acquitted).
Provenance:
1) Hamburg Gallery "Landhagen & Harnisch Kunsthaus" (founded in 1824 it still operates; the gallery label on verso of the female portrait appears to be from 1940/50s)
2) German princely family (disclosed by Sotheby's (see below); probably the family of Sayn-Wittgenstein)
3) Sotheby's London, Sale "Of Royal and Noble Descent", January 23rd 2014, lot 235 (together with two portraits of Piotr Christianovich Wittgenstein's parents painted by the same copyist; see our web # 38365).

P.S. 25 May 2017:
We just discovered on Web another (made probably in the same period as our one) copy after lost original portrait of P. Chr. Wittgenstein (see our image nr.22)

mimai0814
Condition: good; in splendid 19th-century frames
Creation Year: early 19th Century
Measurements: UNFRAMED:65,5x55,5cm/25,8x21,9in FRAMED: 88,5x78,5cm/34,8x30,9in
Object Type: Framed oil paintings
Style: Old Master paintings
Technique: both: oil on canvas (oval)
Inscription: both: old legend on verso written in German
Creator: Russian School
To see other works by this artist click on the name above!
Creator Dates: -
Nationality: Russian
SHIPPING COSTS UPON REQUEST:
office@wilnitsky.net
Click here for images free of watermark!
Click on images or on

to see larger pictures!