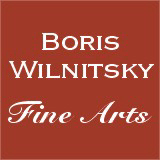 SALE!!! SAVE MONEY !! 1 EUR = 1 USD
# 37319
Heinrich Olivier (1783-1848) "Princess Agnes von Anhalt-Dessau", important watercolor!!, 1840/41
2700 EUR
FINAL DISCOUNT PRICE= 2700 USD
( for EUR price see date rate )
Please note: Shipping and insurance costs are not included in this promotion, ONLY ITEM PRICES!
(please note additional 13% tax applies for transactions concluded within the European Union)
Painted in 1840/41 (the sitter appears to be about 16-17 years of age), shortly before the artist's departure from Dessau to Berlin, it is an important watercolor portrait of Princess Agnes von Anhalt-Dessau. She is shown posing on the park terrace of her family residence in Dessau.

Princess Agnes (Frederica Amalia Agnes) von Anhalt-Dessau (24 June 1824 - 23 October 1897) was the eldest daughter of Leopold IV, Duke of Anhalt and his wife Frederica Wilhelmina of Prussia. She was a member of the House of Ascania, and - by her marriage to Ernst I, Duke of Saxe-Altenburg - Duchess consort of Saxe-Altenburg.
Agnes was an elder sister of Friedrich I, Duke of Anhalt and Maria Anna, wife of Prince Friedrich Karl of Prussia.
On the 28th of April 1853, Agnes married Ernst of Saxe-Altenburg. He was a son of Georg, Duke of Saxe-Altenburg and succeeded his father as Duke of Saxe-Altenburg later that year. They had two children:
- Princess Marie (1854-1898), married on the 19th of April 1873 to Prince Albrecht of Prussia.
- Prince Georg (b. 1856, died in infancy at the age of 1 month).
As their only son died in infancy, the duchy would be inherited by their nephew Ernst upon Ernst I' death in 1908.
Agnes was regarded as a talented painter. Alike many noblewomen of her time she took interest in charity, especially in nursing and the care of troops wounded in the Franco-Prussian War.
Agnes died at the age of 73. The Agnes Platz in the city of Altenburg is named after her. She is buried in the Herzogin-Agnes-Gedächtniskirche (Memorial Church of Duchess Agnes).
Our images nr.8-10 show several other portraits of her.
Heinrich Olivier (1783 Dessau - 1848 Berlin) was a member of famous German artist family, brother of Romantic artists Ferdinand and Friedrich Olivier.
Together with his two-year junior brother Ferdinand, he received his first drawing lessons under K.W. Kolbe. In 1800, he began studying philology at the University of Leipzig, where he also attended the Academy. Already in 1803, several works of a Leipzig Academy student signed "Olivie" were shown at Dresden Academic Exhibition. Also around 1803, he made portrait drawings and pastel portraits.
In 1804, together with Ferdinand, he traveled to Dresden, where he remained for 3 years, until in 1807 he moved to Paris. In the French capital's Musée Napoléon (Louvre) he copied works of Raphael and painted on commission of Duke of Anhalt-Dessau "The Last Supper" and "Portrait of Napoleon".
Upon his homecoming from France in 1810, he once again settled in Dessau. In 1813, he entered the (newly formed in Russia and returning to Germany) "Deutsche Legion" and fought in it against the French. After the end of Liberation Wars, he spent a few months in Vienna, where his brother Ferdinand lived at that time. Also, just then, the Congress of Vienna was taking place in this city. Later on, Olivier returned to Dessau, where he soon became a "Wirtschaftsrat" (counselor of Dessau government) - a status that allowed him to lead a life of ease.
Having lost this position, Olivier began experiencing financial difficulties and in the beginning of 1840s (sic!) relocated to Berlin, where he died on March 3rd 1848.
Provenance: auction house "Galerie Bassenge", Berlin, 30 May 2014, Lot 6453 (see our image nr.11)

*See also our web # 32514

minov28ap13
Condition: fairly good; in magnificent, original frame
Creation Year: 1840/41
Measurements: UNFRAMED:36,5x28,5cm/14,4x11,2in FRAMED: 65,5x56,0cm/25,8x22,0in
Object Type: Framed watercolor
Style: Portrait Miniatures
Technique: watercolor on card (oval)
Inscription: signed: Olivier
Creator: Heinrich Olivier
To see other works by this artist click on the name above!
Creator Dates: 1783 Dessau-1848 Berlin
Nationality: German
2-3 days door-to-door shipment, professionally packed by Mail Boxes Etc and shipped with DHL (calculated for US): 262,35 EUR + insurance 1,8% of item price
Shipping cost to other destinations (worldwide) on request
Shipping price may be reduced if you dispense with the frame


Cheaper alternative (may be further reduced if you dispense with the frame): professionally packed by Mail Boxes Etc and shipped with regular Austrian mail - upon request under office@wilnitsky.net (OBS: In this case maximal refunded insurance value is EUR 500 if shipping destination was the US. In Europe sometimes more, depending on destination.)
Click here for images free of watermark!
Click on images or on

to see larger pictures!