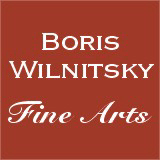 If you have a question about this item,
please contact us at: office@wilnitsky.net
# 37174
Jean-Auguste Desbuissons (called Hipolite Auguste) "Russian actor (?)", fine miniature, ca.1806
Price: 2250 EUR
(please note additional 13% tax applies for transactions concluded within the European Union)
THE SELLER WILL COVER SHIPPING WITH REGULAR MAIL FOR THIS ITEM!

This fine miniature portrait of a young, red-haired man, dressed and hair-styled according to fashion of ca. 1805, is probably the same work that its author - Parisian miniaturist Jean-Auguste Desbuissons - presented at the 1806 Exhibition of Salon de Paris. This work bore the name "Souwsouw, acteur russe" (see our image nr.7).
The sitter's name was written in the catalogue erroneously: the young Russian man, who also lived in Paris and who clearly held his performances at the same stage as the miniature's author Desbuissons (he was concurrently an actor), surely bore a similarly sounding yet truly existing name - for instance, Ovsov, Ovtsov, Savtsov, etc - as opposed to "Souwsouw", which one would never find among Russian names.
Jean-Auguste Desbuissons, called Hipolite Auguste, was a son of well-known Parisian miniaturist François-Hyppolite Desbuissons (called Hipolite; ca. 1745-after 1807).
He was born in Paris on the 9th of January 1770 and died on the 31st of March 1845. At first his father's pupil, at the age of 16, he became a student of Ecole de l'Academie Royale in Paris and proceeded to study there under Jean-Baptiste Descamps. He spent the period between 1787 and 1790 in the military service in Regiment "Dragons de la Reine". According to L. Bedouret, he was afterwards active as a traveling artist, and then shortly worked in Havre, where he was a decorator and actor at the local theater. In 1793 he joined the stage company of Parisian "theatre de la Cite". Bedouret compiled a list of Desbuissons' complete works with only 23 miniatures that were doubtlessly attributed to the artist.
Provenance: auction house "Binoche Renaud-Giquello", Paris, 29 March 2013, lot 77 (see our image nr.9)

misept10ap13
Condition: good
Creation Year: ca 1806
Measurements:UNFRAMED:4,7x3,8cm/1,9x1,5in FRAMED: 6,0x5,1cm/2,4x2,0in
Object Type:Framed miniature
Style: Portrait Miniatures
Technique: watercolor on ivory
Inscription:signed: hipolite
Creator: Jean-Auguste Desbuissons
Creator Dates: 1770 Paris-1845 Paris
Nationality:French
We will cover shipping with regular registered mail (delivery between 7-14 days) for this item.

OBS: Austrian mail refunds cases of loss or damage with maximum EUR 500.


Fully insured 2-3 days DHL service available upon request and subject to extra charges: office@wilnitsky.net
Click here for images free of watermark!
Click on images or on

to see larger pictures!