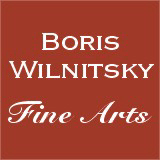 SALE!!! SAVE MONEY !! 1 EUR = 1 USD
# 37170
F.-X.-P. Fabre-Attrib. "Alexander and Florentyna Bninski", sensational find!!, large oil, 1820/22
28000 EUR
FINAL DISCOUNT PRICE= 28000 USD
( for EUR price see date rate )
Please note: Shipping and insurance costs are not included in this promotion, ONLY ITEM PRICES!
(please note additional 13% tax applies for transactions concluded within the European Union)
After seeing this painting in the online pre-sale catalogue of US auction house "Abell" (it was offered as "Portrait of Alexander and Bnina Bninski" by anonymous artist of 19th century Polish School" - see our image nr.22), we immediately recognized it as a typical work of famous French artist François-Xavier-Pascal Fabre, who was until 1828 living in Florence (as we will see below, the portrait was made there between 1820-1822).

In 2006, at the Viennese auction house "Dorotheum" we had sold a very similar, also large (164 x 112cm, as opposed to "our" 124,5 x 99,1cm), and practically identical in composition Fabre's portrait of another noble Polish boy, son of famous composer, Irenius Kleofas Oginski (see our image nr.23).

As it is known, among his numerous clients, Fabre counted a great number of Polish aristocrats, for whom, upon visiting Florence on their Grand Tour through Italy, it was a must to pay a visit to the studio of (by then already famous and well established also outside of Florence) the best portraitist of that city, Frenchman Fabre (see our images nr.24-32 for a very interesting article in "Biuletyn Historii Sztuki", Warszawa 1964, No 3, - Andrzej Ryszkiewicz "Polonia florenska na przelomie XVIII I XIX wieku I jej portrecista F. X. Fabre" (English: Florentine "Polonia" at the turn of the 19th century and its portraitist F. X. Fabre"). Most of these Fabre's "Polish" portraits can be viewed in various international museums.

Typical for Fabre's portrait works composition with Tuscan landscape in the background (we see the same mountains in many of his Florentine paintings), children's facial expressions, painterly handling of their hair and attire (particularly Fabre's use of three of his favorite colors of clothes: blue, dark-yellow and dirty-white), the presence of butterflies in his other children portraits - all that allows us to maintain that we are dealing here with a thus far unknown (and significant!) work of Fabre (for comparison, see our images nr.33-62).


Yet, who are these sweet Alexander and "Bnina" Bninski?

In reality, we are dealing with a double portrait of the little brother and sister from Polish family of Counts Bninski, namely that of the so-called "Lódz-branch" of this very old and noble house.

The name "Bninski" originates from the small town Bnin by Poznan that already in the Middle Ages was the residence town of Counts Bninski.
From the beginning of the 18th century, in addition to (once bestowed by one of the Polish kings) countship, all of this family's male members received in succession the title of Count of Kingdom Prussia (for instance, the father of "our" children, Florenty Bninski (1789-1834) obtained this title in 1816; in 1824, he (including his family) was confirmed as Count of Kingdom of Poland (then - part of the Russian Empire) - see our images nr.63-64.

The full name of "our" boy was Alexander Florian Eucharius, hrabia (Count) Bninski. He was born on the 20th of February 1814 (based on his appearance - in this portrait, he seems to be somewhere between the age of 6 and 8 - we estimate the time margins of this portrait's execution as 1820-1822) as a son of abovementioned Count Florenty Bninski and his wife Johanna Nepomucena Zóltowska (died in 1866; their wedding took place on 16 VI 1813; eight months and four days later their firstborn son Alexander saw the light of the day).
While still a youth, Alexander was enlisted into the army (it was a common practice back then for aristocratic boys) and, in 1831, was already a podporucznik (2nd lieutenant) of Chasseurs-a-cheval of "Wojsko Polskie" (Army of Kingdom of Poland). On the 7th of February 1836 he married four years his junior Pauline Mlicka, daughter of Colonel Maximilian Mlicki (Alexander's commander?). She died in 1848, leaving four sons and two daughters behind. Alexander, for his part, died on the 21st of March 1892 in Poznan (not far from town Bnin).
After the death of his father in 1834 Alexander became the head of the Bninski (Lódz-branch) family. According to his father's will, he became the sole owner of the villages (today - small towns) Biezdrowo (main residence of the family), Popowko, Urbanie, Zagay, and Wychowaniec (all naturally with hundreds of serfs!). The income flowing from these properties placed at once Alexander among Poland's wealthiest men.
His two brothers have also benefited from the testatement: both of them were bequeathed with several villages.
Besides two brothers Alexander had five sisters. The girl in our double portrait is the eldest of them, called Florentyne (and not Bnina as stated in the auction catalogue entry - see our image nr.22), Countess Bninski (Bninska). The catalogue's name stems from erroneous interpretation of the Polish inscription in the upper right area of the portrait - "Alexander z Bnina Bninski /Biezadrowo 20.2.1814 /Poznan 21.3.1890". This in itself erroneous inscription (Alexander died in 1892 and not in 1890) refers to him (and him only, withholding the name of his sister) as "Alexander z Bnina Bninski". In fact, the name Bnina-Bninski - according to numerous Polish sources - was how the family Bninski was often called (see our last image).
Besides this inscription, as well as placed in lower left corner Bninski's (Lódz-branch) coat-of-arms, were clearly added many years later, which was a common practice applied to portraits housed in home portrait galleries of many noble families.

Little Countess Florentyna (her full name was Wita Modesta Florentyna) was born at her parent's estate Biezdrowo (now a town) on the 15th of June 1817 and died on the 25th of September 1868 at her estate Gultowy (see our images nr.67-69), and was buried there. On the 24th of February 1844, in Poznan, she married Colonel of "Vojsko Polskie" Julian (Julian Michal) Zaremba, Count of Kingdom of Poland (1806-1850). The couple had four children: one son and three daughters (see our image nr.65).

As said above, we are absolutely convinced that this portrait is a product of only one artist - François-Xavier-Pascal Fabre. And it was certainly painted by the latter when Count Florenty Bninski, his wife and children visited to Florence, i.e. sometime between 1820 and 1822. The Bninski family were likely visiting their Polish friends or relatives then living in that city (as it is known, following the suppression of the Koszinsko Uprising in 1794, a whole Polish émigré community was formed in Florence), or during a (mandatory for every aristocratic European family) Grand Tour through Italy.
Nevertheless, in light of absence of artist's signature, we choose to offer this work as "Attributed to Fabre".
François-Xavier-Pascal Fabre (1766 Montpellier, France - 1837 ibidem) began his artistic career as a pupil of Vien, to whom he was recommended by Jean Coustou. After studying with Vien Fabre became a pupil of Jacques-Louis David. In 1787 he received the Great Rome Prize for his "Nabuchodonosor fait tuer les enfants de Sedecias en presence de leur pere" (now in Parisian Ecole de Beaux-Arts). On a scholarship awarded for winning the Rome Prize, Fabre moved to Italy and soon came to Florence. The city enamored him to such degree that, at the onset of Revolution in his homeland and being himself monarchically inclined, Fabre decided to settle there. He remained in Florence until 1828, where the greater part of his œuvre saw its birth. In 1828 he returned to his native Montpellier and remained there until his death in 1837.
In 1825, while still in Florence, he bequeathed an enormous art collection and a valuable library (he received it a year before by testament of his late Florentine friend d'Albany, who in her turn, received it from their (deceased in 1803) mutual friend, poet Vittorio Alfieri) to his native city. After his 1828 return Fabre founded in Montpellier a Musée Fabre - a place for housing of this art collection.
Similarly, while still in Florence, in 1827 he received the French Order of Legion d'Honneur and, in the following 1828 was ennobled by French King Charles X to Baron.
During his lifetime Fabre became a highly valued artist: he was elected an Honorary Member of the Academies of Florence and Genoa. From 1791 his paintings (portraits, historical scenes, and landscapes) were regularly exhibited at exhibitions of Salon de Paris.
The best portraitist of Florence, he was a favorite with traveling foreigners, as well as with successive power holders. He portrayed especially often Russian and Polish (sic!) aristocrats on their journeys through Florence.
Works of François-Xavier-Pascal Fabre can be currently viewed in world's most esteemed museums: Louvre, Versailles, museums of Madrid, New-York, St. Petersburg, as well as various French and Italian museums, etc. He is also represented with his "Polish" portraits in museums of Cracow, Warsaw, and Vilnius (Lithuania).
Provenance: auction house "Abell", Los-Angeles, 10 March 2013, lot 208

misept05ap13
Condition: good; lined in the 19th century
Creation Year: 1820/22
Measurements: UNFRAMED:124,5x99,1cm/49,0x39,0in FRAMED: 146,0x114,5cm/57,5x45,1in
Object Type: Framed oil painting
Style: 19th century paintings
Technique: oil on canvas
Inscription: -
Creator: Francois Xavier Fabre
To see other works by this artist click on the name above!
Creator Dates: 1766 Montpellier-1837 Montpellier
Nationality: French
SHIPPING COSTS UPON REQUEST:
office@wilnitsky.net
Click here for images free of watermark!
Click on images or on

to see larger pictures!