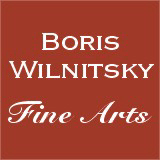 SALE!!! SAVE MONEY !! 1 EUR = 1 USD
# 37132
Charles-Henri Augustin "Michael Bruce, Esq. and his wife Marianne", two watercolors/silhouettes, 1819
2900 EUR
FINAL DISCOUNT PRICE= 2900 USD
( for EUR price see date rate )
Please note: Shipping and insurance costs are not included in this promotion, ONLY ITEM PRICES!
(please note additional 13% tax applies for transactions concluded within the European Union)
THE SELLER WILL COVER SHIPPING WITH REGULAR MAIL FOR THIS ITEM!

An absolute rarity!

Both clearly signed and dated "Augustin J-or (for Junior) inv.t & fac.t (for "invenit et faciebat") 1819", these are watercolors (cutted like silhouettes and laid on original mount) made by a French (sic!) artist showing a married English couple (how else one could explain the use of English word "Junior" instead of the French "jeune" or "fils"?). The latter detail may be clarified by the artist's sojourn in England not long before his death (as we will see below, he died on the 20th of September of the same (1819) year).
These profile portraits depict Englishman Michael Bruce, Esq. and his young wife, Englishwoman Marianne, nee Dallas (their wedding took place in England (sic!) few months before, on August 15th 1818).
The husband, 32-year-old Michael Bruce (1787-1861) became widely known for his partaking in a notorious escape (first from prison, and then from France) of Napoleon's former aide-de-camp, General Antoine Marie Chamans, Comte Lavalette (see our image nr.9), who was in 1815 sentenced to capital punishment. After that, Michael Bruce received a nick-name of "Lavalette Bruce" from his English contemporaries.
Son of a wealthy English businessman, short of stature and "boyish-looking" (see our images nr.10-12), Michael - as it appears - was very popular with women, for in the years between 1810 and 1813 he not only lived together with famous Lady Hester Lucy Stanhope, but also accompanied her on her journeys through the East (see our image nr.13). In 1815, after the Bourbon Restoration and by the time of Comte Lavalette's prison break, he lived in Paris, where he had a liaison with wife of Marshal Ney (before she became the latter's widow!).
Michael Bruce was the first person to be contacted for assistance by Comte Lavalette. The latter (following his prison escape) was in hiding in Paris for three weeks. Eager to help his friend to flee Paris (police was looking for Comte Lavalette everywhere), Michael Bruce asked for additional help from English expatriates living in Paris, namely from the retired Major-General Sir Robert Thomas Wilson and Captain Sir John Ely Hutchinson. Wilson fraudulently obtained two British passports, picked up Lavalete on January 7th 1816, and accompanied him beyond the French frontier to Mons. Two days after his return to Paris, Wilson and his two accomplices Bruce and Hutchinson were arrested. They underwent trial in April, were found guilty of aiding Lavalette, however exonerated from charge of plotting "the subversion of the French government". The trial began on the 22nd of April 1816 and was finalized on the 25th of April with the following verdict: each of the three Englishmen was sentenced to three months of imprisonment. Obviously, after serving their sentence, all three of them promptly left France and went back to England. There, on the 15th of August 1818, Michael Bruce married his Marianne, daughter of Sir George Dallas 1st Bt. Our images nr.14-17 offer extensive biographical information about Michael (in France called Michel) Bruce.
And now a few words about the author of these two portraits, French artist Charles-Henri Augustin.
Until recently he was mentioned in art reference sources (among others, by Schidlof and Lemoine-Bouchard) as certain "Augustin neveu" or "Augustin fils". Both Schidlof and Lemoine-Bouchard suggest that he may have been the nephew of famous Jean-Baptiste Jacques Augustin. The 2012 article by Bernd Pappe (see our image nr.18) set the record straight: "Augustin Dubourg, Augustin fils/neveu et Joseph-Ange Augustin: trois artistes d'une méme famille dans l'ombe de leur célèbre parent".
According to Pappe, our artist Charles-Henri Augustin was born in Dijon on the 15th of September 1779 as the eldest son of well-known French miniaturist (and brother of J.-B. J. Augustin!) George Nicolas Touissant Augustin, called Augustin Dubourg (1758 - ca. 1800). In contrast to his father and famous uncle, Charles-Henri specialized not in miniatures on ivory, but in works produced in an unususal technique - he made miniature profile portraits, cut them out (like scissor-cutting silhouettes) and glued them on a paper mount (for example see our images nr.19-20).
At the age of 15 he began attending the Ecole de l'academie de Paris and, from 1800 took lessons from his uncle J.-B. J. Augustin. Charles-Henri died at the age of 40, on the 29th of September 1819 in his apartment in rue Montesquieu in Paris.
Our portraits provide clear evidence of Charles-Henri Augustin's trip to England in the last year of his life. There, a.o. he produced portraits of Michael Bruce, whom he knew from as early as 1816, and his wife Marianne.

Provenance: antique trade, USA

miaug02ap13
Condition: good; in original frame
Creation Year: 1819
Measurements: UNFRAMED:6,1x4,9cm/2,4x1,9in FRAMED: 18,8x14,8cm/7,4x5,8in
Object Type: Framed miniatures
Style: Portrait Miniatures
Technique: both: watercolor (cutted like silhouette and laid on original mount)
Inscription: both are signed and dated on original mount: Augustin J-or inv.t & fac.t 1819
Creator: Charles-Henri Augustin
To see other works by this artist click on the name above!
Creator Dates: 1779 Dijon-1819 Paris
Nationality: French
We will cover shipping with regular registered mail (delivery between 7-14 days) for this item.

OBS: Austrian mail refunds cases of loss or damage with maximum EUR 500.


Fully insured 2-3 days DHL service available upon request and subject to extra charges: office@wilnitsky.net
Click here for images free of watermark!
Click on images or on

to see larger pictures!