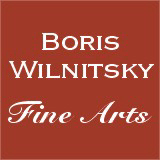 If you have a question about this item,
please contact us at: office@wilnitsky.net
# 37074
Carl J. A. Agricola "Marshal André Masséna with son Jacques Prosper", important gouache!!, July 1809
Price: EUR
(please note additional 13% tax applies for transactions concluded within the European Union)
SOLD!!!

This oval gouache is a very important document, particularly interesting for historians of Napoleonic Wars. Painted in the first days of July 1809 (from nature?) by well-known Vienna artist Carl Josef Alois Agricola, this gouache shows the famous Napoleonic commander, Marshal André Masséna (1758-1817) with his 16-year-old son and aide-de-camp Jacques Prosper (1793-1821). Both men are depicted by the marshal's tent pitched directly on the battlefield of Wagram in Lower Austria (the Battle of Wagram between the French and Austrians took place few days later - on the 5-6th of July 1809 in the area bordered by two long and parallel hill formations stretching along both banks of Danube; it is the outline of one of these two hills that is seeable in the background of "our" composition; also CLICK HERE).
Young Jacques Prosper is wearing an eclectic self-invented hussar uniform consisting of white pelisse (hussar jacket adorned with brown fur) with golden lacing, white charivari (campaign trousers) with golden stripes and a brown fur shako (tall military cap) with white pouch toped by a straight white plume.
This uniform of his, though seen by witnesses, did not survive. It is only known through some later period reconstructions - see our images nr.8-10.
In the published in 1909 in French military magazine "Sabretache" one can see illustration of the final (altered) variation of this scene; it was made by Agricola much later (already in his atelier), on 30th October 1809 - see our image nr.14 (thanks to this (extensively titled) illustration we know the name of author of both replicas).

While there is a rich spectrum of information available on Masséna-father (CLICK HERE), that concerning his son is rather scarce.

From 1818, after the death of his father, Jacques Prosper Masséna inherited his titles and was called Prince d'Essling and Duc de Rivoli. He was born on the 25th of June 1793 in Antibes, Alpes-Maritimes. On the 13th of March 1809 he joined the military service as a sous-lieutenant (2nd lieutenant) of Etats-Major (General Staff). Concurrently he was appointed aide-de-camp (adjutant) of his father, who was from 1804 Marshal of Empire. Two months later, on the 15th of May he was promoted to 1st lieutenant with the IV Corps of Armée d'Allemagne (Army of Germany) and took part (while always remaining near to his father) in battles of Landshut, Eckmuhl, Ebersdorf, Essling, Wagram (sic!) and Znaim. On the 21st of July 1809 (several days after this portrait's execution) he was raised to captain. In 1810 his father obtained under his command the Army of Portugal, and Jacques Prosper (accompanying him) participated in the sieges of Ciudad-Rodrigo and Almeida, fought at Cusaco and Fuentes de Onoro. He was not his father's aide-de-camp between the 9th of December 1811 and the 9th of May 1813, but returned to this function, when André Masséna was appointed Commander of the 8th Military District. During the "100 days" Jacques Prosper was in Paris (his father was then the governor of this city). On the 1st of January 1816 he retreated from the military service. He died on the 13th of May 1821 at the age of only 27.
The only portrait of him that we were able to find on the Web shows Jacques Prosper at the age of 13 together with his younger brother Francois Victor (see our image nr.11).
Similarly, we were able to locate on the Web numerous evidence of eyewitnesses of his courage during the Battle of Wagram, which is clearly apparent from the memoirs of André Masséna's other aide-de-camp, Marcellin Marbot. The latter describes a situation, in which in absence of all of his adjutants (they were all dispatched with various mandates) Marshal Masséna was just about to send his son (one shall note that Marshal always zealously protected him) into the midst of the battle, i.e. into the rout of a French Infantry division with orders to rally under the guns of Lobau Island. However, this very moment marked the return of Marcellin Marbot on steaming horse, and naturally Marshal assigned this mission to him. Marbot galloped off but the Masséna's son dashed after him, thoroughly shamed by his father's protective action. Both got through safely, but Masséna was furious and asked his son what had prompted him "to stick his nose into a mess like that?". The boy's answer was cutting. "My honor!" he said. "This is my first campaign and I already have the Legion of Honor. What have I done to earn it? Besides, it happened to be my turn!".
After the battle Masséna said: "That young scamp has given me more trouble than a whole army corps"; so careful was he of his boy's safety that he refused during the second day of the battle to allow him to take his turn among the other aide-de-camps, but the young Masséna was too spirited to endure this and Napoleon hearing of the occurrence, severely reprimanded the Marshal.
Carl Josef Alois Agricola (1779 Saeckingen/Baden - 1852 Vienna) was a very well-known Austrian historical, portrait and miniaturist painter. He was born in Germany, began studying in Karlsruhe, moved to Vienna in 1798 and studied at the Viennese Academy under the famous Fueger. Agricola became a very popular portrait miniature artist and also made many historical and allegorical paintings. Especially known are his paintings with little children, a few of them can be seen at the Austrian National Gallery "Belvedere".
Provenance: auction house "Gallery Bassenge", Berlin, 31st of May 2013, lot 6405 (as "Napoleonic cavalryman next to his horse and one horseman in a high fur cap" - see our image nr.13)

mijun17ap13
Condition: good
Creation Year: 1809
Measurements:UNFRAMED:26,2x21,5cm/10,3x8,5in FRAMED: 35,1x30,6cm/13,8x12,0in
Object Type:Framed gouache
Style: Napoleonica
Technique: gouache on cardboard (oval); matted and framed
Inscription:-
Creator: Carl Josef Alois Agricola
Creator Dates: 1779 Saeckingen-1852 Vienna
Nationality:Austrian
2-3 days door-to-door shipment, professionally packed by Mail Boxes Etc and shipped with DHL (calculated for US): 139,55 EUR + insurance 1,8% of item price
Shipping cost to other destinations (worldwide) on request
Shipping price may be reduced if you dispense with the frame


Cheaper alternative (may be further reduced if you dispense with the frame): professionally packed by Mail Boxes Etc and shipped with regular Austrian mail - upon request under office@wilnitsky.net (OBS: In this case maximal refunded insurance value is EUR 500 if shipping destination was the US. In Europe sometimes more, depending on destination.)
Click here for images free of watermark!
Click on images or on

to see larger pictures!