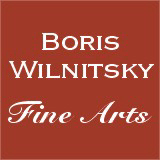 SALE!!! SAVE MONEY !! 1 EUR = 1 USD
# 37039
Mstislav Dobuzhinsky "2 stage costumes (Berlin 1923)", watercolors from T. Karsavina estate (?), 1923
6500 EUR - 25% DISCOUNT = 4875,00 EUR
FINAL DISCOUNT PRICE= 4875,00 USD
( for EUR price see date rate )
Please note: Shipping and insurance costs are not included in this promotion, ONLY ITEM PRICES!
(please note additional 13% tax applies for transactions concluded within the European Union)
*Size of smaller watercolor: 37,0x28,0cm/14,6x11,0in FRAMED: 47,2x38,2cm/18,6x15,0in
**Size of larger watercolor: 49,5x32,0cm/19,5x12,6in FRAMED: 59,0x41,0cm/23,2x16,1in

These two watercolors were acquired on the 22nd of March 2013 at the sale of English auction house "Gardiner Houlgate" in Bath near Bristol. While offered by auctioneers as "German School - 1920s fashion study, indistinctly monogrammed "DG? Berlin (19)23, watercolor and another fashion study" (see our image nr.12), they turned out to be original works of famous 1st half of the 20th century Russian artist (also stage designer) Mstislav Valerianovich Dobuzhinsky. As it is known from his biography, in 1923 Dobuzhinsky summered in Berlin, where he contributed to several ballet productions in local theaters (we believe he worked for "Russian Romantic Ballet", which was founded in Berlin the late 1910s - CLICK HERE).
Moreover, the complete registry of known Dobuzhinsky's works (see our image nr.13 for clips from G. Chugunov's "Mstislav Valerianovich Dobuzhinsky", Leningrad, 1984, p.271), in its section "Stage Decoration Works", lists (among his 1923 works produced in Berlin) costume designs for ballet productions "Nutcracker" (staged in "one of Berlin theaters") and "A little night music" - both, according to G. Chugunov, in possession of heirs of famous Russian ballerina Tamara Karsavina (1885 St. Petersburg - 1978 London) living in London. One shall not exclude the possibility that our two watercolors (they resurfaced in England) are exactly those costume designs mentioned in Chugunov's monograph.
Mstislav Valerianovich Dobuzhinski (1875 Novgorod - 1957 New York) was an outstanding Russian stage designer and graphic artist. He studied at the Drawing School of Society for the Encouragement of the Arts (1885-87), at L.E. Dmitriev-Kavkazski's Studio School in St.Petersburg (1895-99), at St.Petersburg University (1895-99); at Schools of A. Azbe and S. Hollosy in Munich (1899-1901) and with V.V.Mate in St.Petersburg (1901). Dobuzhinski was active in St.Petersburg/Petrograd until 1932 and in Vitebsk, Belorussia in 1923-24. He emigrated in 1924 and lived in Lithuania (until at least 1935?), in France, England and thereafter in the United States. Dobuzhinski began exhibiting in 1902 and was a member and exponent of World of Art (1902-24) and Union of Russian Artists (1904-10). He also exhibited with New Society of Artists (1908-14) and Heat-Colour (1924). The artist taught at E.N. Zvantseva's Art School in St.Petersburg (1906-10), Princess Gagarina's School in St.Petersburg/Petrograd (1910-17), Petrograd Free Art-Education Studios/Academy of Arts (1918-23), Vitebsk Art Tekhnikum (1923-24), Kaunas Art School (1925-35) and Russian Academy, Paris (ca.1930). As stage artist he was especially known for his designs for Sergei Dyagilev in Paris,1914.
Our images nr.14-22 show a great number of other stage costumes designed by Dobuzhinsky. Among them are also several works offered at the international art auction market in the last years.
Our images nr.23-24 offer extensive biography of the artist.

mijun06ap13
Condition: fairly good to fair
Creation Year: 1923
Measurements: UNFRAMED:0,0x0,0cm/0,0x0,0in
Object Type: Framed watercolors
Style: Stage design
Technique: one: ink and watercolor; another: watercolor on paper, laid on cardboard
Inscription: one is monogrammed, dated "(19)23 Berlin" and inscribed on verso
Creator: Mstislav Valerianovich Dobuzhinski
To see other works by this artist click on the name above!
Creator Dates: 1875 Novgorod-1957 New York
Nationality: Russian
SHIPPING COSTS UPON REQUEST:
office@wilnitsky.net
Click here for images free of watermark!
Click on images or on

to see larger pictures!