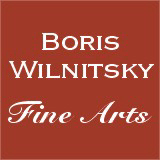 If you have a question about this item,
please contact us at: office@wilnitsky.net
# 37012
P. E. Rockstuhl (1764-1824) "Box with miniature portrait of Prince N. S. Barataev", 1816/17
Price: EUR
(please note additional 13% tax applies for transactions concluded within the European Union)


SOLD !!!

This snuffbox made from shell with inlaid mother-of-pearl mosaic and a profile portrait housed in its lid comes from the collection of Russian Art composed by an orthodox priest from the United States. It was acquired at the Dan Ripley's Antique Auctions, Indianapolis, USA on 17th of September 2006 (Lot 1069).
The miniature portrait inside the lid was long time thought to be that of young Georgian aristocrat, poet and officer in Russian military service Alexander Grigorievich (Garsevanovich) Chavchavadze (1786-1846; see our image nr.9 with latter's another portrait).
Before we came up to the idea of Chavchavadze we sent photographs of this piece to certain Moscow specialist in French military uniforms. The latter, in his turn sent them to his Moscow colleague, curren tly the best specialist in Russian military iniform, Dr. Alexander Kibovskyi. Dr. Kibovskyi's reply came to us on indirect route... three years later, in form of a publication with mention of the sitter's real identity (see our image nr.10). According to Dr. Kibovskyi the sitter is Georgian (sic!) Prince Nikolaj Semenovich Barataev (Baratashvili), captain of Mounted Artillery Company No. 10, and the portrait was made in period between 1816-1817.

Through brief web research we found some additional information about this officer (see images nr.11-12).

Nikolai Semenovich Barataev was born in 1784 into noble family (father - Georgian, mother - Russian) and died in 1845. In 1799, in age of 15 he graduated with rank of podporuchik (2nd Lieutenant) Artillery and Eingineering Schlachetski Kadetski Corps (military school) and was enlisted to 11th Artillery Battailon. In 1808 he was promoted to poruchik (1st Lieutenant). In 1809 he participated in Galician Campaign (Polish-Russian border). Especially he distinguished himself in Patriotic (Russo-French) War of 1812 - he fighted at Smolensk, Borodino, Maloyaroslavets, Krasnoye. In 1813, being already shtabs-captain, he was with Russian Army in Duchy Warsaw, Silezia, Saxony (participated at the Battles of Dresden and Leipzig), Bavaria, in 1814 fighted in France. For the Battle of Maloyaroslavets (12 October 1812) he was awarded with the Order of St.Anna of 2nd class, for Borodino - with St. Vladimir of 4th class with bow.

This very high quality portrait meets absolutely all stylistic criteria of works by the renowned Russian miniaturist Peter Ernst Rockstuhl, and (as we are 100% sure) it is also an original work of this artist!
Peter Ernst Rockstuhl, portrait miniature and silhouette artist was born in 1764 in Angern (then Duchy of Courland, now Engure, Latvia) and died in 1824 in St. Petersburg. According to Dr. Wilhelm Neumann, author of the "Dictionary of Baltic artists", published in 1908, Rockstuhl's birthplace was possibly Warsaw; Ernst Lemberger says it was "Angern in Courland" (Latvia). Further Lemberger mentions that the artist worked in Mitau (now Jelgava, Latvia) and Riga, in 1789 was in Vilna, later moved to St. Petersburg, where remained until his death in 1824. Nobody can say when exactly he came to St. Petersburg. It was for sure after 1798 (in this year his son Alois Gustav was born in Vilna). So it must have been between 1800 and 1804. In the Russian capital the artist soon became a very popular miniaturist, whose sitters were members of the high aristocracy and royalties. T.A. Selinova could located over 100 of his works that survived time. They are mainly in Russian public collections (25 miniatures in the Historical Museum Moscow and more than 10 works are in the Russian Museum and Hermitage). Only few are in private hands.
His oeuvre is divided in three periods: To the first period belong works made in 1780-1790s, before arrival to St. Petersburg, mainly silhouettes. To the second period belong his miniature portraits from ca. 1800 to 1815 and to the third and last period, works from 1815 to 1824, his death year (this group is not well researched yet).
The diameter of the box is 7,1cm or 2,8in.
Box's height is 3cm or 1,2in.
The diameter of the miniature is 3cm or 1,2in.

miapr07ap10
Condition: good; minimal damage on the side of the box (see image)
Creation Year: 1816/1817
Measurements:UNFRAMED:0,0x0,0cm/0,0x0,0in
Object Type:Mother-of-pearl Mosaic box with miniature
Style: Portrait miniatures
Technique: box: shell, mother-of-pearl, gilded silver; miniature: watercolor on ivory
Inscription:-
Creator: Peter Ernst Rockstuhl
Creator Dates: 1764 Angern, Latvia-1824 St. Petersburg
Nationality:Russian
We will cover shipping with regular registered mail (delivery between 7-14 days) for this item.

OBS: Austrian mail refunds cases of loss or damage with maximum EUR 500.


Fully insured 2-3 days DHL service available upon request and subject to extra charges: office@wilnitsky.net
Click here for images free of watermark!
Click on images or on

to see larger pictures!