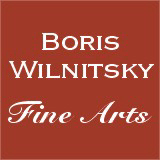 If you have a question about this item,
please contact us at: office@wilnitsky.net
# 36986
Fedor Fedorovich Courtener "Bashkir Cossacks in Germany (1813)", extemely rare watercolor!!, 1831
Price: EUR
(please note additional 13% tax applies for transactions concluded within the European Union)
SOLD!!!

This watercolor - clearly signed and dated "Courtener /1831" - shows mounted Bashkir patrol somewhere in Germany (see town in background) in 1813. During the so-called Foreign Campaign of 1813/14 Russian army included in its ranks (in 1813, while pursuing Napoleonic armies, the Russians crossed Poland and Germany; in 1814 they fought in France, implementing this campaign in May of 1814 in Paris) fifteen Cossack regiments recruited from Bashkirs, each counting 500 men, who were chiefly armed with bows and lances. Bashkir officers commanded these regiments. Additionally, these troops participated in sieges of fortresses Danzig, Glogau, Hamburg, Dresden, etc. After the end of the Foreign Campaign these regiments returned to Ural and were disbanded.

This watercolor is an extremely rare work of (living in the early 19th century and considered unknown until today) French watercolor artist Courtener. In fact, his name made its way into the history of the Russian art through only two surviving (as it was believed until now) works, namely a 1820s watercolor titled "View of the Manor House with a round partere" (old sources refer to it also as "View of dacha of Prince Volkonski" (by Moskow - B.W.; see our image nr.8) and 1830s watercolor "Landscape" (see image nr.9); both watercolors are housed in St.Petersburg Hermitage.
The name Courtener (spelled in Russian as "Kurtener" or "Kurtene") originates from - as we strongly believe - Strasbourg-born Francois Courtener, book seller and editor in Moscow. Francois Courtener settled there before 1776, at the age of 24. Soon after his arrival he married in Moscow his country-woman Henriette-Henri-Anne Dreyer. Courtener founded in Moscow a book store (it was also a publishing house; for instance, our image nr. 10 shows a map of Moscow edited there in 1807). He died in Moscow in 1814 (for extensive information about this man, see article by Vladislav Rjéoutski "Librairie française en émigration: cas de la Russie" - CLICK HERE )
From several children of Francois Courtener, who were all born in Moscow, his son Theodor became the most educated and known to his contemporaries. The latter was born in 1795. Besides his catholic name Theodore, he also received the Russian name Fedor Fedorovich. From 1803 to 1805 he studied in his parents' native Strasbourg (he surely stayed in his relatives' house), then returned to Moscow. There, he continued his studies in Lazhechnikov house, then - in the house of Prince Cherkassky. In 1806 family Courtener obtained Russian citizenship. In 1811 Fedor Fedorovich (Theodore) passed a Moscow Secondary School exam, which allowed him to teach French and German languages, as well as mathematics. From 1816 to 1821 he served in the office of General Carbonnier, director of the state buildings in Moscow; concurrently, from 1817 up to 1832, he taught French at the Moscow Alexandriyski College, Vospitalelny Dom (Educational House), Alexandriyski Institute and Institute of Eastern Languages. On the 10th of December 1830 he received a job of a second lecturer of French language at the Moscow University, where he worked until 1848. He was also the author of several textbooks and educational handbooks for teaching in French.
Raised in the house of a book- and print editor and acquainted with graphic artists and engravers working for his father, Theodore Courtener surely mastered the fundamentals of painting at an early age. That - as we are 100% certain - allowed for emergence of such qualitative works as the watercolor we present here and two other from Hermitage.
Provenance: English private estate

mimai14ap13
Condition: good
Creation Year: 1831
Measurements:UNFRAMED:15,3x24,8cm/6,0x9,8in FRAMED: 23,7x33,1cm/9,3x13,0in
Object Type:Framed watercolor
Style: 19th century Russian paintings
Technique: watercolor on paper
Inscription:signed and dated: Courtener /1831
Creator: Theodore Courtener
Creator Dates: 1795 Moscow-after 1855 Moscow
Nationality:French / Russian
2-3 days door-to-door shipment, professionally packed by Mail Boxes Etc and shipped with DHL (calculated for US): 122,08 EUR + insurance 1,8% of item price
Shipping cost to other destinations (worldwide) on request
Shipping price may be reduced if you dispense with the frame


Cheaper alternative (may be further reduced if you dispense with the frame): professionally packed by Mail Boxes Etc and shipped with regular Austrian mail - upon request under office@wilnitsky.net (OBS: In this case maximal refunded insurance value is EUR 500 if shipping destination was the US. In Europe sometimes more, depending on destination.)
Click here for images free of watermark!
Click on images or on

to see larger pictures!