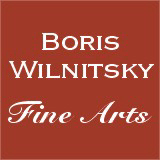 SALE!!! SAVE MONEY !! 1 EUR = 1 USD
# 36954
E. Martin (1790-1876) "Alexandra Osipovna Smirnova-Rosset" sensational find!! PUSHKINIANA
25000 EUR
FINAL DISCOUNT PRICE= 25000 USD
( for EUR price see date rate )
Please note: Shipping and insurance costs are not included in this promotion, ONLY ITEM PRICES!
(please note additional 13% tax applies for transactions concluded within the European Union)
Sensational find!!!

In March 2013, in a French antique shop, we found (offered by the seller as portrait of an unknown woman by Parisian miniaturist E. Martin) and immediately bought a miniature portrait of a young black-haired and heavy-browed Russian (!) lady with a touch of sadness in her face, dressed and hair-styled according to fashion of 1826-1828.
Well familiar with œuvre of E. Martin (click here to see another important work of this artist in our possession), we have purchased this 1st-class miniature on ivory in full awareness that it is a portrait of one of St. Petersburg socialites from the 2nd part of the 1820s, and that she is probably one of the acquaintances of great Pushkin himself. Moreover, by then, Frenchman E. Martin had already spent several years in the Russian capital and was in great demand among the high society.

After a profound research we were able - as we are 100% convinced - to determine who this slightly sorrowful young beauty (in this portrait she is not older than 17/19 years of age) was.

Her name was Alexandra Osipovna Rosset, through her marriage in 1832 - Smirnova.
She was born in 1809 in Odessa at the Black Sea as a daughter of the commandant of Odessa seaport, French émigré, Osip Ivanovich Rosset and his wife Nadezhda Ivanovna, nee Lorer (daughter of German-born father and Georgian-born mother). When Alexandra was 5 her father died, and her mother soon remarried. Consequently she and her siblings were taken into the care of their grandmother E. E. Lorer (nee Tsitsianova), who was living not far from Odessa in her estate by Nikolaev (the coincidence that the young girl was raised without parents and in modest circumstances may explain the somber expression on her face). Later on Alexandra was sent to the capital to receive education at St. Petersburg Yekaterininsky Institute (institute for daughters of nobility) and, after graduating (ca.1825) became "freilina" (lady-in-waiting) of widowed Empress Maria Fedorovna. After the latter's death she became freilina of the wife of Tsar Nikolai I, Empress Alexandra Fedorovna.
It was exactly in 1828 (as she described in her memoirs published many years later - CLICK HERE) that she made acquaintance with the greatest Russian poet of all times, Alexander Sergeevich Pushkin (see our image nr.20). In those days she must have looked exactly as she is captured in "our" portrait.
Those several years before her marriage (1832) turned Alexandra into a young woman admired by many remarkable citizens of St. Petersburg. Poets were singing praises to her beauty, and her name was on everybody's lips across the city salons. In 1830, in one of his poems, Pushkin refers to her as "chernookaya Rosseti" (black-eyed Rosseti (Rosset); see our image nr.21). In another poem, he writes "eyo cherkesskye glasa" ("her circassian eyes" - inherited from her mother who was of Caucasian lineage). In yet another poem that he had written into her album (see below) in 1832, Pushkin writes "ya sokhranila vzglyad kholodny" (English: "I've maintained a gaze of coldness"…).
In this period Vyazemski too dedicates his poem "Chernye Ochi" (Black Eyes) to Alexandra Osipovna. Also Lermontov will write somewhat later (in 1837) about her: "…No molcha viglyadite strogo…" (English: "…yet you appear stern when silent"…). Nikolai I used to tell her: "Alexandra Osipovna, I've come to reign over Russia not long before you've come to reign over the minds of Russian poets".
Her daughter Olga Nikolaevna (1834-1893) reminisced: "My mother was of a lesser build, a brunette with classical features and beautiful and very dark eyes; at different times those eyes would either sparkle with a gleam of fire or look direct and serious, almost stern…" (CLICK HERE ; see also our image nr.15).

The companionship of Alexandra Osipovna and Pushkin covers the period between 1828 and March 1835 (already married to Nikolai Michailovich Smirnov (very wealthy Foreign Office official), she and her husband undertook a two-year-long stay abroad; Alexandra Osipovna recalled that Pushkin, when bidding his farewell, shared his desire to hide himself on the ship (departing to go abroad) and flee into the foreign lands, for he was overcome with apprehensions. The news of his death reached Alexandra Osipovna in Paris. There were also a few lines concerning Pushkin's death in the letter of Vyazemski that followed: "On his deathbed, Pushkin dictated a note listing to whom he owes and what, and you too were mentioned in it…" (see our image nr.22).

Alexandra Osipovna gave account of her encounters with the great poet in her memoirs. "In 1832", she wrote, "Alexander Sergeevich used to visit me daily" (in Tsarskoe Selo - B.W.)". On one of his visits Pushkin presented her with an album and immediately wrote in it his poem "V trevoge piostroi I bezplodnoi" (English: "In motley and futile anxiety"; see our image nr.28).
For extensive account of this year-long friendship, see our images nr.20-28; CLICK HERE and HERE).

The friendship of Alexandra Osipovna with (second in order of importance) Russian poet, Michail Yurievich Lermontov (CLICK HERE for details) is not less interesting. Similarly, she shared a close friendship with writer Nikolai Vasilievich Gogol (CLICK HERE).

Our images nr.11-17 show other portraits of A. O. Smirnova-Rosset. Comparison with these portraits fully confirms the identity of the sitter.
The author, French miniaturist E. Martin (1790-1876; see our last additional image) came to St. Petersburg in the 1820s and stayed there for 20 years working as portraitist of the high society (some of his works of this period can be seen in various museums in Russia). He always (without exception!) signed with the work's number following his name (we are sure this numbering is not chronological - some of the sitters with lower numbers are dressed and coiffed according to fashion which existed much later than that of sitters with higher numbers. In reality (as we suppose) this numbering was a code which the artist used to distinguish between different groups of sitters and honorariums etc - for example the first figure was the number of a group (men, women, military officers, civilians, children etc.; the next two figures were also a code for something (honorarium, time of execution etc.)). In June 1991 the artist's estate was sold in one of the French provincial auction houses including an accounts book containing 557 numbers with the names of the sitters (!) sometimes with a very personal note. Unfortunately the whereabouts of this book are unknown today....
Our images nr.30-33 show works of E. Martin housed in Russian museums and private collections.

miapr22ap13
Condition:
Creation Year: 1826/28
Measurements: UNFRAMED:7,5x6,1cm/3,0x2,4in FRAMED: 10,8x9,2cm/4,3x3,6in
Object Type: Framed miniature
Style: Portrait Miniatures
Technique: watercolor on ivory
Inscription: signed and numbered: E. Martin. 209.
Creator: E. Martin
To see other works by this artist click on the name above!
Creator Dates: 1790-1876
Nationality: French
2-3 days door-to-door shipment, professionally packed by Mail Boxes Etc and shipped with DHL (calculated for US): 82,57 EUR + insurance 1,8% of item price
Shipping cost to other destinations (worldwide) on request
Shipping price may be reduced if you dispense with the frame


Cheaper alternative (may be further reduced if you dispense with the frame): professionally packed by Mail Boxes Etc and shipped with regular Austrian mail - upon request under office@wilnitsky.net (OBS: In this case maximal refunded insurance value is EUR 500 if shipping destination was the US. In Europe sometimes more, depending on destination.)
Click here for images free of watermark!
Click on images or on

to see larger pictures!