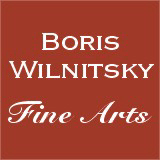 If you have a question about this item,
please contact us at: office@wilnitsky.net
# 36780
Alphonse Lalauze (1872-1936) "Russian Cossacks during Suppression of Boxer Revolt in China", 1900
Price: EUR
(please note additional Austrian VAT (Value Added Tax) applies for transactions concluded within the European Union)
SOLD!!!

Rare representation of the Russian military presence in China during the suppression of the Boxer Rebellion (also called Yihetuan Uprising) in China in 1900-1901.
The Boxer Rebellion, Boxer Uprising or Yihetuan Movement, was an anti-foreign, proto-nationalist movement by the Righteous Harmony Society in China between 1898 and 1901, opposing foreign imperialism and Christianity. The uprising took place against a background of severe drought and economic disruption in response to growth of foreign spheres of influence. Grievances ranged from political invasion ranging back to the Opium Wars and economic incursions, to missionary evangelism, which the weak Qing state could not resist. Concerns grew that missionaries could use the sponsorship of their home governments and their extraterritorial status to the advantage of Chinese Christians, appropriating lands and property of unwilling Chinese villagers to give to the church.
After several months of growing violence against foreign and Christian presence in Shandong and the North China plain, in June 1900, Boxer fighters, convinced that they were invulnerable to foreign weapons, converged on Beijing with the slogan "support the Qing, exterminate the foreigners." They forced foreigners and Chinese Christians to seek refuge in the Legation Quarter. In response to reports of armed foreign landings and demands, the initially hesitant Empress Dowager Cixi, urged by the conservatives of the Imperial Court, supported the Boxers and on June 21 1900 authorized war on foreign powers. Diplomats, foreign civilians and soldiers, and Chinese Christians in the Legation Quarter were under siege by the Imperial Army of China and the Boxers for 55 days.
The Eight-Nation Alliance (Russian, Great Britain, USA, Germany, Japan, France, Italy and Austro-Hungary) after being initially turned back, brought 20,000 armed troops to China, defeated the Imperial Army, and captured Beijing on August 14, lifting the siege of the Legations.
Among these allied troops was also Russian 1st Siberian Corps, which counted 4300 men and which was under command of General Nikolai Petrovich Linevich. In ranks of this corps fought three units of the Siberian Cossacks: 1st Nerchinski Cossack Regiment, 1st Amurski Cossack Regiment and Ussuriyski Cossack Detachment. The presented here drawing depicts Russian cavalrymen that are Cossacks of one of the aforementioned units.
Our images nr.9-11 show a few other pictures of the Russians suppressing Boxer Rebellion.
The author of this mono-watercolor, Parisian military and historical artist Alphonse Lalauze (1872 Paris - 1936 Milly-la-Foret) was a son of watercolor artist and etcher Adolphe Lalauze (1838-1905). He studied under famous military artist Edouard Detaille and, besides battle paintings, made also illustrations and etchings (especially known are his etchings for "Costumes militaires de l'armee francaise" (1902-1907)).
He regularly exhibited in "Salon des artistes francaise" and was repeatedly awarded exhibition medals. In 1931 he was conferred with the Cross of the Legion d'Honneur.
Our images nr.12-16 show several other works of this artist.

Provenance: French private collection

mifeb21ap13
Condition: good; in original matting
Creation Year: 1900
Measurements:UNFRAMED:32,8x47,1cm/12,9x18,5in FRAMED: 48,7x61,0cm/19,2x24,0in
Object Type:Framed watercolor
Style: 19th century Russian paintings
Technique: gray wash with whitening on paper; matted and framed
Inscription:signed and dated: Alph.Lalauze 1900
Creator: Alphonse Lalauze
Creator Dates: 1872 Paris-1936 Milly-la-Foret
Nationality:French
2-3 days door-to-door shipment, professionally packed by Mail Boxes Etc and shipped with DHL (calculated for US): 218,44 EUR + insurance 1,8% of item price
Shipping cost to other destinations (worldwide) on request
Shipping price may be reduced if you dispense with the frame


Cheaper alternative (may be further reduced if you dispense with the frame): professionally packed by Mail Boxes Etc and shipped with regular Austrian mail - upon request under office@wilnitsky.net (OBS: In this case maximal refunded insurance value is EUR 500 if shipping destination was the US. In Europe sometimes more, depending on destination.)
Click here for images free of watermark!
Click on images or on

to see larger pictures!