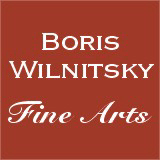 SALE!!! SAVE MONEY !! 1 EUR = 1 USD
# 36761
Jenaro Pérez Villaamil "Resting French Hussars (Spanish Campaign of 1823)", important painting!!, 1829
10000 EUR
FINAL DISCOUNT PRICE= 10000 USD
( for EUR price see date rate )
Please note: Shipping and insurance costs are not included in this promotion, ONLY ITEM PRICES!
(please note additional 13% tax applies for transactions concluded within the European Union)
Painted in 1829, it is one of the earliest works of the famous Spanish romantic artist, then art student in Cadiz, Jenaro Pérez Villaamil. The painting shows detachment of French hussars resting at the monastery ruin somewhere in Spain. It is an episode from the French invasion in Spain, which began on 7 April 1823 with the aim to restore King Ferdinand VII of Spain to the absolute power of which the latter had been deprived during the Liberal Triennium (see our images nr. 11-12).
To that time the 16-year-old Jenaro Pérez Villaamil joined the Spanish Army and participated in fights against the French. He was captured by the enemy and brought to Cadiz. The impressions of these days obviously led him to creation of the here discussed painting six years later.
Jenaro (Genaro) Pérez Villaamil (Villaamil y Duguet) was born on 3 February 1807 in El Ferrol, La Coruna and died on 5 June 1854 in Madrid.
Shortly before the French invasion of 1823 he attended the Colegio Militar in Santiago, Galicia. After his very short career as an officer and then prisoner-of-war, he entered the Academy of Cadiz and soon achieved some fame in the city. Already in 1830 he was commissioned to decorate the Tapia Theatre in the Carribean city of San Juan in Puerto Rico. In 1833 he returned to Spain and met the Scottish painter David Roberts in Seville, who introduced him to the British Romantic landscape style in which he then continued to work for the rest of his life.
In 1834 Pérez Villaamil settled in Madrid, taking an active part in the lively artistic world of the Romantic period and had increasing success. In 1835 he was elected Member of Honor of the Real Academia de San Fernando. He also was active as an illustrator providing sketches for the "Panorama matritense" of Mesonero Romano in 1835. Pérez was amongst the founders of Liceo Aertistico y Literario España in 1837 where he subsequently obtained high teaching and administrative positions. At this time his work also became known outside of Spain when Baron Taylor bought several of his paintings for King Louis-Philippe of France.
In 1840 Pérez Villaamil became Pintor Honorario de la Real Cámara (royal artist) but during the regency of General Esparterol (1840-1844) Pérez stayed abroad, partly busy with his "España artistic y monumental", a book illustrated with lithographs mainly based on his own drawings… This work, one of the most beautiful lithographed travel books of Spanish Romanticism, with texts by Patricio de la Escosura, was published in Paris in 1842-3. Pérez Villaamil also travelled in Belgium and the Netherlands, in these countries (as also in France) carrying out commissions for the sovereigns and associating with important political and cultural figures. He received the Légion d'honneur from King Louis-Philippe and was elected a Knight of the Order of Leopold of Belgium. On the fall of Espartero in 1844 Pérez Villaamil returned to Madrid. In 1845 he was elected Lieutenant Director and Professor of Landscape at the Academia de S Fernando. From 1848 he also taught landscape painting at the Escuela Preparatoria de Ingenieros Civiles y Arquitectos. From this date until his death he made frequent sketching trips to the north of Spain and to Andalusia. He contributed with success to the exhibitions at the Academia and the Liceo, and in 1846 he showed his work at the Paris Salon, where it received high praise from Charles Baudelaire.

Pérez Villaamil's work may be divided into a pre-Romantic (sic!) and a Romantic period. The former occupied the years from his first training in Cadiz in 1823 to his meeting with David Roberts in 1833 (our painting belongs to this period!). The few paintings from this period that are known (as we see the biographer who we cite here points out the extreme rarity of remained works from the pre-Romantic period - B.W.) are rather eclectic in style, though revealing especially the influence of 17th-century Flemish painting and 18th-century French painting. They are unified, however, in their wide views of landscape and their use of staffage based on local types. Pérez Villaamil's Romantic work is akin to the British tradition encountered in the paintings and drawings of David Roberts: landscape enlivened with architectural motifs and the interiors of historical (usually medieval) monuments predominate, while colorful local figures unite folklore and the medieval world, both elements very much to the Romantic taste. Pérez Villaamil's work also reveals an interest in subjects of an oriental flavor, of which he was a pioneer in Spain, for example Oriental Landscape with Classical Ruins (Madrid, Mus. Romántico). Apart from the influence of David Roberts, there are echoes of other Romantic artists in his work: J. M. W. Turner in the view of the Picos de Europa (Madrid, Pal. Moncloa) and John Martin in Procession in Covadonga (Madrid, Pal. Moncloa). There is far greater unity in the work of Pérez Villaamil's Romantic period, which reveals a development towards greater control and a concern for overall effect and for monumentality. His mature painting is full of fantasy: the coloring is warm, brilliant, with golden tones and a vaporous atmosphere enveloping objects and confusing distance. The oil paintings are of small and medium size, with strong drawing and a vigorous impasto technique. Pérez Villaamil was also a magnificent watercolorist, as seen in his view of the Municipal Palace of Brussels (early 1840's; Madrid, Prado), and a fluent draughtsman, notable for the elegance and strength of his sketches. The most important Spanish Romantic landscape artist, he initiated-through his work as well as his teaching-the systematic cultivation of landscape painting in Spain.
CLICK HERE for further information about him

Works of Jenaro Pérez Villaamil are to see in Prado Museum, Madrid and in other important Spanish and international museums. At the art auction market his paintings achieve very high prices (up to USD 375,000; see our images nr. 14-21).

Provenance: "Shapiro Auctions", New York, February 28, 2015, Lot 20 (see our image nr.27)

This painting is signed "JP Villamil" with one "a" in the surname, which is not a sign for it is not authentic. As show our images nr. 22-24 the artist used both kinds of signatures - with one and two "a".
Condition: good; lined in 19th century
Creation Year: 1829
Measurements: UNFRAMED:50,5x60,5cm/19,9x23,8in FRAMED: 65,9x75,7cm/25,9x29,8in
Object Type: Framed oil painting
Style: 19th century paintings
Technique: oil on canvas
Inscription: signed and dated: JP (ligated) Villamil/1829
Creator: Jenaro (Genaro) Perez Villaamil y Duguet
To see other works by this artist click on the name above!
Creator Dates: 1807 El Ferrol, Spain-1854 Madrid
Nationality: Spanish
SHIPPING COSTS UPON REQUEST:
office@wilnitsky.net
Click here for images free of watermark!
Click on images or on

to see larger pictures!