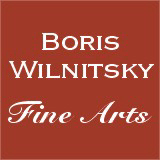 If you have a question about this item,
please contact us at: office@wilnitsky.net
# 36734
Domenico Bossi-Circle "Evgraf Fedotovich Komarovsky", important Russian miniature!!, ca.1809
Price: EUR
(please note additional Austrian VAT (Value Added Tax) applies for transactions concluded within the European Union)
SOLD!!!

THE SELLER WILL COVER SHIPPING WITH REGULAR MAIL FOR THIS ITEM!

Discovered in the sale catalogue of one British provincial auction house in December 2012, this portrait miniature on ivory is a little sensation. Offered by auctioneers as a "Georgian portrait of a military officer" it turned out to be an unknown until today representation of the famous Russian soldier and courtier, who served for four consecutive Russian monarchs - Catherine the Great, her son Paul I, latter's sons Alexander I and Nikolai I - General Evgraf Fedotovich Komarovsky.

But, one step at a time.
So, on 7 December 2012, at the sale of "Durrants Auction Rooms" in Beccles, Suffolk/ England we acquired (offered under Lot # 817) a miniature on ivory with a portrait of a looking 35-40 years of age Russian general (silver "oak leaves" sewed on the red cloth collar and a silver epaulette with thick bullion fringe on the right shoulder) from the narrow period of 1808-1809.
How does it come to this time estimation?
It is because of the epaulette on the right shoulder (we can see it since the artist turned the sitter on this way) Russian officers and generals obtained after (sic!) 1807. At first, in 1807 one epaulette was placed onto the left shoulder and ca. one year later, additionaly an identic one on the right shoulder. Epaulettes of junior officers (ober-officers) had no fringe, stabs-officers (major, lieutenant-colonel, colonel) had epaulettes with a thin bullion fringe, the epaulettes of generals had a thick (!) bullion fringe. Besides that, a special "oak leaves"-sewing on the red cloth collar and cuffs of general's uniform was introduced to the Russian army on 26 January 1808. This kind of uniform was worn by Russian generals up to the mid of 1810s , which seems to extend the time borders of this portrait to more than five years. If it wasn't for one important detail, allowing to put the upper time border down to 1809 - Russian officers and generals were allowed to powder their hair (in the old manner) until inclusively 1809, but not later! (So says the uniformologist V.M. Glinka in his famous book). Our sitter does have powder in his hair!
Let us turn to the sitter's awards. He bears a neck (Commander) Cross of Sardinian Order of Saints Maurice and Lazarus. A lot of insignia of this award in 1799 were sent by the Sardinian King Charles Emmanuel IV to the Russian Field Marshal Alexander Suvorov, victorious Chief-Commander of the Russian Army during the so-called Italian Campaign of 1799, with the request of awarding latter's distinguished in this campaign officers.
This cross we can see on portraits of one or the other Russian colonels and generals who took part in this legendary campaign. Thus, we come to the conclusion that "our" general was a participant of Suvorov's Italian campaign.
Besides the Sardinian cross the sitter bears a star of the Russian Order of St. Anna of 1st class on his right chest and obligatory corresponding to it a red sash with yellow edges.
Amongst all Russian generals, mentioned in the web list of Alexander Podmaso ("Biography of Generals of Russian Army/1812-1815") only one (!) possessed the Sardinian Cross and the St. Anna Order of 1st class and no other orders (neither Russian (St. Andreas First-Called, or Alexander Nevski, or St. George, or St. Vladimir) nor any other foreign (sic!) orders).
Oops! This general in reality had three orders in total until 1813 (in that year he was awarded (additionally!) with Order of St. Vladimir) - besides the visible two, from 1799 he beard the cross of founded shortly before in Russia St. John (Maltese) Order. It is possible on this portrait he has it as well, but we simply can not see the embroidered on his left chest small white cross - either it is covered by the sash or the position chosen by the artist for his sitter does not allow us to see it. Anyways, only one Russian general in the period between 1799 (Italian campaign) and 1813 was in possession of only these three awards. Nobody else!

His name - Evgraf Fedotovich Komarovsky.

And, if we have a look at known portraits of him (see our images nr. 9-12) and two portraits of one of his sons (our image nr. 13), we will be convinced that our speculative deductions were absolutely correct. We have found a new representation of this celebrated general.

Evgraf Fedotovich Komarovsky (29 November 1769, St. Petersburg - 25 October 1843, Gorodishche, Orlovskaya Gubernia) was born to a noble family from St. Petersburg. He studied at a private boarding school before enlisting as a sergeant in the Life-Guard Preobrazhenski Regiment, and then swiftly transferred to the Life-Guard Izmailovski Regiment. He participated in the Empress Catherine II's travel to Crimea in 1787 and served on missions to London, Paris and Vienna from 1788-1791. Promoted to ensign on 24 August 1792, and to regimental adjutant in 1794, Komarovsky has been appointed adjutant to Grand Duke Constantin Pavlovich and promoted to captain-lieutenant ("kapitan-poruchik") in late 1796. He became a captain on 22 August 1797, then colonel in 1798.
Komarovsky participated in the 1799 Campaigns in Italy and Switzerland, fighting at Bassignano, Tidone, Trebbia, Nure and various actions in the Alps (a.o. in the capturing of so-called "Devil's bridge"). He was awarded with the Order of St. Anna of 2nd class, the Order of St. John of Jerusalem (Maltese Order) and the Sardinian Order of St. Maurice and Lazarus (Commander class) - all these three awards and the next rank of Major-General he obtained practically simultaneously, still in 1799. In 1801, he became Adjutant-General and was appointed assistant to the military governor of St. Petersburg in 1802. In 1803 he was attached to Austrian Archduke Joseph (who arrived to marry Alexander I's sister, Alexandra Pavlovna) in St. Petersburg and through latter's introduction elevated to Count of the Holy Roman Empire.
In 1806 Komarovsky was awarded with the St. Anna of 1st class, which we see on our miniature.
The years from 1807 to 1809 (sic!) he spent abroad due to health condition, at first living in Vienna, then in Paris. As we already know that the miniature was painted between 1808 and 1809, one could suppose the artist was Austrian (stay in Vienna) or French (stay in Paris). But, we strongly believe the miniature was made shortly after Komarovsky's return to St. Petersburg, in late 1809 - stylistic criteria of this portrait absolutely correspond works of living then in the Russian Capital Italian miniaturist Domenico Bossi. If not by him, it was painted by one of good St. Petersburg miniaturists of that period, working in latter's manner.
On 19 July 1811 Komarovky became an inspector for the Internal Guard. He has not participated neither in the Russo-French (Patriotic) War of 1812, nor in Russian anti-Napoleonic foreign campaigns of 1813-1814 on territories of Poland, Germany and France - all this time he spent serving in Russian southwestern provinces, supervising the recruitment of troops and requisition of horses.
After 1816 he commanded a corps of Internal Guard. In 1828 he was promoted to General of Infantry and appointed to the Senate. Komarovsky's literary legacy includes "Zapiski Grafa E.F. Komarovskogo", his detailed memoire at court of Catherine the Great and Paul I, as well as campaigns in Italy in 1799, and travels to Austria and France from 1807 to 1809.
We also add that in December 1825 Komarovsky marched the arrested Decembrists from Senate Square into Petropavlovsky Fortress. In 1826 he was a member of the Supreme Criminal Court process of the Decembrists.
From 1828 he lived in the estate of his wife Elisaveta Yegorovna Tsurikova (see our image nr. 22-23) in the village Gorodishche, Orlovskaya Gubernia, where he died fifteen years later.
Besides mentioned above awarding with St. Vladimir of 2nd class in 1813, Komarovsky obtained the Order of St. George of 4th class in 1819 and in 1825 the Order of St. Alexander Nevski.

When it comes to the two portraits of Komarovsky (images nr. 9-10) everything is clear, but questions arise concerning the main known portrait, until today attributed to the Saxonian artist Carl Christian Vogel von Vogelstein (our image nr. 11; this portrait is on display in the Russian Museum, St. Petersburg).
In the catalogue of the Russian Museum this portrait is presented as made between 1808 and 1812. And it is true that Carl Christian Vogel von Vogelstein (1788-1868) stayed in Russia in this period. In 1812 he returned (this fact is documentary) to Dresden and never came back to Russia. In 1813 C.C. Vogel von Vogelstein moved to Italy where he stayed until 1820 before returning again to Dresden. Thus, he could not portray Komarovsky between 1808 and 1812, since Komarovsky on this portrait already (!) bears the neck cross of St. Vladimir, which he obtained only in 1813! Following conclusion suggests itself:
a) either the author of the portrait in the Russian Museum is not Vogel von Vogelstein
or b) Vogel von Vogelstein was yet the author but he painted this portrait earliest in 1820, after his return to Dresden from Italy (as said above, in Komarovsky's biography he himself in 1813 (artist's short stay in Dresden) was not abroad with the Russian Army; besides that this kind of collar of the sitter's uniform was not existent anymore in 1820!)
or c) This portrait (image nr. 11) was really made by Vogel von Vogelstein during his stay in Russia from 1808 to 1812, but the sitter … is not Evgraf Fedotovich Komarovsky!!

And now a few words about the artist who either was the author of this first class miniature or strongly influenced one of his contemporary colleagues in St. Petersburg.
Domenico (Gian Domenico or Giovanni Domenico) Bossi was, according to the latest information, born in 1767 (and not in 1765, as it was previously believed) in Triest and died in 1853 in Munich.
In the 1780's, Bossi attended the Academy of Venice. Later, in 1794-96, he was active in Hamburg, and - in 1796-1802 - in Stockholm (in 1799 Bossi became a member of the Swedish Academy and a Court Portrait Miniature Painter). The following ten years between 1802-1812 he spent (apart from short breaks) in St. Petersburg; 1812-1813/14 - in Paris, and from 1814/15 ? - in Vienna, where in 1818 the artist became a member of the Vienna Academy, and where he exhibited in the years 1816, 1822, 1824, and 1826. At last, from 1840, Bossi settled in Munich.
Domenico Bossi belongs to the best miniaturists of his time. He worked in the late Neoclassical style and produced a large number of miniatures with portraits of European royalties and members of high aristocracy.
Two of his portrait miniatures - one of Tsar Alexander I (1807) and one of M.A. Naryshkina (1808) - are on display in the St. Petersburger Hermitage. The Rijksmuseum in Amsterdam houses another portrait of Alexander I by Bossi. Similarly, various others of his works belong to museum collections in St. Petersburg (Russian Museum), Berlin, Stockholm, Vienna, etc.
le08feb13
Condition: good; in original (probably golden) frame
Creation Year: ca 1809
Measurements:UNFRAMED:6,5x5,4cm/2,6x2,1in FRAMED: 7,3x5,9cm/2,9x2,3in
Object Type:Framed portrait miniature
Style: Portrait miniature
Technique: Watercolor on ivory
Inscription:-
Creator: Domenico Bossi
Creator Dates: 1767 Triest-1853 Munich
Nationality:Italian
We will cover shipping with regular registered mail (delivery between 7-14 days) for this item.

OBS: Austrian mail refunds cases of loss or damage with maximum EUR 500.


Fully insured 2-3 days DHL service available upon request and subject to extra charges: office@wilnitsky.net
Click here for images free of watermark!
Click on images or on

to see larger pictures!