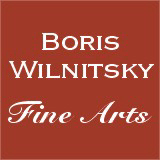 If you have a question about this item,
please contact us at: office@wilnitsky.net
# 36732
François Joseph Heim (1787-1865) "House concert", oil painting, 1817/18
Price: EUR
(please note additional Austrian VAT (Value Added Tax) applies for transactions concluded within the European Union)
SOLD!!!

Interesting painting with an interior scene from the early period of 2nd Bourbon Restoration - female personages are still wearing empire gowns and hair decorations, which came to fashion during the Napoleonic era, but the red sabretache (flat bag) of the hussar officer on the right, decorated with a triple lilies shield of the Bourbons, is an evident for the fact that we here already are in the Restoration period. Not of 1st Restoration of 1814/15 (before the so-called "100 days" (Napoleon's return)), but of 2nd Restoration, which began in autumn 1815 after Napoleon's defeat at Waterloo. This is proved by the uniform of both hussars on the right - green pelisses and red trousers with white stripes - a uniform of founded in 1816 (sic!) "régiment des hussards du Nord", which existed under this title and with this uniform until 1825.
However, if the lower time border of this painting is 1816, the upper would be far earlier than 1825.
The head decorations of two of the ladies present in this scene are tiara-like headbands with attached ostrich plumes which were in fashion from late 1800's (see for example our image nr. 14) until late 1810's (then these decorations were replaced by a turban and later by a hat, both also decorated with ostrich plumes). The same can be said about the diadem worn by the third lady, who is playing the harp - this kind of head decoration, which Napoleon's first wife Josephine already used to wear, wasn't fashionable in 1817/18 anymore (as well as the gowns of all three women…)

As the time borders of the depicted scene (and probably of the painting itself) are set to 1816-1818, we turn to the personages.
Undoubtly, the main character is the young lady playing the harp. She is accompanied by seven invited professional musicians playing - piano, two violins, flute, tuba, contrabass and cello. Obviously she is the hostess of this salon, one of the socialites of that time. She wears a warm, edged with fur dress (like two other women). It surely is a winter evening and the room is heated only by the fireplace. The artist shows her in profile but gives us a hint of her face by the reflection in the mirror above the fireplace. Historians of that period might come to know who it is.

The female guest on the left, the lady in a red velvet (also warm) dress hold a book with song lyrics. She just finished singing one of the songs and now listens to the compliments of the young gentleman standing next to her.
We also can see the harp player's husband, the head of the house. It is an elderly gentleman, sitting with his legs crossed beside the chimney. The painter caught him in the moment as he is sniffing tobacco, taken from his snuff-box. This, surely very wealthy man is much older than his young wife and he has to be part of her music evenings without taking part in them.
Where did this music evening take place? Was it in Paris or in the province? It is possible to get answers to those questions by going back to the hussar officer with the sabretache (the first from left). With a very great possibility the scene takes place in the same town where his regiment was then stationed. In 1816 (the year of creation) this regiment was stationed in Lille, but in the next year web-sources name already Rouen as it's garrison town…
We can see the rank of this blonde hussar - three silver chevrons on his lower sleeve tell us he is a captain. Moreover, his pelisse is decorated with a red ribbon of the Royal St.Louis Order. Thus, we just have to check lists and service records of captains in the "regiment des hussards du Nord" in the period of 1816-1818 and extract those, who were: a) blonde and b) in possession of the St.Louis Order. It could be very possible that there was only one captain responding to this criteria and we could have his name and further details which probably could lead to the name of the hostess of this evening and her husband.
And what a surprise - "Histoire de l'Ordre Royal Militaire de Saint-Louis" by Alexandre Mazas (Paris, 1861) names only one captain from "hussards du Nord" who obtained the St.Louis Order in the discussed period. As our image nr. 15 with clips from this book shows, his name was Charles-François Bernard, nicknamed Fleury. He was born in 1784, thus in the discussed period he was 32-34 years old (which fully corresponds the visual age of "our" hussar captain!). At the age of 16 years he entered chasseurs of the Consular Guards, later in 1810 raised to captain (but obtained his license only in 1815!) and in 1816 became captain of the new-founded "régiment des hussards du Nord". His St.Louis Order he obtained on 15 October 1817, which means with a great certainty our scene takes place in Winter 1817/18.

Probably in the same city (Lille? Rouen?) the unit to which belongs the third military officer in this scene - the man in the blue uniform with a rose collar, silver buttons and epaulette - was stationed. He also is in possession of the St.Louis Order (red ribbon with white stripe (for chevalier cross) on his chest)…

This scene is a typical composition for its author, the French historical and portrait painter François Joseph Heim (for comparisons see our images nr.17-21).
It surely is a preparatory study for a large painting which whereabouts (lost? destroyed?) unfortunately remain unknown.
Our image nr.16 provides an extensive biography of François Joseph Heim.

Provenance: Christie's South Kensington, London, 30 October 2012, Lot 409 (see our image nr.13)

lefeb0113
Condition: good; in original frame
Creation Year: 1817/18
Measurements:UNFRAMED:50,5x64,4cm/19,9x25,4in FRAMED: 68,2x81,2cm/26,9x32,0in
Object Type:Framed oil painting
Style: 19th century paintings
Technique: Oil on paintboard
Inscription:-
Creator: Francois Joseph Heim
Creator Dates: 1787 Belfort-1865 Paris
Nationality:French
SHIPPING COSTS UPON REQUEST:
office@wilnitsky.net
Click here for images free of watermark!
Click on images or on

to see larger pictures!