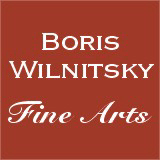 SALE!!! SAVE MONEY !! 1 EUR = 1 USD
# 36569
Orest Adamovich Kiprenski-? "Studies of male heads", four oil on brass miniatures, early 19th c.
7900 EUR - 25% DISCOUNT = 5925,00 EUR
FINAL DISCOUNT PRICE= 5925,00 USD
( for EUR price see date rate )
Please note: Shipping and insurance costs are not included in this promotion, ONLY ITEM PRICES!
(please note additional Austrian VAT tax applies for transactions concluded within the European Union)
**Sizes (unframed) range from 6,7x6,0cm/2,6x2,4in to 7,0x6,3cm/2,8x2,5inT

The acquisition of these four works turned out to be particularly interesting.
We discovered in the online catalogue of one of the upcoming auctions at the US auction house "Braswell Galleries", Norwalk, CT (the sale in question took place on October 7th 2012) a tableau housing seven oil miniatures on metal - all presumably executed on copper. While four of them (made by the same hand) appeared not so interesting to us (on the photograph, one could see four academic studies of male models that are usually typical works of an art student), the three others immediately drew our attention. The photograph revealed high quality portraits of real persons, all of which were painted by various Dutch (two male portraits) or Spanish (female portrait) 17th-century artists. Having already amassed a large number of similar portraits we have decided to go ahead and acquire this 7-piece group in order to (after disassembling the tableau) include the three mid-row miniatures in our collection as individual items (see our image nr.10).
As a result, we have won the auction, and the tableau was successfully delivered to our gallery in Vienna two weeks later.
First of all, after having seen the tableau with our own eyes, we were able to acknowledge that not only the three mid-row miniatures but also the four "head-studies" were of superb quality .
The back of the tableau was entirely glued up by paper strips (the tableau itself, as well as the paper strips, were produced not that long ago, probably sometime in the 1930/50s). It could have been a typical case of someone's proud demonstration of collection in "one piece", i.e. choosing a single tableau to store all miniatures.
We have proceeded to disassemble the tableau and in the process discovered that, while the three mid-row miniatures were (as we have presupposed) painted on copper (a typical 17th-century technique), the four "head-studies" were painted on brass, which was a material rarely utilized by 17th-century artists but frequently used as a base of oil paintings in the late 18th and in 19th centuries .
Moreover, having removed the paper strips covering the verso of the tableau we were not only reconfirmed with the fact that these four "head-studies" were painted on brass, but (to our great surprise) discovered on verso of three of them identical ink inscription in Roman characters made in the 19th or early 20th century that read "KIPRENSKI"!!
It became clear that one of the previous owners knew exactly or at least believed these four "head-studies" to be works of famous Russian artist of the turn of the 19th century, Orest Kiprenski.

As it is commonly known from his biography, Orest Adamovich Kiprenski (1782-1836) was admitted into the boarding school of St. Petersburg Imperial Academy of Art already at the age of six. He first studied at the boarding school and then at the Academy until 1803. Kiprenski lived at the Academy premises as a pensioner in order to fulfill all necessary requirements needed to win the Major Gold medal. The winning of the first prize for his historical painting "Prince Dmitri Donskoi after the Battle of Kulikovo" (1805; see our image nr.15) enabled the young artist to go abroad to study art in Europe. He became with time a renowned portraitist of pan-European recognition.
During his years at the Academy Kiprenski was taught by portraitist Dmitri Levitski and historical painters Grigory Ugriumov and Gabriel Doyen who greatly influenced the young student .
Still in 1802 Kiprenski received an academic medal for "Jupiter in the House of Philemon and Baucis" (studies for this painting (according to Thieme-Becker) belonged in the late-19th-early-20th cc. to collection of S.S. Botkin). Additionally, in 1803, he was awarded an academic medal for his next painting with mythological subject matter.
Thieme-Becker also mentions his academic oil studies and drawings in the collections of Schwartz (St. Petersburg) and Zvetkov (Moscow); this information is also related to the period preceding the October Revolution of 1917.
As it is known, many thousands of art works were taken out of Russia by countless emigrants that left the country during and shortly after the Revolution; many of them settling in the US. It is very likely that these four miniatures crossed the Atlantic Ocean in the suitcase of one of such emigrants (as the matter of fact, it is not the first time that we acquire works of the same past from the US auctions; for example, see our web #31408).
Our images nr.13-20 showing Kiprenski's various historical compositions (especially those from his academic period!) fully support our hypothesis that "our" artist, who was certainly a student of one of Academies of Fine Arts (these miniatures, as we have already said, are typical academic studies), could have well been young student of St. Petersburg Academy Orest Kiprenski .
Unfortunately, in absence of information concerning comparable works of Kiprenski (oil on brass miniatures), this hypothesis remains only a hypothesis …
Our images nr.11-12 offer extensive biographical information about Orest Adamovich Kiprenski.

Provenance: auction house "Braswell Galleries", Norwalk, CT, USA: October 7th 2012, lot 523 (formerly in property of heirs of Russian emigrants - ???)

midec05ap12
Condition: good; in newer frames
Creation Year: early 19th Century
Measurements: UNFRAMED:0,0x0,0cm/0,0x0,0in
Object Type: Unframed miniatures
Style: Portrait Miniatures
Technique: all: oil on brass
Inscription: three bear (on verso) inscription: KIPRENSKI
Creator: Orest Adamovich Kiprenski
To see other works by this artist click on the name above!
Creator Dates: 1767-1836
Nationality: Russian
We will cover shipping with regular registered mail (delivery between 7-14 days) for this item.

OBS: Austrian mail refunds cases of loss or damage with maximum EUR 500.


Fully insured 2-3 days DHL service available upon request and subject to extra charges: office@wilnitsky.net
Click here for images free of watermark!
Click on images or on

to see larger pictures!