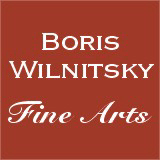 SALE!!! SAVE MONEY !! 1 EUR = 1 USD
# 36534
Gottlieb Schwenke (fl. 1794/1820 in Russia) "Countess Anna Pavlovna Kamenskaya", oil/canvas, 1798
8500 EUR
FINAL DISCOUNT PRICE= 8500 USD
( for EUR price see date rate )
Please note: Shipping and insurance costs are not included in this promotion, ONLY ITEM PRICES!
(please note additional Austrian VAT tax applies for transactions concluded within the European Union)
Relatively new label, glued in stretcher, bears a legend which (obviously being written by German pre-owner who (after acquiring) dated it 27/8/(19)98) says it is a portrait of a certain "Gräfin Kaminskaja aus Petersburg" (English: Countess Kaminskaya from St. Petersburg), adding German word "Privatbesitz", which means the portrait was acquired from a private estate.
Besides that, on verso of the canvas we can see an authentic inscription, made by author of this high quality painting (practically signature): "de Schwenke pinxt 1798".

Art reference literature (see our images nr. 21-22 with clips from Thieme-Becker and Nagler) names only one portraitist Schwenke working in 1798 - Saxonian artist Gottlieb Schwenke (also Schwencke). Not much is known about him, only that from 1794 to 1820 he was mentioned as working in Mitau (then town in Russian Baltic province Courland, where Comte de Provence, future King Louis XVIII of France lived in exile from 1798 to 1801 and from 1804 to 1807); now this town is named Jelgava and belongs to Latvia.
Obviously having this town as his permanent residence, Schwenke was also mentioned as working "in service of Count Bezborodko" (Russian Grand Chancellor, Count Alexander Andreevich Bezborodko (1747-1799), who as known, possessed houses in St. Petersburg as well as in Moscow.
Besides that, we meet Schwenke in 1804 in St. Petersburg, where he made two religious paintings for the new-founded Finnish Church.
Thieme-Becker says he died in 1821 in Munich.

And now back to our lady. In 1798 there was no Countess Kaminskaya in Russia. We are absolutely sure that here Countess Anna Pavlovna Kamenskaya, nee Princess Shcherbatova (1749-1826) is meant. In 1798 she was 49 years old, which fully corresponds to the visual age of the lady on our portrait. Known is also (only one existing!) miniature portrait of her from the 1820s (see image nr. 12), apart from the significant age difference we can see a truly similarity of facial features!
Yet, in 1798, Countess and her famous husband General-Field-Marshal Count Michail Fedotovich Kamenski (see our image nr.13) lived in Moscow, where at this same time Count A.A. Bezborodko, lived in his house which was famous in all Russia (and beyond borders) for its magnificence. It is easy to imagine, that the artist Schwenke stayed (in service of Kamenski's neighbour Bezborodko) in 1798 in Moscow, and the portrait of Countess Kamenskaya was made there.
Our images nr. 12-15 provide an extensive (and very interesting!) biographical information about the Countess, her husband and her famous sons.

Countess Anna Pavlovna was born on 24 September 1749 as a daughter of "podpolkovnik" (lieutenant-colonel) Prince Pavel Nikolaevich Shcherbatov and his wife Princess Maria Fedorovna Golitsyna. On 5 April 1771 (all dates correspond to the so-called Russian old-style-calendar) she married Michail Fedotovich Kamenski (1738-1809), who later was ennobled to Count. According to people who knew her, "she was one of the most beautiful women of this time, of a generous soul, kind-hearted and soft-tempered". In her marriage she was very unhappy and suffered under the harsh and despotic character of her husband, who never hid his relation with a simple woman, for whom he constantly left the Countess. Being a deeply religious woman with a strict moral, she patiently carried her fate until the death of her husband, who was killed for his cruelty towards bond slaves. After his death she lived in Orel with her eldest son Sergey and in Moscow in her own house located vis-ā-vis Petrovsky Monastery, which looked like a Moscow manor house in the old-Russian style, full of dependents, Kalmyk-women, captive women from Turkey, female dwarfs and jesters.
She had one daughter, Maria, who was married to G. P. Rzhevski and two sons, but all her attachment was concentrated on her eldest son, Count Sergey Michailovich. The sensational career of her youngest son, Count Nikolay Michailovich, who died as a Commander-in-Chief of the Danube Army, at the age of 35 in the year 1811, she thought as being a piece of injustice towards her favorite son. She even persuaded the latter's commander to give a chance to her eldest son, to prove himself to the army. This chance was given him at the siege of Rushchuk, with a rather poor result...
Granted, to the same time when her husband was ennobled to Count, as a lady-in-waiting with a right to bear the miniature portrait of Paul I and bestowed with the Order of Saint Catherine of 2nd Class, Countess Kamenskaya was held in respect at court. But at the end of her life she was disgraced there. She incurred the displeasure of Emperor Nikolai Pavlovich, due to the rebellion of her bond slaves, who rose because of the severity of the grave. At latter's coronation in August 1826 she was not bestowed with the Order of St. Catherine of the 1st Class and the word was that she was not allowed to come to the court. She was hit by this event so much, that she unexpectedly died of a heart attack on 16 November 1826, in the age of 77 years. She was buried in the Novodevichy Convent in Moscow.

If it was not signed by Schwenke on verso, we could have taken it for a unknown until now work of the famous portraitist of that period, author of many "Russian" portraits, Vienna artist (see our images nr.23-24; click here also other works of his in our possession) Josef Grassi (1758 Vienna - 1838 Dresden). In the 1790s this artist lived in Poland (Saxony and Kurland (Latvia) are not so far away), and there is a great possibility that Schwenke was his pupil for some time.

P.S. 7 November 2014:
We just found mention of signed by Schwenke copy after portrait of Prince Adam Czartoryski by Tonci (see our image nr.25; Italian-born portraitist Salvatore Tonci (1756 Rome - 1844 Moscow) came in 1797 from Poland to St.Petersburg and in 1800 settled in Moscow). This information let us suppose that presented here painting is also a copy (Schwenke's speciality?) which the artist made after portrait painted by Grassi (whereabouts of the original is unknown).


Provenance: private collection, Celle/Germany

leoct29ap12
Condition: good
Creation Year: 1798
Measurements: UNFRAMED:64,2x53,5cm/25,3x21,1in FRAMED: 83,5x72,5cm/32,9x28,5in
Object Type: Framed oil painting
Style: Old Master paintings
Technique: Oil on canvas
Inscription: verso signed: de Schwenke pinxt. 1798
Creator: Gottlieb Schwenke (Schwencke)
To see other works by this artist click on the name above!
Creator Dates: fl. 17941-820/Russia-died 1821 in Munich
Nationality: German
SHIPPING COSTS UPON REQUEST:
office@wilnitsky.net
Click here for images free of watermark!
Click on images or on

to see larger pictures!