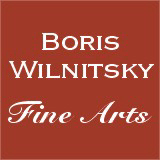 If you have a question about this item,
please contact us at: office@wilnitsky.net
# 36509
Guillaume Descamps "Eglé-Eugenie Vanlerberghe in the age of 14", important ink drawing!!!, 1813
Price: 2250 EUR
(please note additional Austrian VAT (Value Added Tax) applies for transactions concluded within the European Union)
This portrait will be sold only together in the following group of items.

This, of high quality, signed, dated 1813 and titled (by artist!) in lower left corner portrait of the 14-year-old Eglé-Eugenie Vanlerberghe (1799-1875) was acquired as a part of a 6-pieces-lot (together with five other by the same hand - see our images nr.8-10) at the inventory sale of Chateau des Cornudet a Crocq, in the surroundings of Aubusson, region Limousin, central France. Comte Cornudet des Chaumettes and his cousin, comte Mathieu de la Redorte are today's owners of the chateau (both families became related through a marriage of Valentine Mathieu de la Redorte (1834-1889) and the grandson of Joseph, comte Cornudet des Chaumettes (in 1813 it was his who owned the chateau) in 1854).
The sale on 27 June 2012 was conducted by Paris auction house "Cornette de Saint Cyr" which called it rather anonimous (on request of the owner of the collection!) - "Ancienne collection du Comte Mathieu de la Redorte et du Comte Cornudet des Choummetes (correct: Chaumettes - B.W.) /provenant d'un chateau de la region d'Aubusson…" (as we see without mentioning the name of the chateau).
Besides the here discussed portrait, all other five drawings of the mentioned 6-pieces-lot are portraits of following persons:
1. (our web # 36511 ) signed, dated 1813 and (recently) titled on verso portrait of 45-year-old Jeanne, comtesse Cornudet des Chaumettes, nee Baronesse Cellier du Montel (1768-1834), wife of Chateau des Cornudets' 1813-owner.

2. (our web # 36507) signed and dated 1813 watercolor portrait of the second of three sisters Vanlerberghe, ca. 21-year-old Sophie Angélique Vanlerberghe (ca. 1792-1864). Two years before the portrait was drawn, she married a Napoleonic officer (son of extremely wealthy businessman) Jean-Baptiste César Paulée.

3. (our web # 36510) signed and dated 1813 portrait of eldest from three Vanlerberghe sisters, 23-year-old Barbe Rosalie Josephine Vanlerberghe (1790-1879). In 1805, then 15 years old, she married Napoleon's adjutant, General Jean Rapp, divorced him in 1811 and married in 1816 her second husband, Leonard-Charles de Villoutreys de Brignac. On this portrait she is divorced Comtesse de Rapp.

4. (our web # 36506) signed, dated 1813 and titled (by artist!) in lower left corner portrait of 24-year-old Hussar Lieutenant Jean-Baptiste César Paulée (1789-1831), from 1810 husband of Sophie Angelique Vanlerberghe (our no.2). On 19 November 1813 he was awarded with the Chevalier Cross of Legion d'Honneur which we already see on his portrait. This means, this portrait (like all other from this group, which are dated 1813) was made after this date, i.e. between late November and late December 1813. To that point of time he was an adjutant of General Guilleminot and obviously (due to his award) received a short-term vacation for celebration with his family by his general.

5. (our web # 36508) signed and dated 1814 (sic!) portrait of 3-3,5-year-old Eglé-Rosalie Paulée, little daughter of our lieutenant (no. 4) and his wife Sophie Angélique (no. 2).

Eglé-Eugenie Vanlerberghe was born in 1799 as the youngest daughter of the greatest French speculator, corn trader and main provision supplier of the Napoleonic Army Ignace-Joseph Vanlerberghe (1758-1819; see our image nr.17) and his wife Barbe Rosalie Lemaire (b. ca. 1765). Back at the time of the 1st Emipre her father was a very wealthy man, who has had an immense fortune and was one of the richest men in France. However, he went bankrupt in late 1805 and was arrested for the first time in 1806; since this date he spent next years between prison and hospital. After the return of the Bourbons his business went up again, but on the 29 September 1819 he lost his last 9 million (sic!) Francs, which apparently led to his sudden death two days later.
Anyways, in November-December 1813 our Eglé-Eugenie is still a 14-year-old girl, daughter of not exactly impoverished parents. Eight years later, on 3 July 1821 she will be married in Paris to the son of the owner of Chateau des Cornudet, Etienne-Emile, comte Cornudet des Chaumettes (1795-1870). Nevertheless, still in 1813 all this group of people - three sisters Vanlerberghe, Lieutenant Paulée and (what is very importrant!) Comtess Cornudet, wife of the owner of the castle (chateau) where all these 6 drawings were stored for almost two hundred years, were close connected with each other. Either the families Cornudet, Vanlerberghe and Paulée were friends a long time before or (what we believe!), besides the mentioned awarding of Lieutenant Paulée, in these days of November-December 1813 another event took place namely the engagement of the 14-year-old Eglé-Eugenie Vanlerberghe and the 18-year-old Etienne-Emile Cornudet des Chaumettes. To this event, members of all three families came together in Paris and were (minimum six of them) practically simultaneously portrayed by the Parisian artist Guillaume Descamps.
The wedding itself took place in 1821. The fiancé grew to a very importrant politician, Member of Parliament and from 1843 peer of France. After the Revolution of 1848, he, as an adherent of the overthrown Louis-Philippe retired from politics and died many years later in his native Chateau des Cornudet in 1870.
But still in 1822, one year after their wedding Mosigneur and Mme Cornudet acquired Chateau Neuville-sur-Oise, which inherited their only son, Joseph Alfred, comte Cornudet des Chaumettes (1825-1876) - it was him who married the mentioned in the beginning Valerie Mathieu de la Redorte.
Eglé-Eugenie, Comtesse Cornudet ds Chaumettes died on 29 April 1875.
Guillaume-Désire-Joseph Descamps was born in 1779 in Lille and died in 1858 in Paris. He was a pupil of François-André Vincent. In 1802, he won the 2nd Rome-Prize for his painting "Sabinus et Eponine devant Vespasien". Through involvement of Jean-Baptiste Wicar, in 1808, he became a "Peintre officiale du Roi de Naples, Joachim Murat" (in that period, he painted Murat's portrait, as well as some subjects from events of those times: among others, "La roi Joachim Murat distribuant des récompenses aux blessés a bord de la frigate "La Céres", après le combat de 27 juin 1809" (formerly in Palazzo de Potrici in Naples; it was also engraved by Descamps himself)). He regularly exhibited at the Salon de Paris portraits, historical and religious scenes (a.o. paintings intended for churches - St. Estauche (1819) in Paris, St. André (1822) and Chapel of Hospital in Lille.
Works of Descamps can be viewed today in Versailles, Chateau Malmaison, Museum of Fine Arts in Lille, etc.
leoct01ap12
Condition: good; in original old matting, newly framed
Creation Year: 1813
Measurements:UNFRAMED:16,1x12,0cm/6,3x4,7in FRAMED: 27,0x22,7cm/10,6x8,9in
Object Type:Framed drawing
Style: Portrait miniatures
Technique: Black ink on paper
Inscription:monogrammed and dated: D/1813; titled by artist: Eglée Vanlerberghe
Creator: Guillaume-Désire-Joseph Descamps
Creator Dates: 1779 Lille-1858 Paris
Nationality:French
2-3 days door-to-door shipment, professionally packed by Mail Boxes Etc and shipped with DHL (calculated for US): 115,6 EUR + insurance 1,8% of item price
Shipping cost to other destinations (worldwide) on request
Shipping price may be reduced if you dispense with the frame


Cheaper alternative (may be further reduced if you dispense with the frame): professionally packed by Mail Boxes Etc and shipped with regular Austrian mail - upon request under office@wilnitsky.net (OBS: In this case maximal refunded insurance value is EUR 500 if shipping destination was the US. In Europe sometimes more, depending on destination.)
Click here for images free of watermark!
Click on images or on

to see larger pictures!