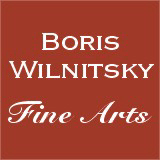 If you have a question about this item,
please contact us at: office@wilnitsky.net
# 36506
Guillaume Descamps "Lieutenant Jean-Baptiste César Paulée", important ink drawing!!, 1813
Price: ON REQUEST
(please note additional 13% tax applies for transactions concluded within the European Union)
This portrait will be sold only together in the following group of items.

Of highest quality, signed and dated 1813 and (most important!) titled in lower left corner BY ARTIST HIMSELF (see carefully our images nr.7-8 !!) - "m-r Paulée" (m-onsieu-r) - drawn portrait of the 23-year-old Napoleonic Hussar Lieutenant (two galloons on his trousers!) Jean-Baptiste César Paulée. On old back cover somebody (one of last owners?) made recently (with a ball-point pen!) an inscription - "Joseph Cornudet /..." (erroneously meaning the 1813-owner of Chateau des Cornudet, Comte Joseph Cornudet de Chaumettes (1755-1834).

This drawing was acquired as a part of a 6-pieces-lot (together with five other by the same hand - see our images nr.9-11) at the inventory sale of Chateau des Cornudet a Crocq, in the surroundings of Aubusson, region Limousin, central France. Comte Cornudet des Chaumettes and his cousin, comte Mathieu de la Redorte are today's owners of the chateau (both families became related the a marriage of Valentine Mathieu de la Redorte (1834-1889) and the grandson of Joseph, comte Cornudet des Chaumettes (in 1813 it was his who owned the chateau) in 1854.
The sale on 27 June 2012 was conducted by Paris auction house "Cornette de Saint Cyr" which called it rather anonimous (on request of the owners of the collection!) - "Ancienne collection du Comte Mathieu de la Redorte et du Comte Cornudet des Choummetes (correct: Chaumettes - B.W.) /provenant d'un chateau de la region d'Aubusson…"(as we see without mentioning the name of the chateau).
Besides the here discussed portrait of Lieutenant Paulée, all other five drawings of the mentioned 6-pieces-lot are portraits of following persons:
1. (our web # 36511 ) signed and dated 1813 and (recently) titled on verso portrait of 45-year-old Jeanne, comtesse Cornudet des Chaumettes, nee Baronesse Cellier du Montel (1768-1834), wife of chateau des Cornudets' 1813-owner. Her daughter-in-law was one of the sisters-in-law of our lieutenant.

2. (our web # 36509) signed, dated 1813 and titled portrait of 14-year-old Eglé-Eugenie Vanlerberghe (1799-1875), who in 1821 married the son of 1813-owner of Chateau des Cornudet, Etienne-Emile, Comte Cornudet des Chaumettes.

3. (our web # 36507) signed and dated 1813 watercolor portrait of Lieutenant Paulée's wife, the second of three sisters Vanlerberghe, ca. 21-year-old Sophie Angélique Vanlerberghe (ca. 1792-1864); their wedding took place three years before, in 1810. Like her husband, she was born into an extremely wealthy family - her father Ignace-Joseph Vanlerberghe gathered his great wealth as the greatest French corn trader and provision supplier of the Napoleonic Army. In 1805 he became bankrupt and spent the next years, right to the return of the Bourbons, between prison and hospital; but the family had still plenty of money and could make a great giving when the daughter married in 1810 the son of his partner (also one of the greatest French speculators of the period) - Jean-Baptiste Paulée-senior.

4. (our web # 36508) signed and dated 1814 (sic!) portrait of 3-3,5-year-old Eglé-Rosalie Paulée, little daughter of our lieutenant and his wife Sophie Angélique (no. 2).

5. (our web # 36510) signed and dated 1813 portrait of eldest from three Vanlerberghe sisters, 23-year-old Barbe Rosalie Josephine Vanlerberghe (1790-1879). In 1805, then 15 years old, she married Napoleon's adjutant, General Jean Rapp, divorced him in 1811 and married in 1816 her second husband, Leonard-Charles de Villoutreys de Brignac. On this portrait she is divorced comtesse de Rapp.

Lieutenant Paulée's father began his career as an errand boy in Douai (see image nr.12). Later he worked in the local tavern and was then almost illiterate. Through his job in the tavern he made good acquaintances with stationed in Douai army officers, who helped him to begin an activity as a provision supplier to the army. Even before the start of the French Revolution his fortune was very significant, but in the years of Revolution and following periods of Directory, Consulate and the 1st Empire, he (like his friend and partner Vanlerberghe) gathered a great wealth and became the greatest realty speculator of France. Just in Belgium he acquired lands and buildings for a sum of 18 million Francs. However, in the last period of 1st Empire he (again, like his partner Vanlerberghe) faced major financial difficulties (our image nr.13 provides information about his arrest in 1810 for the nonpayment of taxes in the amount of 300 000 Francs to the treasury); it happened in the same year as his son married - obviously the family has not become completely poor like the family of his partner (and now even relative) Vanlerberghe, who at this point was also in prison.

According to his service list (copy in possession of Moscow military historian Dimitri Gorchkoff) Jean-Baptiste César Paulée-junior began his military service on 19 April 1811 as a sous-lieutenant (2nd lieutenant) of 6th Hussar Regiment. In ranks of his regiment he made the whole Russian campaign of 1812. On 12 January 1813 he was promoted to lieutenant. On 21 April 1813, in Germany, he was appointed aide-de-camp of Lieutenant-General comte Guiilleminot. On 19 November 1813 he was awarded with Chevalier Cross of Legion of Honour with simultaneous promotion to captain (still being adjutant of General Guilleminot). In early 1814 he served in the garrison of Fortress of Mainz (then on French territory; capitulated on 4 May 1814). The exact date of his retreat from military service remains unknown; beginning from the late 1810s and until his death on 30 January 1831 he is mentioned as successor of father's business and also one of the greatest realty dealers in France.

Additionally we were able to find a few other documents concerning him on the web (see our images nr.15-21).

Obviously news about his awarding with Legion of Honour and promotion to captain surprised him in Paris, where he was then - either on short-term vacation, or with some commission of his general. We also suppose (read description of our web # 36506) in the period between 15th (sic!) and 30th November 1813 another important event could take place in Paris, an event which required the presence of the connected with familial or matrimonial bonds members of the families Cornudet, Vanlerberghe and Paulée - the possible engagement of then 18-year-old Comte Cornudet-junior and the youngest of the Vanlerberghe sisters, then 14-year-old Eglé-Eugenie (the wedding, as said above, took place 8 years later in 1821). To this same event the popular Parisian portraitist Guillaume Descamps could be invited, who probably portrayed every one of the present guests (but surely minimum the six our persons). And our Paulee posed for artist still in lieutenant's uniform and "with imaginary", practically still not delivered cross of Legion of Honour. The depicted cross is one of so-called 3rd model - without balls on the tops of rays. In reality in these days participants of Saxonian campaign of autumn of 1813 already were receiving crosses of new 4th model (with balls!).

Soon after Bourbons return our Jean-Baptiste Cesar Paulee retired from the army - beginning from the late 1810s and until his death on 30 January 1831 he is mentioned as successor of father's business and also one of the greatest realty dealer in France.

And now a few words about the strange note in the catalogue entry to the 6-pieces-lot in the Paris auction house "Cornette de Saint Cyr" concerning preparatory study for the here discussed portrait. This drawing (see the two last lines in our image nr. 10) is described there as "Portrait d'un maréchal/Plume et ecre grise et noire - 15,5 x 11,5 cm - Monogrammé et daté an bas á gauche D. 1813 et annoté Mar (Maréchal - B.W.) Soult".
As image nr. 21 shows, our lieutenant from 1813 by no means could have been Marshal of Empire Nicolas Jean-de-Dieu Soult (who then was 44 years old and had absolutely physiognomic difference)!
Where did that name come from?
We are sure in following: One of the mentioned above owners of the collection, during preparation for the sale, could not decipher the inscription "m-r Paulée" and took it for "Mar Soult". Moreover, this name plays a special role in the story of the families Cornudet, Vanlerberghe and Paulée. The famous Marshal Soult had a son, Napoleon, 2nd Duke of Dalmatia (see image nr. 21). Our image nr. 22 shows a clip from the issue of London "The Court Journal" from 30 November 1833, where we can find an interesting message from Paris: "A marriage is said to be on the tapis between a son of Marshal Soult and Mlle Paulée, daughter -in-law of General Jacqueminot, and one of the richest heiresses in France…" So, two years before the wedding of Lieutenant's Paulée daughter Eglé Rosalie (our no. 4) with Charles-Marie Tanneguy comte Duchatel (read description of our web # 36508) Eglé Rosalie (daughter-in-law of her mother's second husband General Jacqueminot) according to rumors, was to marry Marshal Soult's son Napoleon!
Either this marriage was very short-termed and ended with a divorce after a couple of months or it did not take place at all. In any case, in 1835 Eglé Rosalie married Comte Duchatel…

The author of this drawing was (as said above) the well-known Parisian portraitist Guillaume Descamps, who shortly before came back to the French capital after a few years of stay at the court of Joachim Murat in Naples.
Guillaume-Désire-Joseph Descamps was born in 1779 in Lille and died in 1858 in Paris. He was a pupil of François-André Vincent. In 1802, he won the 2nd Rome-Prize for his painting "Sabinus et Eponine devant Vespasien". Through involvement of Jean-Baptiste Wicar, in 1808, he became a "Peintre officiale du Roi de Naples, Joachim Murat" (in that period, he painted Murat's portrait, as well as some subjects from events of those times: among others, "La roi Joachim Murat distribuant des récompenses aux blessés a bord de la frigate "La Céres", après le combat de 27 juin 1809" (formerly in Palazzo de Potrici in Naples; it was also engraved by Descamps himself)). He regularly exhibited at the Salon de Paris portraits, historical and religious scenes (a.o. paintings intended for churches - St. Estauche (1819) in Paris, St. André (1822) and Chapel of Hospital in Lille.
Works of Descamps can be viewed today in Versailles, Chateau Malmaison, Museum of Fine Arts in Lille, etc.


lesep27ap12
Condition: good; in original old matting, newly framed
Creation Year: 1813
Measurements:UNFRAMED:15,8x11,9cm/6,2x4,7in FRAMED: 27,0x22,7cm/10,6x8,9in
Object Type:Framed drawing
Style: Portrait miniatures
Technique: Black ink on paper
Inscription:monogr.: D/1813; titled: "m-r Paulée"; on verso (recently) erroneously titled: "Joseph Cornudet /..."
Creator: Guillaume-Désire-Joseph Descamps
Creator Dates: 1779 Lille-1858 Paris
Nationality:French
2-3 days door-to-door shipment, professionally packed by Mail Boxes Etc and shipped with DHL (calculated for US): 107,47 EUR + insurance 1,8% of item price
Shipping cost to other destinations (worldwide) on request
Shipping price may be reduced if you dispense with the frame


Cheaper alternative (may be further reduced if you dispense with the frame): professionally packed by Mail Boxes Etc and shipped with regular Austrian mail - upon request under office@wilnitsky.net (OBS: In this case maximal refunded insurance value is EUR 500 if shipping destination was the US. In Europe sometimes more, depending on destination.)
Click here for images free of watermark!
Click on images or on

to see larger pictures!