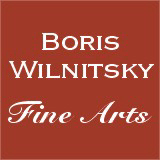 If you have a question about this item,
please contact us at: office@wilnitsky.net
# 36387
Bartholomeus van der Helst (1613-1670)-Attrib. "Portrait of a Youth", Oil on Copper Miniature, ca.1650
Price: 6900 EUR
(please note additional 13% tax applies for transactions concluded within the European Union)
Although this highest quality oil on copper miniature was offered in 1991 at Sotheby's Monaco (see our image nr.11) as a possible work of Italian 18th century artist Giuseppe Cades (1750-17991) it in contrary demonstrates absolutely all stylistic criteria of works of the well-known Dutch portrait miniaturist of the 17th (sic!) century Bartholomeus van der Helst. With a great possibility it could be also latter's creation (our images nr. 7-9 convincingly support this attribution; image nr. 10 provides the artist's extensive biography).
Bartholomeus van der Helst was born in Haarlem in 1613. He became the preferred painter in the circles of the Amsterdamer council families and goverment officials and received no less extensive comissions than his colleague the famous Frans Hals. Estimates of his paintings made during his lifetime evidence, that the profit of his work must have enabled him an adequate living. Van der Helst often gave parts of his works to be finished by other masters. L. Backhuysen and W.v.d. Welde painted the harbor and seascapes in the background and J.B. Weenix occasionally added the background landscapes to his pictures.
Provenance: Sotheby's Monaco, 6th December 1991, Lot 368; private collection New York

lejul19ap12
Condition: good
Creation Year: ca 1650
Measurements:UNFRAMED:11,5x9,0cm/4,5x3,5in FRAMED: 20,0x17,0cm/7,9x6,7in
Object Type:Framed miniature
Style: Portrait miniatures
Technique: Oil on copper
Inscription:-
Creator: Bartholomeus van der Helst
Creator Dates: 1613-1670
Nationality:Dutch
2-3 days door-to-door shipment, professionally packed by Mail Boxes Etc and shipped with DHL (calculated for US): 88,4 EUR + insurance 1,8% of item price
Shipping cost to other destinations (worldwide) on request
Shipping price may be reduced if you dispense with the frame


Cheaper alternative (may be further reduced if you dispense with the frame): professionally packed by Mail Boxes Etc and shipped with regular Austrian mail - upon request under office@wilnitsky.net (OBS: In this case maximal refunded insurance value is EUR 500 if shipping destination was the US. In Europe sometimes more, depending on destination.)
Click here for images free of watermark!
Click on images or on

to see larger pictures!