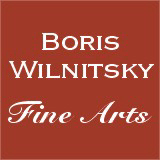 If you have a question about this item,
please contact us at: office@wilnitsky.net
# 36333
Heinrich Friedrich Fueger "Count Franz Joseph Thun", rediscovered famous miniature on ivory!!, 1790s
Price: ON REQUEST
(please note additional 13% tax applies for transactions concluded within the European Union)
Here we are dealing with a portrait of the celebrated Austrian aristocrat Count Franz Joseph Thun which formerly was in the Vienna collection Alfred Strasser and for the last time shown to wide audience at the 1924-exhibition in Vienna's museum "Albertina" (see our image nr.11). Especially known from the beginning of the 20th century through a publication in the standard work about Fueger's miniatures - Ferdinands Laban "Heinrich Friedrich Füger, der Porträtminiaturist", Berlin 1905 (see our image nr.10 ), mentioned by Eduard Leisching as "one of most interesting works of Fueger" (see image nr.12), this almost for 90 years thought to be lost large miniature on ivory unexpectedly surfaced in Switzerland, where we acquired it in June 2012.

Count Franz Joseph Thun und Hohenstein (1734-1801) was a son of very wealthy Bohemian aristocrat Count Johann Joseph Anton Thun (called Old Count Thun; 1711-1788), who possessed many castles but mainly lived between Linz and Prague. Franz Joseph married Reichsgräfin (Countess of Holy Roman Empire) Maria Wilhelmine von Uhlefeld; together they had three beautiful daughters who were depicted twice (in miniature on ivory and oil painting) by Friedrich Heinrich Fueger (see our images nr.17-18; later these girls became wives of (respectively) Russian Ambassador in Vienna, Count Andreas Rasumovsky, Prince Karl von Lichnowsky and Richard Meade, 2nd Earl of Clanwilliam). The girls' mother, Countess Thun was a passionate music-lover and her Vienna salon was famous all over Europe. She was a former pupil of Haydn, later to be supporter of Beethoven and was regarded as one of the most cultivated ladies in Vienna. Mozart was fascinated by her in March 1781 already and repeatedly visited her salon which attracted such people as the Chancellor Prince Kaunitz, Vice-Chancellor Count Cobenzl, Field-Marshall Hadik, and even Emperor Joseph II himself for conversation and music, and dancing too, if the mood took them.
And what about her husband, Count Franz Joseph Thun, Privy Councillor, Royal and Imperial Chamberlain?
"As strange as ever, but an honest gentleman and well-meaning", Mozart wrote to his father (24 March 1781).
"Strange" - because the count was a mystic, a magician, a mesmerist healer and a Rosicrucian Freemason like his father the Old Count Thun (who in his turn was Grand Master of the Rosicrucian Lodge in Prague). In 1784 Franz Joseph Thun became Vice-Master of the Chair of the famous Vienna Lodge "Zu Wahren Eintracht" (English: "To True Harmony"). The pair of compasses with a segment which he bears on our miniature portrait is a badge of honour for the Lodge Masters of Great Country Lodge of Germany; the badge on his left chest is probably a Rosicrucian decoration.

Count Franz Joseph Thun claimed he had mystical powers in his right arm due to which he was able to heal paralysis, (articular) gout and rheumatism. In the year 1794 he went to Leipzig allegedly to receive an explanation about his mystic fluid in his arm by professors of the University. Certainly there was no explanation but the count was flooded by masses of suffering people.

Our images nr.14-15 show two engraved portraits of this interesting person.
Heinrich Friedrich Fueger (1751 Heilbronn - 1818 Vienna) was a German-Austrian neoclassical artist born in Heilbronn, Germany in 1751. He began autodidactically with miniature portraits and as a young boy was shortly trained by the artist Guibal in Ludwigsburg. However he returned to Heilbronn to study law in 1768 and during his university studies continued painting portrait miniatures. His interest in painting grew and he dedicated himself to studying art as pupil of Oeser in Leipzig. He exhibited succesfully at the Dresdner Academy and moved to Dresden, where he worked until the year 1774 then moving to Vienna. He soon enjoyed the interest of the Imperial House and other influential sponsors in Vienna and traveled to Rome on a scolarship in 1776 studying the classical works, Raffael, Annibal Caracci and Domenichino. Among his contemporaries the artists Mengs, Trippel and David had a strong influence on his works. He returned to Vienna in 1783 to be appointed the Vice-director of the Vienna Academy in the same year and Director of the Academy in 1795. From 1806 he was also Director of the Imperial Picture Gallery. He was a very popular portrait and historical painter, a respected master of his time.
CLICK HERE FOR OTHER WORKS OF THIS ARTIST IN OUR POSSESSION

lejun26ap12
Condition: good, in original ormolu frame (compare with image nr.10); later mounted into newer tableau
Creation Year: 1790s
Measurements:UNFRAMED:11,5x9,0cm/4,5x3,5in FRAMED: 26,0x20,0cm/10,2x7,9in
Object Type:Framed miniatures
Style: Portrait miniatures
Technique: Watercolor on ivory
Inscription:Old legend on verso
Creator: Heinrich Friedrich Fueger
Creator Dates: 1751 Heilbronn-1818 Vienna
Nationality:German / Austrian
SHIPPING COSTS UPON REQUEST:
office@wilnitsky.net
Click here for images free of watermark!
Click on images or on

to see larger pictures!