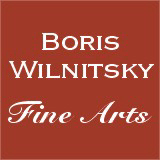 SALE!!! SAVE MONEY !! 1 EUR = 1 USD
# 36165
F. Colombari (ca.1800-aft.1855) "Russian deserters in Persian service", two rare drawings, 1838/39
2000 EUR
FINAL DISCOUNT PRICE= 2000 USD
( for EUR price see date rate )
Please note: Shipping and insurance costs are not included in this promotion, ONLY ITEM PRICES!
(please note additional 13% tax applies for transactions concluded within the European Union)
THE SELLER WILL COVER SHIPPING WITH REGULAR MAIL FOR THIS ITEM!

These two ink drawings were made in late 1838-early 1839 by Italian military engineer and autodidact artist, Colonel F. Colombari. They depict the scenes of the returning to their native country Russian deserters from so-called "Bagaderan" battalion of the Persian Army. This unit existed in the period between 1802-1839. The drawings are extremely rare: thus far there is only one surviving lithograph after (lost?) oil painting by their author, who lived in the period from 1833 until late 1848 in Persia, and who spent a great deal of time in its military camps. The aforementioned lithograph shows a scene of the last parade of "Bagaderan" before its voluntary return to Russia (January 1839). This lithograph is illustrated in a very interesting article about "Bagaderan" battalion written in 1996 by well-known Russian military historian, Dr. Alexander Kibovskyi (see our images nr.11-18 with clips from this article and from English translation made by Mark Conrad; both found on the Web).
We will do our best to summarize this otherwise lengthy article.

In 1802, staff-bugler in rank of "vachmistr" (cavalry sergeant-major) by the name Samson Makintsev deserted from the Russian Nizhnegorodski Dragoon Regiment, which was employed in the Caucasus against its highlanders. Following his surrender to the Persians he was enrolled in rank of "naib" (1st lieutenant) into the Yerevan Infantry Regiment. Along with this placement he received a company under his command and launched active enlistment initiative, in order to recruit other Russian defectors into it. Makintsev enjoyed solid support from his superiors, and it soon allowed him to complete a battalion consisting entirely of Russian deserters. He assumed command over the battalion, which received the name "Bagaderan" ("heroic", or - as referred to in Europe - "Grenadiers") and went on to fight in most challenging military operations, whether they were several wars against Russia, campaigns against revolting Kurds, or that against Afghans in Turkestan.
Russian government repeatedly made attempts to persuade these soldiers to return home (similarly, in 1819, famous Russian poet and dramatist (then - Secretary of the Russian embassy in Teheran) Alexander Sergeevich Griboedov made a sincere (albeit unsuccessful) effort to do so).
Finally, in 1838, Russian government succeeded in persuading the majority of soldiers (some of them were already of advanced age; many have grounded families in Persia) of the Bagaderan to return to their home country by ensuring them full immunity from punishment for desertion.
Having learned of his soldiers' decision, their eternal chief Samson-Khan (Makintsev) suffered a stroke, but recovered and remained in Persia.
On the 11th of February 1839 the (almost fully staffed) battalion crossed the Russian border, arriving to Tiflis on the 5th of March. In sum 1084 persons left Persia: 597 "grenadiers", 206 wives and 281 children.
The destinies of these soldiers took different turns: whereas married soldiers were enrolled into Caucasian Line Host and housed in various Cossack Stanitsas (villages), their unwed peers were assigned to different garrison infantry battalions. Their years in the Persian Army were counted as if they were spent in active duty in Russia.
Samson-Khan continued his service for Persian Shakh until he died in 1850 at the age of 73. He was buried in Surgul (now - North-West Pakistan) under the altar of the Orthodox Church that he once built himself.
The author of these drawings, Italian Colonel of Engineers, F. Colombari was born ca. 1800 in Piedmont and died after 1855 (probably in Paris). In October 1833, he moved to Tabriz to work as an engineer on invitation of Prince Qahremaen Mirza, son of Shah of Persia and Governor of Azerbaijan. Overwhelmed by the scenery of the region Colombari - purely an autodidact - began to paint drawings and watercolors. In 1836 he produced a watercolor titled "View of Persian Army parading in front of Prince Qahremaen Mirza on the occasion of a military strike against the Turks" (Paris, Gallery Jean Soustiel). In 1837 Prince recommended him to his brother (from 1834 - ruling Shah Mohammad Qädjar of Persia), who was, in fact, previously taught drawing by English painter Sir Robert Ker Porter. And so, in October 1837, Colombari reached Teheran. There exists his watercolor view of this town (Paris, Gallery Jean Soustiel). While predominantly working as an engineer, Colombari in his function of a court artist managed to paint a number of portraits of Shah, his minister, his successor to the throne (Nasr Ad Din), as well as some courtesans and other persons. He also produced numerous Persian landscape studies in watercolor.
In 1844, for being both an artist and a soldier, Colombari received Persian Lion Order, a Sun Order and a Great White Cross. In May of 1848, accompanied by French archeologist Xavier Hommaire and French artist Jules Laurens, Colombari went on architectural research expedition through Persia. In November of the same year, after Shah's death and seizure of power by Hadji Mirza, he left the country. He embarked a ship heading from the coast of Black Sea to Constantinople, and then proceeded to Europe.
Between the years 1852 and 1855 he contributed accounts of Persian politics and culture to French magazine "L'illustration". Colombari's artistic estate (among others, also our drawings) was discovered in the 1970s in France, and was subsequently auctioned off in Parisian auction house Drouot on the 19th of June 1981 (see our image nr.21).
Size of the 1st drawing: 10,3x11,3cm/4,1x4,4in; with mount: 15,0x16,0cm/5,9x6,3in
Size of the 2nd drawing: 12,9x18,5cm/5,1x7,3in;
Matted: 35,1x26,1cm/13,8x10,3in

miapr3012
Condition: fairly good
Creation Year: 1830s
Measurements: UNFRAMED:0,0x0,0cm/0,0x0,0in
Object Type: Unframed drawings
Style: 19th century Russian paintings
Technique: both: indian ink on paper; the smaller drawing is laid on mount (also titled on mount)
Inscription: both: titled in French; both are stamped "vente F.Colombari 1981" on verso
Creator: F. Colombari
To see other works by this artist click on the name above!
Creator Dates: 1800 Piedmont, Italy-after 1855 Paris (?)
Nationality: Italian
We will cover shipping with regular registered mail (delivery between 7-14 days) for this item.

OBS: Austrian mail refunds cases of loss or damage with maximum EUR 500.


Fully insured 2-3 days DHL service available upon request and subject to extra charges: office@wilnitsky.net
Click here for images free of watermark!
Click on images or on

to see larger pictures!