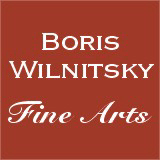 SALE!!! SAVE MONEY !! 1 EUR = 1 USD
# 35408
Francesco Alberi (1765-1836) "Napoleon as Liberator of Italy", important monumental painting!!, 1809
50000 EUR
FINAL DISCOUNT PRICE= 50000 USD
( for EUR price see date rate )
Please note: Shipping and insurance costs are not included in this promotion, ONLY ITEM PRICES!
(please note additional 13% tax applies for transactions concluded within the European Union)
Extremely rare for current antique market (we could not locate any other in auction records of the last 30 years!) work of well-known Italian neoclassical artist Francesco Alberi.
It is monumental oil on canvas painting with allegorical scene, in which the Emperor of French and - from the 17th March 1805 King of Italy - Napoleon I is depicted as a ruler seated on throne, several classical figures at its foot. One of them (on the left) is that of Pallas Athena, Goddess of Wisdom, Civilization, Warfare, Strategy and Justice; female figure on the right wearing green ermined mantle and Lombardian crown symbolizes Italy; she is offering a Caesar's attribute to Napoleon - laureate wreath. A child behind her is an envoy of God Zeus; he is holding one of Zeus' attributes - cornucopia (the latter symbolizes fertile lands and other riches of Italy that are now to become new emperor's domains). Heracles, who is standing on the right side of the throne, symbolizes Napoleon's supremacy. And finally, the child seated at the foot of the throne is no other than the symbol of law that had now been restored in Italy.
Not less important are also the inscriptions: on the stone plate held by the child one reads: "Liberatori /Suo /Italia /MDCCCIX" (so we have the date of painting - 1809); on outer wall of large cylindrical container with scrolls: "Fascis (?) /Napoleone /Magister (?) /…" and on the scrolls inside, among other: "Lucelium (?) /..." and "Restitutio /Scientia /...erum (?)".
On the painted label in the lower right corner of the composition one can find the artist's signature with accompanying text: "F. Alberi dipinse per commissione /del Sig-r Podesta Gaet-o Onesti" (English: "F. Alberi painted on commission of Sir Mayor Gaetano Onesti").
Gaetano Onesti, the client who commissioned this painting, was in 1809 the Podesta (Mayor) of Italian town Padua situated between Venice and Bologna. And in 1809, the author of this painting Francesco Alberi held a professorship at the Academy of Fine Arts of Padua!

Here is what we were able to find out about Signor Gaetano Onesti:

He was born in 1748 and died in 1825. On the 17th of December 1811 he (then, still a Podesta of Padua) was raised to Baron of Napoleonic Kingdom of Italy (see our image nr.38); he and his heirs were able to retain this title (awarded by the French who factually occupied his country) even after Napoleon's abdication of both thrones of France and Italy on April 11 1814.

Allow us to concentrate on historical events of the first years of the 19th century that laid foundation to the idea behind this painting.

In 1797, Napoleon Bonaparte founded in Northern Italy the Cisalpine Republic (Italian: Repubblica Cisalpina) with the capital Milan (see our images nr.39-41). Formally, this marionette state was independent and allied with France, but the treaty of alliance established the effective subalternity of the new republic to France. The French, in fact, had control over the local police and left an army consisting of 25,000 Frenchmen financed by the republic.
The republic was dissolved after the defeat of France by the Second Coalition in April 1799. It was occupied by General Suvorov's Russian and Austrian forces, which appointed a provisional administration led by the Imperial Commission headed by Mantua Count Luigi Cocastelli.
The Cisalpine Republic was restored by Napoleon on June 4, 1800. In January 1802, the name of the state was changed to Italian Republic (see our images nr.42-43) and, on January 24, on the advice of Talleyrand, Napoleon had himself elected president.
The republic had now a territory of more than 42,500 square kilometres and population of 3,240,000 in 12 departments.
On the 17th of March 1805, following Bonaparte's assumption of the title of Emperor of the French, the Italian Republic was transformed into the Kingdom of Italy (rarely Italia; see our images nr.44-46) with Napoleon as King and his stepson Eugéne de Beauharnais as Viceroy.
Napoleon was crowned in Milan's cathedral on May 26 with the Iron Crown of Lombardy.
From then on his title was "Emperor of the French and King of Italy", showing how much the Italian Kingdom meant for him.
Originally, the Kingdom consisted of the territories of the Italian Republic: former Duchy of Milan, Duchy of Mantua, Duchy of Modena, the Western part of the Republic of Venice, part of Papa States in Romagna and the province of Novara.
The state was divided, following the French system, in 14 départments. The départments were divided in districts. The districts were divided, as in France, in cantons and the latter - in communes.
The chief of biggest communes was Royal Podesta (sic! as in the case of "our" Gaetano Onesti!), representative of the King. The chief of smaller communes was a mayor appointed not by the King but by the prefect (chief of the départment). Therefore, "our" Signor Gaetano Onesti received his appointment directly from Napoleon Bonaparte. Is not it a reason sufficient enough to express his gratitude by ordering from a local artist a painting glorifying his Emperor and King? Similarly, it is possible that in due course the painting was intended to be presented to senior French authorities.
When Napoleon abdicated on April 11 1814, Eugéne de Beauharnais (Viceroy) was lined up on the Mincio River with his army against the German invasion, and he attempted to be crowned as King. But on April 23 he was surrounded and then exiled to Bavaria by the Austrians, who occupied Milan on April 28. On May 30, the Treaty of Paris was signed, and the remaining territories of the Kingdom of Italy were annexed by the Austrian Empire.

And now a few words about the author of this important Napoleonic painting :
Francesco Alberi (1765 Rimini / Forli - 1836 Bologna) began his art studies in native Rimini under Soleri Brancaleoni. From 1785 he studied at the Accademia di S. Luca in Rome under D. Corvi. In this period he was also strongly influenced by works of another professor of this Academy - Vincenzo Camuccini. Thereafter, he moved to London to continue his studies. In 1790 he returned to Rimini and began working as decorator of palaces of this town's wealthiest citizens - Battaglini, Garampi, Spina, Ganganelli. In 1799 he obtained a job of drawing teacher at the Rimini gymnasium (grammar school).
In 1803 the artist was appointed professor of painting at the Accademia delle Belle Arti in Bologna. In 1806 (sic!) he was transferred (as professor) to teach at the Academy of Padua, where he remained until 1810. He moved to Bologna in the same (1810) year. In 1821 he was elected Honorary Member of the Roman Accademia di S. Luca.
Francesco Alberi was mainly portrait and especially historical and religious painter. His works were acquired by royalties, his frescoes decorate churches and villas in various places around Rimini, Padua and Bologna. They can also be viewed in many Italian museums: Accademia di Brera (Milan), Museo Civico in Rimini, musuems of Padua, Forli, etc.
And finally a very interesting note concerning the idea behind this allegorical painting:

Two monumental (350 x 450cm and 304 x 436cm) oil paintings were presented at the exhibition "Napoleone e la Repubblica Italiana (1802-1805)", which took place in Milan in 2002-2003. They were painted in 1802 (beginning of the Italian Republic) by local artists. One of the two artists - "our" Francesco Alberi - painted the allegory "La Riconszenza della Repubblica Italiana a Napoleone" (now in Palazzo Forti, Verona; see our images nr.49-50). This giant work, although made by an ordinary drawing teacher from Rimini, reveals author's outstanding qualities of a composer and typical representative of Neoclassical Style.

Yet, what's more interesting for us is the painting made by Francesco Alberi's colleague, Milanese artist and pupil of Andrea Appiani, Giuseppe Bossi (1777-1815; see our images nr.51-52)! His allegorical painting made in 1802 and identically titled "La Riconszenza della Repubblica Italiana a Napoleone" (English: Italian Republic expressing its gratitude to Napoleon") clearly became the example for Alberi's painting of 1809 ("our" painting), for equally Napoleon I (seated on the throne as a Caesar), Goddess Pallas Athena, Heracles, female figure simbolizing Italy and a child with cornucopia behind, as well as the figure of child (honoring the King of Italy) at the foot of the throne - in other words, the whole composition used by Alberi's competitor, left him deeply impressed and consequently "resurfaced" in his 1809 painting commissioned by Podesta of Padua.

Provenance:
1.) Austrian noble estate;
2.) Vienna auction house "Dorotheum", 16th June 2011, lot 22

miokt10ap11
Condition: good; unlined (!); in original frame
Creation Year: 1809
Measurements: UNFRAMED:130,0x180,0cm/51,2x70,9in FRAMED: 144,0x194,0cm/56,7x76,4in
Object Type: Framed oil painting
Style: Old Master paintings
Technique: oil on canvas
Inscription: signed, inscribed and dated 1809; verso: restorer's note dated 1928
Creator: Francesco Alberi
To see other works by this artist click on the name above!
Creator Dates: 1765 Rimini / Forli-1836 Bologna
Nationality: Italian
SHIPPING COSTS UPON REQUEST:
office@wilnitsky.net
Click here for images free of watermark!
Click on images or on

to see larger pictures!