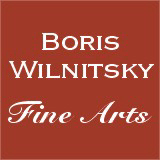 SALE!!! SAVE MONEY !! 1 EUR = 1 USD
# 35239
"Military commissar Jacques Lutendu and his sons", interesting Napoleonic miniature, 1805/1810
3500 EUR
FINAL DISCOUNT PRICE= 3500 USD
( for EUR price see date rate )
Please note: Shipping and insurance costs are not included in this promotion, ONLY ITEM PRICES!
(please note additional Austrian VAT tax applies for transactions concluded within the European Union)
Although not particularly qualitative, this work of a provincial miniaturist is nonetheless a very interesting relic of Napoleonic Epoch.
It is a group portrait of three military officers from the period of the 1st Empire (or, to be exact, from the period of 1805-1810 - the rather high collars of their uniforms point to this time range). According to authentic legend on verso of the ivory wafer (the text was first applied to a paper label and then glued onto the back of the wafer), these officers were members of the same family.
This legend (or rather the remainder of it) reads the following: "… /petit tableau de famille de (?) /Jacques Lutendu fils (?) de Louis (?) /Lutendu et Nathalie Aubois /… /…".
Hence we know that we are looking at certain Jacques Lutendu (officer in the center of the portrait) and his two sons. We asked for the help of our permanent adviser, uniformologist and specialist in Napoleonic epoch, and he informed us that the father, Jacques Lutendu, is wearing the uniform of high-ranking "commissaire de la guerre" (military commissar; usually an officer responsible for provision). Moreover, by examining various reference sources concerning Napoleonic Epoch, our adviser found a mention of certain division military commissar Lutendu (this rank corresponded to one of at least a colonel).
The younger son on the left of the composition is wearing the uniform of line infantry regiment's aide-de-camp (regiment's adjutant) in rank of a captain. The buttons of his uniform indicate the number of his regiment: it is "64".
The somewhat older son on the right is wearing the uniform of regiment's pharmacist (the rather faded dye (currently appears to be blue) of his collar was initially of blue-green (or teal) shade. And his buttons bear the same regiment's number - "64"!!
Our additional image nr.18 provides a. o. a war record of 64th regiment. As we see, in 1805 the 64th Line Infantry Regiment was at Michelsberg, Ulm and Auisterlitz (as a part of General Suchet's 3rd Division (V Corps of Marshal Lannes)). In 1806 it was at Saalfeld, Jena und Pultusk; in 1807 regiment participated in the battles of Ostrelenka and Friedland - always as part of 3rd Division. In 1808 64th Regiment was in Spain, but in 1809 we meet it again in Grande Armee - it fights (as part of General Claperede's 2nd Division) at Essling, Wagram and Ocana. And from 1810 to 1813 this unit is again in Spain. So with almost 100% likelihood, the father of both young officers, Jacques Lutendu (in center of the portrait), was a military commissar either of 3rd or 2nd Division of Grande Armee!
He must have made a lot of efforts to make sure that his sons served next to him. When he finally succeeded (both of his sons were transferred to the 64th Regiment), he invited a local miniaturist to produce their family portrait, which was soon quite likely sent back home to Mme Lutendu.
This anonymous "local miniaturist" (2nd and 3rd Divisions were, as said above, parts of the Grande Armée stationed in Germany and fighting on the territories of German states and Austria) was surely a German or Austrian artist!
Provenance: auction house "Geoffroy Bequet", Royan (French Atlantic coast), 19th August 2011.

misept14ap11
Condition: fairly good; in a frame of the 2nd half of 19th century in empire style
Creation Year: 1805/1810
Measurements: UNFRAMED:7,3x13,0cm/2,9x5,1in FRAMED: 23,0x24,7cm/9,1x9,7in
Object Type: Framed miniature
Style: Portrait Miniatures
Technique: watercolor on thick ivory wafer
Inscription: verso: remainders of old label with legend
Creator: German/Austrian School
To see other works by this artist click on the name above!
Creator Dates: -
Nationality: German / Austrian
2-3 days door-to-door shipment, professionally packed by Mail Boxes Etc and shipped with DHL (calculated for US): 110,37 EUR + insurance 1,8% of item price
Shipping cost to other destinations (worldwide) on request
Shipping price may be reduced if you dispense with the frame


Cheaper alternative (may be further reduced if you dispense with the frame): professionally packed by Mail Boxes Etc and shipped with regular Austrian mail - upon request under office@wilnitsky.net (OBS: In this case maximal refunded insurance value is EUR 500 if shipping destination was the US. In Europe sometimes more, depending on destination.)
Click here for images free of watermark!
Click on images or on

to see larger pictures!