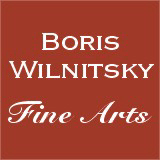 SALE!!! SAVE MONEY !! 1 EUR = 1 USD
# 35222
J. B. Isabey-School "Sibien, Marechal des Logis-Chef of the 7th Chasseurs á Cheval", miniature, 1812
3900 EUR
FINAL DISCOUNT PRICE= 3900 USD
( for EUR price see date rate )
Please note: Shipping and insurance costs are not included in this promotion, ONLY ITEM PRICES!
(please note additional Austrian VAT tax applies for transactions concluded within the European Union)
THE SELLER WILL COVER SHIPPING WITH REGULAR MAIL FOR THIS ITEM!

This large miniature was formerly housed in the famous Bernard Franck collection (see our image nr.11). On verso, besides the collection label, it bears another old label revealing the identity of the sitter. According to this legend, his name was Sibien, and he was a marechal des logis-chef (sub-officer's rank in French cavalry corresponding to that of a "sergeant-chief") in the 7th Chasseurs á cheval Regiment, from which he was later transferred in the same rank (!) to the Grenadiers á Cheval Regiment of Old Guards (Imperial Guards). The legend also says that he was killed at Waterloo.
We were slightly confused to learn of his transfer in exactly the same rank to the Guards from the army. As it is known, the rank in Guards corresponded to army rank of one step higher, i.e. upon this transfer, the sitter was supposed to receive a rank of "marechal des logis" (and not "marechal des logis-chef!). Hence, he was obviously "awarded" with transfer to Guards in the same rank. His 7th Chasseurs uniform looks for 1811/12. And in 1812 Grenadiers a Pied de la Garde Imperiale participated in the Russian campaign (although not participating in the battles of this campaign; after Borodino, during the great fire of occupied Moscow they were used to police the city).
In this portrait, Sibien wears his old regimentals of the 7th Chasseurs á Cheval, already without the epaulettes (or straps) and shoulder-belt (in absence of it, he fastened his old "epinglette" (musket's drift formed as the 1st-Empire eagle) directly onto his dress prescribed for this unit. It means that just in these few days, in awaiting to new uniform he visited a painter of miniatures - obviously he (beeing informed of the just beginning expedition, in which the Grenadiers á Cheval were to take part (Russian campaign of 1812!)), wanted to present his portrait to people close to him, so that they could have a memory of him if he were to be killed in battle.
Sibien's 7th Chasseurs' regimentals is that which, as said above, was worn in 1811-1812. Hence, it would be only logical to reduce the date of this portrait's execution to the period of May-June of 1812, i.e. just before the Grenadiers a Pied of the Old Guards (Imperial Guards) left France.

From one of specialists in Napoleonica we received information that the name Sibien is not present in lists of sub-officers and officers of the Guards for year 1814, what means sometime in late 1812 or in 1813 Sibien was trasfered from Guards to army (already in rank of sous-lieutenant) and with this next for him unit was at Waterloo. Napoleonic sources offer a certain "Pierre Sibien", who was wounded (not killed!) at Waterloo. But latter's military logbook says he never was in cavalry...

This very good quality miniature was made in the technique used by famous French miniaturist of the Napoleonic Epoch, Jean-Baptiste Isabey and, respectively, by his pupils: watercolor on paper laid on thin oval tin plaque, which in its turn was again laid on paper. Hence, with great likelihood, it is a work of one of Isabey's pupils.
Jean-Baptiste Isabey (1767 Nancy - 1855 Paris) was the most famous of all European portrait miniature painters of the turn of the 19th century. In 1785 he went to Paris to study under David, but the great master had just left for Rome. At first in a tight financial situation, Isabey finally was ordered to paint miniatures of the children of King's brother, Count D'Artois. By means of this commission he came to court, met the Queen Marie-Antoinette and obtained an apartment in Versailles. In 1786 David returned from Rome, accepted Isabey as pupil without payment and favoured him in every way. At the time of the Revolution the artist already acquired significant clientele in Paris. He portrayed most of the Convention members, became one of the intimates of Mme Bonaparte's house. Isabey was a drawing master of Hortense and Eugene de Beauharnais; he controlled the ceremony of Napoleon's coronation and organized festivities for the Empire.
In 1806 Isabey was appointed "Peintre dessinateur du cabinet de S.M. l'Empereur, des ceremonies et des relations exterieurs", and in the following year - "Premier peintre de la Chambre de l'Imperatrice". From 1809 Isabey had a studio in the porcelain factory in Sevres. When in 1810, Napoleon married Marie-Louise, Isabey became drawing master to the latter. In 1812 he went to Vienna to do the portraits of the Imperial Family. He returned there again in 1814 to paint the Congress of Vienna on the order of Talleyrand. He returned to Paris in 1815. With the beginning of Restoration he went to London. On his return in 1820 Louis XVIII appointed him miniature painter and "inspecteur dessinateur, ordonnateur des fetes et spectacles". Charles X gave him the title of royal draughtsman and painter and appointed him officer of the Legion d'honneur in 1825. In 1837 Louis-Philippe appointed him Assistant Keeper of the Royal Museums and gave him an apartment at Versailles. He also had the favours of Napoleon III from whom he obtained a pension of Frs. 6000.
Provenance:
1.) Bernard Franck Collection (Paris, late 19th century)
2.) antique trade, Nice, South France
Condition: good; in original frame
Creation Year: 1812
Measurements: UNFRAMED:12,0x9,5cm/4,7x3,7in FRAMED: 18,9x15,1cm/7,4x5,9in
Object Type: Framed miniature
Style: Portrait Miniatures
Technique: watercolor and gum arabic on paper, laid by artist on tin plaque and again laid on paper
Inscription: verso: old legend
Creator: Jean-Baptiste Isabey
To see other works by this artist click on the name above!
Creator Dates: 1767 Nancy-1855 Paris
Nationality: French
We will cover shipping with regular registered mail (delivery between 7-14 days) for this item.

OBS: Austrian mail refunds cases of loss or damage with maximum EUR 500.


Fully insured 2-3 days DHL service available upon request and subject to extra charges: office@wilnitsky.net
Click here for images free of watermark!
Click on images or on

to see larger pictures!