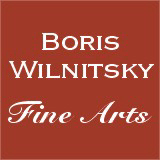 SALE!!! SAVE MONEY !! 1 EUR = 1 USD
# 34910
Domenico Bossi (1765-1853) "Francois Duval, Court Jeweler in St. Petersburg" important miniature, 1806
7500 EUR
FINAL DISCOUNT PRICE= 7500 USD
( for EUR price see date rate )
Please note: Shipping and insurance costs are not included in this promotion, ONLY ITEM PRICES!
(please note additional 13% tax applies for transactions concluded within the European Union)
THE SELLER WILL COVER SHIPPING WITH REGULAR MAIL FOR THIS ITEM!

Acquired on June 19th 2011 at auction house "Versailles Encheres", Versailles/France, this relatively large miniature portrait, still bearing on its back cover inscription "Andre /Duval /dit /de Morillon" turned out to be Domenico Bossi's own, somewhat larger (12 x 10.2cm versus 11.3 x 8.5cm) replica of his miniature portrait of François-Jean-André Duval, famous Russian court jeweler and art collector. The smaller version (signed and dated 1806) is housed in private Swiss collection - it was described and illustrated in the book "100 Ans de Miniatures Suisses /1780-1880" (Geneva 1999; see our image nr.8):

Duval François: born on 13.3. 1776 St. Petersburg, died on 16.12.1854 in Geneva; son of Louis David Duval, court jeweler and Louise Dumont. Nephew of Etienne Dumont. Married to Ninette Toepffer, daughter of Wolfgang-Adam Toepffer. Collector and patron of artists, jeweler, Swiss Consul in St. Petersburg, amateur painter. He followed his elder brother Jacob-David Duval as chief of court jewelry workshop. In Russia and during his trips through Europe he amassed an important collection of paintings that he brought to Geneva in 1816. He sold this collection in 1845.
Duval was the President of Geneva Art Society. He owned several properties, a. o. estate Morillon, on part of which he later presented to Voelkerbund (Union of Nations - international organization with legal seat in Geneva - B.W.).
Besides these brief facts (Swiss biographical dictionary; see our image nr.11) we found on the Web the following information:
His full name was François-Jean-André Duval. He was the youngest son of Swiss jeweler Louis-David Duval who in 1753 came from London (his elder brothers were King's jewelers there) to Russia. Initially he settled in Moscow, where his first son Jacob David Duval (died 1844 in Geneva) was born in 1768. Sometime later he moved to St. Petersburg, where he then became court jeweler of Grand Duke Paul. Together with famous Jeremie Posier he became the most sought-after jeweler of Russia. Today, his works belong to collections of Moscow Diamond Fund and St. Petersburg Hermitage.
Duval-father died in St. Petersburg in 1788. His sons Jacob David and François-Jean-André (some modern Russian sources call the latter Jean Duval) took over the management of family workshop, yet also remained at the service of Grand Duke Paul (and from 1795 Tsar) as his court jewelers. Some of their still existing works are: small Imperial crown, made by the brothers in 1801 for the Coronation of Tsar Alexander I (see image nr.9), several jewels made for (all) Paul's daughters, diamond diadem made for his wife (or rather his widow, for it was made after the death of Tsar Paul I in 1801) Maria Fedorovna (see image nr.10).
In 1803, the elder brother Jacob-David left Russia. Hence, 27-year-old François remained the sole proprietor of jewelry workshop in service of widowed Empress Maria Fedorovna. He remained in St. Petersburg until 1816, and until then was also the Honorary Consul of Switzerland.
He arrived in the same (1816) year to Switzerland and acquired several properties, a.o. estate Morillon in Bern. From 1819 onwards he accommodated there (in gardener's house) the family of famous Swiss painter Wolfgang-Adam Toepffer (1766-1847) who in turn gave him painting lessons, and whose daughter Ninette he married in 1821.
In 1816, on the way from St. Petersburg to Switzerland, François Duval found himself in a company of an interesting fellow-traveler. He was none other than celebrated Russian portraitist Orest Kiprensky (1782-1836). The latter, before proceeding further to Rome, made a 3-month-long sojourn in Geneva as guest of Duval's family (see our images nr.12-15). During this period he made a few portraits (some in oils and some in charcoal) of both brothers Duval. Today, one of them showing 40-year-old François Duval is housed in Collection of A. and R. Duval in Geneva.

As mentioned above, our miniature is author's own replica by well-known Italian-born itinerant (he worked consecutively in Berlin, Hamburg, Stockholm, St. Petersburg, Paris, Vienna, Munich) miniaturist Domenico Bossi. Both replicas were made in 1806 (the smaller one - currently in a Swiss private collection - is signed and dated 1806), when François Duval was 30 years old. In recently published monograph by Bernardo Falconi and Bernd Pappe (2012, Verona) Mme Elizaveta Abramova, author of included into this book essay "Domenico Bossi portraitist to the Russian aristocracy" says, both men - Domenico Bossi and Francois Duval - were close friends. Bossi was a regular guest in Duval's house, jeweller sponsored the artist, introduced him into St.Petersburg high society and even into the Court (as known Bossi repeatedly portrayed Alexander I, latter's mother, Empress Maria Fedorovna, sister, Grand Duchess Maria Pavlovna, brother, Grand Duke Michail Pavlovich).
Domenico (Gian Domenico or Giovanni Domenico) Bossi was, according to the latest information, born in 1767 (and not in 1765, as it was previously believed) in Triest and died in 1853 in Munich.
In the 1780's, Bossi attended the Academy of Venice. Later, in 1794-96, he was active in Hamburg, and - in 1796-1802 - in Stockholm (in 1799 Bossi became a member of the Swedish Academy and a Court Portrait Miniature Painter). The following ten years between 1802-1812 he spent (apart from short breaks) in St. Petersburg; 1812-1813/14 - in Paris, and from 1814/15 ? - in Vienna, where in 1818 the artist became a member of the Vienna Academy, and where he exhibited in the years 1816, 1822, 1824, and 1826. At last, from 1840, Bossi settled in Munich.
Domenico Bossi belongs to the best miniaturists of his time. He worked in the late Neoclassical style and produced a large number of miniatures with portraits of European royalties and members of high aristocracy.
Two of his portrait miniatures - one of Tsar Alexander I (1807) and one of M.A. Naryshkina (1808) - are on display in the St. Petersburger Hermitage. The Rijksmuseum in Amsterdam houses another portrait of Alexander I by Bossi. Similarly, various others of his works belong to museum collections in St. Petersburg (Russian Museum), Berlin, Stockholm, Vienna, etc.
See also our images nr.16-20 for additional biographical information concerning Domenico Bossi and his other works.

Literature:
1. "100 Ans de Miniatures Suisses /1780-1880", Geneva 1999
2. Krayevskiy Aleksey "Diadems of Russian Empresses /European fashion of XVIII-beg. of XIX c. and national traditions", Jeweler art and material art. Theses of reports; State Hermitage, St.Petersburg, 2010, p. 38-42
3. Bernardo Falconi, Bernd Pappe "Domenico Bossi /1767-1853 /Da Venezia al Nord Europa /La carriera di un maestro del ritratto in miniatura", Verona, 2012, p. 223-224

mijul07ap11
Condition: good
Creation Year: 1806
Measurements: UNFRAMED:12,0x10,2cm/4,7x4,0in FRAMED: 18,7x16,5cm/7,4x6,5in
Object Type: Framed miniature
Style: Portrait Miniatures
Technique: charcoal and watercolor on paper (oval)
Inscription: -
Creator: Domenico Bossi
To see other works by this artist click on the name above!
Creator Dates: 1767 Triest-1853 Munich
Nationality: Italian
We will cover shipping with regular registered mail (delivery between 7-14 days) for this item.

OBS: Austrian mail refunds cases of loss or damage with maximum EUR 500.


Fully insured 2-3 days DHL service available upon request and subject to extra charges: office@wilnitsky.net
Click here for images free of watermark!
Click on images or on

to see larger pictures!