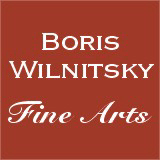 If you have a question about this item,
please contact us at: office@wilnitsky.net
# 33796
"Tableau with 8 miniature portraits of North-European royalties", oil/copper, 17/18th century
Price: ON REQUEST
(please note additional 13% tax applies for transactions concluded within the European Union)
Extremely important and outstandingly qualitative collection of eight oil on copper miniature portraits of North-European royalties standing in connection to the House of Wittelsbach (German dynasty from Bavaria; see our images nr.39-42).

The names of the sitters are:

*Upper row (from left to right):

1. Wilhelm Heinrich (William II), Prince of Orange (1626-1650; for his extensive biography, as well as some other known portraits of him, see our images nr.43-45). It is probably a work of Gerard ter Borch the Younger (1617-1681).
2. James, Duke of York, from 1685 King James II of England and Irland (1633-1701; CLICK HERE FOR HIS BIOGRAPHY IN WIKIPEDIA)
3. Anton I, Count of Oldenburg (1505-1573; image nr.46 provides his biography from a German source)

*Lower row (from left to right):

4. Kurfuerst Friedrich IV von der Pfalz (Frederick IV, Elector Palatine of the Rhein; 1574-1610). For his extensive biography, as well as some other known portraits of him, see our images nr.47-53).
5. Currently still unknown to us royalty.
6. Clearly dated 1641 and currently still unknown to us royalty (likely from the House of Orange-Nassau).
7. Princess Dorothea of Anhalt-Dessau (nee Princess of Pfalz-Simmern; 1581-1631). Our image nr.54 offers her extensive biography from Wikipedia.
8. Princess Luise Juliana, Electorina Palatine of the Rhine (nee Princess of Orange-Nassau; 1576-1644). For her extensive biography, as well as some other known portraits of her, see our images nr.55-56.

All eight portraits are without exception works of 1st-class Dutch or German portrait painters (all certainly court artists) working either in Germany, in the Netherlands or in England.

Provenance: highly aristocratic Bavarian property

We are very grateful to Mr. Anton Gaev (Moscow) who recognized James, Duke of York on the portrait no.2 in the upper row

minov1010
*Sizes range from 3,6x3,2cm/1,4x1,3in to 9,4x7,2cm/3,7x2,8in.
*Size of the framed tableau: 29,6x36,4cm/11,7x14,3in.
Condition: good
Creation Year: 17th/18th Century
Measurements:UNFRAMED:0,0x0,0cm/0,0x0,0in
Object Type:Framed tableau
Style: Portrait miniatures
Technique: each: oil on copper
Inscription:one is dated 1641
Creator:
Creator Dates: -
Nationality:
SHIPPING COSTS UPON REQUEST:
office@wilnitsky.net
Click here for images free of watermark!
Click on images or on

to see larger pictures!