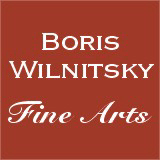 If you have a question about this item,
please contact us at: office@wilnitsky.net
# 33065
E. Martin (1790-1876) "Decembrist Kakhovsky", extremely important Russian miniature!!!!!
Price: ON REQUEST
(please note additional 13% tax applies for transactions concluded within the European Union)
THE SELLER WILL COVER SHIPPING WITH REGULAR MAIL FOR THIS ITEM!

Truly, a sensation!

Discovered in a small American auction house, this miniature (with portrait of a young man dressed according to fashion of the 1820s) turned out to be an extremely rare miniature portrait (until today, there was known only one (!) other miniature by anonymous artist - see our image nr.8) of one of the five masterminds behind the famous Russian Revolt of December 14th 1825 (see our image nr.9), all hanged in 1826 in St. Petersburg. His name is Pyotr Grigoryevich Kakhovsky (1797-1826).
A retired poruchik (lieutenant), he became an active member of Decembrist North Society and founder of the Decembrist section in Leib-Guards Grenadier Regiment. On the 14th of December 1825, at the Senat Square, he killed a popular hero of Napoleonic Wars, General Miloradovich and the commander of Leib-Guards Grenadier Regiment, Colonel Sturler. Kakhovsky was arrested on the next day. He was at first sentenced to quartering, but later this ruling was replaced by hanging (see our images nr.10-15 with extensive biographical materials).
The author, French miniaturist E. Martin (1790-1876; see our last additional image) came to St. Petersburg in the 1820s and stayed there for 20 years working as portraitist of the high society (some of his works of this period can be seen in various museums in Russia). He always (without exception!) signed with the work's number following his name (we are sure this numbering is not chronological - some of the sitters with lower numbers are dressed and coiffed according to fashion which existed much later than that of sitters with higher numbers. In reality (as we suppose) this numbering was a code which the artist used to distinguish between different groups of sitters and honorariums etc - for example the first figure was the number of a group (men, women, military officers, civilians, children etc.; the next two figures were also a code for something (honorarium, time of execution etc.)). In June 1991 the artist's estate was sold in one of the French provincial auction houses including an accounts book containing 557 numbers with the names of the sitters (!) sometimes with a very personal note. Unfortunately the whereabouts of this book are unknown today....
Provenance: Neal Auction Company, May 23rd 2010, lot 725

mijun28ap10
Condition: very good
Creation Year: ca 1825
Measurements:UNFRAMED:6,4x5,1cm/2,5x2,0in FRAMED: 7,5x5,6cm/3,0x2,2in
Object Type:Framed miniature
Style: Portrait Miniatures
Technique: watercolor on ivory
Inscription:signed and numbered: E.Martin 152
Creator: E. Martin
Creator Dates: 1790-1876
Nationality:French
SHIPPING COSTS UPON REQUEST:
office@wilnitsky.net
Click here for images free of watermark!
Click on images or on

to see larger pictures!