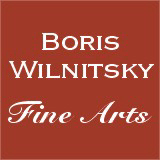 SALE!!! SAVE MONEY !! 1 EUR = 1 USD
# 33064
Friedrich Fleischmann (1791-1834) "Russian General A. F. Langeron", outstanding gouache!!, 1815
ON REQUEST
( for EUR price see date rate )
Please note: Shipping and insurance costs are not included in this promotion, ONLY ITEM PRICES!
(please note additional 13% tax applies for transactions concluded within the European Union)
Outstanding and extremely important portrait of one of the key Russian generals of the Russo-French ("Patriotic") War of 1812 and the ensuing anti-Napoleonic "Liberation" Wars of 1813-1815, French-born Alexander Fedorovich, Count Langeron (birth name: Louis-Alexandre Andrault Comte de Langeron).
This small, yet exclusively fine gouache portrait is one of the pair that was made in June of 1815 at Rhein (Germany) by German artist Friedrich Fleischmann. In his biography (see our image nr.21), we find a mention of a journey that he undertook in 1814 (late 1814?) together with his friend and employer, Nuremberg art dealer Friedrich Campe. At first, this voyage brought them to Rhein region (according to Thieme-Becker, in order "to portray well-known generals" - sic!); then - to the Netherlands and London.
Furthermore, Thieme-Becker mentions Fleischmann's 1815 portrait (belonging to collection of the Hofbibliothek in Bamberg) of Russian general, commander-in-chief of the 225.000 Russian troops rapidly advancing to aid the allies in June 1815. However, by the 18th of June (Battle at Waterloo), the latter were only able to reach Rhine and, for this reason (Napoleon was permanently defeated!), no more took part in the war. The 4th and 6th Corps under command of our General Langeron were also among these Russian Army's troops.

And now - an important notice:
We found two (!) etchings (edited by Campe in Nuremberg) after Friedrich Fleischmann's portraits in "Dictionary of Russian engraved portraits" by D. A. Rovinsky. One of them was made after portrait of Field-Marshal Barclay de Tolly, with inscription "gemalt in Iun˙ 1815" (painted in June 1815); another - after our (!!!) portrait (see images nr.22-23).

The artist depicted General Langeron standing at his last battlefield in Napoleonic Wars - the battlefield of Paris (30/31 March 1814; see also our image nr.24)).

Louis-Alexandre Andrault, chevalier comte de Langeron, marguis de la Coss, baron de Cougny, de la Ferte Langeron et de Sassy (in Russia - Alexander Fedorovich Langeron) was born on January 24th 1763 in Paris as offspring of a noble French family (once again, see all his titles listed above). At the age of 15 he entered the French Army and served at Santo Domingo in 1782-1783. In 1786, Langeron was promoted to lieutenant-colonel of the Médoc Regiment and, in 1788, became colonel of the Armagnac Regiment.
A royalist, Langeron left France at the beginning of the French Revolution and entered Russian service in 1790 as colonel of the Siberian Grenadier Regiment. He distinguished himself in battle against Sweden and, then, in the Russo-Turkish War (1787-1792). Accompanied by duc de Fronsac and prince Charles de Ligne (son of famous Austrian diplomat Charles Joseph, Prince de Ligne), he partook in Alexander Suvorov's capture of Izmail and was wounded there.
Langeron was issued a leave of absence, in order to serve in émigré army against France (army of Princes, brothers of Louis XVI). After his return to Russia, he was sent to the Austrian Army in the Netherlands as an observer. Promoted to brigade command in 1796, he became a major-general in 1797 and lieutenant-general in 1798.
He commanded the 2nd column of the Austro-Russian Army in the battle of Austerlitz. Disgraced after this lost battle, he was sent to Odessa at the Black Sea.
From 1806 to 1811 Langeron participated in the Russo-Turkish war (1806-1812) and served in the Army of Moldavia against the Otttomans. He fought at Giurgiu, Silistra, Fraskin, Derekoy and Ruse, for which he was promoted to General of Infantry. In 1812, Langeron was given command of a corps in the Army of Danube with which he fought at Brest-Litovsk and on the Berezina. In 1813, he was put in charge of the blockade of Thorn and, later this year, went on to command a corps at Koenigswarte, Bautzen, Siebeneichen, Loewenberg, Katzbach, and Leipzig. In the next year he participated in the French Campaign, during which he fought in the battles of Soissons, Craonne, Laon, Rheims, La Fére-Champenoise, and Paris. In the late 1814, Langeron was given command of the 4th and 6th Corps in Volhynia.
During the Hundred Days, he and his troops were on the way to France, but had only reached middle of Germany by the time of Napoleon's defeat at Waterloo.
After the Napoleonic Wars, Langeron was appointed the Military Governor of Kherson and Odessa, the commander-in-chief of the Bug and Black Sea Cossacks, and the Governor of Yekaterinoslav, Kherson, and Crimea.
In 1823, Langeron was relieved of these duties because of poor health and left for France until 1825. After the Decembrist revolt in St. Petersburg, Langeron was appointed a member of the sentencing panel. Called back to arms at the onset of Russo-Turkish War (1828-1829), he fought against the Turks in a number of battles, until he was replaced by Hans Karl von Diebitsch.
Langeron died during the cholera epidemic in Odessa, on the 4th of July 1831. He was buried at the cemetery of Odessa Catholic Uspensky Cathedral.
Our images nr.12-20 offer extensive biographical information about this famous soldier.
The author of this portrait - German artist Friedrich Fleischmann - was born in 1791 in Nuremberg and died in 1834 in Munich (where he settled after coming from Nuremberg in 1831).
He studied at the Nuremberg Preissler's School; was also a pupil of A. Gabler. His main specialties were drawings of contemporary and historical scenes, battles of that time, portraits of important individuals (for example, members of the Royal Bavarian family, warlords, high-ranking officials, actors, etc.). From 1808 he worked closely with the Nuremberg Art Publishing House Campe. In 1814, together with Friedrich Campe, he had gone on a long journey (see above).
His graphic oeuvre counts ca. 2000 sheets. Furthermore, Fleischmann painted with oils, pastel and watercolour, and was also a miniaturist.
P.S. It is also interesting to mention General Langeron's good acquaintance with the famous Russian poet Alexander Sergeevich Pushkin (see our image nr.20).

Provenance:
1.) highly noble estate, Germany
2.) "Duesseldorfer Auction House", June 12th 2010, lot 155 (as portrait of unknown, reachly decorated military officer).

mijun28ap10
Condition: good; paper is somewhat "wavy"; in magnificent original Empire frame
Creation Year:
Measurements: UNFRAMED:26,7x21,2cm/10,5x8,3in FRAMED: 40,2x35,1cm/15,8x13,8in
Object Type: Framed miniature
Style: Portrait Miniatures
Technique: gouache on paper, laid on panel
Inscription: signed and dated: Fr: Fleischmann pinx. Ao 1815
Creator: Friedrich Fleischmann
To see other works by this artist click on the name above!
Creator Dates: 1791 Nuremberg-1834 Munich
Nationality: German
SHIPPING COSTS UPON REQUEST:
office@wilnitsky.net
Click here for images free of watermark!
Click on images or on

to see larger pictures!