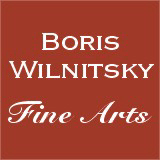 SALE!!! SAVE MONEY !! 1 EUR = 1 USD
# 29483
Joh. Bapt. Lampi (Father? Son?) "Mozart's "Signora Dini mini niri"", important oil miniature!!, 1804
25000 EUR - 25% DISCOUNT = 18750,00 EUR
FINAL DISCOUNT PRICE= 18750,00 USD
( for EUR price see date rate )
Please note: Shipping and insurance costs are not included in this promotion, ONLY ITEM PRICES!
(please note additional 13% tax applies for transactions concluded within the European Union)
Truly a sensation for lovers of classical music!
By chance we were able to acquire what is likely the only known portrait of Wolfgang Amadeus Mozart's best female pupil. The painting's previous owner (private German collector), as well as experts of the "Van Ham" Auction House in Cologne (where we purchased this small painting on November 16th, 2007, Lot 891; see our first additional image), all regarded it as portrait of certain Franziska von Sagusius (all have interpreted her name from the old authentic legend on verso as "Sagusius" instead of "Lagusius").
In actuality, the correct inscription reads: "Franziska von Lagusius, geborene (nee) Freiin (Baroness) von Jacquin, geboren (born) am 9ten October 1769, gemahlt (painted) 1804, gestorben (died) am 12ten August 1850". Hence, we are dealing here with portrait of a 35-year-old married noblewoman, painted (judging by its style) by one of the Viennese neoclassical portraitists.
But let us travel back in time to the days of the sitter's youth. In 1783-1788 Wolfgang Amadeus Mozart was a frequent guest in the house of renowned Viennese botanist and music aficionado, Baron Nicolaus Joseph von Jacquin (1727 Leyden - 1817 Vienna). The latter and Mozart often gave house concerts together (Baron played the flute), with Baron's children partaking in them. They were: Mozart's best friend at that time, Gottfried von Jacquin (Mozart nicknamed him "Hikkiti Horky") who also composed several songs of his own, as well as some chamber music pieces; his brother Joseph Franz (later succeeded his father as professor of botany); and finally, their young sister Franziska (sic!). The latter was Mozart's best pupil of that time: he gave her piano lessons and was particularly content about her progress. In letter to her brother Gottfried (of January 15th 1787) he expresses abundance of warmth for this girl and praises her diligence: "…denn ich muss bekennen, daß ich noch nie eine Schülerin gehabt, welche so fleißig und so viel Eifer gezeigt hätte, wie eben sie, und in der Tat ich freue mich recht sehr wieder darauf, ihr nach meiner geringen Fahigkeit weiten Unterricht zu geben" (English: "...I must admit that I have never taught such hard-working and diligent student as she is... and, indeed, I am thrilled and looking forward to provide my humble skills for her further training").
Overall, Mozart dedicated a whole collection of works for the household music-making of the Jacquin family, namely:
1) Six vocal ensembles K. 439, 438, 436, 437, 346/439a, 549 and the "Bandel" trio K. 441 were written between 1783 and 1788 during the intimate friendship of the Mozarts and the Jacquins in Vienna. This might be the reason why none of these works were published in Mozart's life time and why copies of these works were not known outside the circle of friends connected with Gottfried.
2) The piano trio K. 498 and the four-hand piano sonata K. 497 have been written for Francisca as pianist in August 1786. The trio was surely played in Jacquin's house.
3) The flute quartet K. 298 was written around the last quarter of the year 1786 (or perhaps somewhat later). A theme with variations in the first movement, similar to Franz Anton Hoffmeister's song "An die Natur", could have been suggested by Gottfried.
4) The aria K. 513 was written on 23 March 1787 as the friendly gift for Gottfried, who possessed a well-trained bass voice.
5) The double-canon K. 228/515b with Mozart's English compliment, "Vienna the 24 April 1787 / don't never forget your true and faithfully - WAM" was found in the album (1787) of Joseph Franz von Jacquin.
6) The song K. 520 was written on 26 May 1787 in the Vienna Landstrasse, in Gottfried's room, and the song K. 530, also for Gottfried, on 6 November 1787 in Prague. Both were published under Gottfried's name, probably with Mozart's permission, on 26 March 1791.
7) The four-hand piano sonata K. 521 was written on 29 May 1787.
8) The aria K. 621a was possibly composed for Gottfried in 1787 (or 1791?) in Prague, if in fact it is the same aria described in Mozart's letters of 15 October and 4 November 1787 to Gottfried from Prague. Constanze Mozart, by the way, attributed the work to Gottfried, not to Mozart.
(From Hideo Noguchi's "Mozart - Musical Game in DK. 516 f").
The mentioned under No. 2 and dedicated to Franziska "Piano trio K. 498" also bears an informal name of "Kegelstatt-Trio", because Mozart was, legend has it, bowling while composing. The trio, as mentioned above, was played in August 1786 in Jacquin's house with Mozart (on violin), Anton Stadler (on clarinet), and Franziska (on piano). On the day as No. 7 of this list (K 521 - Sonata in C-major for piano 4-hands" was completed Mozart wrote to Gottfried von Jacquin: "Please be so good as to give the Sonata to your sister with my compliments and tell her to tackle it at once, for it is rather difficult". Just like for her brother, Mozart invented a nickname for Franziska as well - he called her "Signora Dini mini niri" (which sounds typically "Mozart-like"!!!).
In April 1792, Franziska married Leopold Hasenoehrl von Lagusius, an Austrian government official. She died in Vienna (as the portrait inscription reads) on August 12th, 1850 (not 1853 as provided by various sources). We were unable to compile in such brief period any additional details about Franziska's later years. Similarly, we could not locate a single other portrait of her - a fact that places our portrait among the most important objects of Mozartiana!

And now few words about the possible author of this charming painting. The extensive research and comparisons with other works of Viennese artists of this period (i.e. around 1804) brought us to the famous artist family Lampi, namely to father, Johann Baptist Lampi the Elder and his elder son, Johann Baptist Lampi the Younger. Both father and son (and pupil!) worked in the same style, and it is very difficult to differentiate their works. Stylistic criteria of both artists correspond with that of our portrait entirely (see our additional images with comparisons). Moreover, among the works of Lampi-father, painted during his second stay in Vienna (after return from Russia; see his biography below), we find a portrait of Franziska's father, Nicolaus Joseph von Jacquin! (oil on canvas, 70x65 cm, now on display at the University of Vienna; see additional image). Whether Lampi the Elder himself portrayed other members of Jacquin family or his son (in 1804 he returned from Russia to Vienna) took over this task - remains an open question for us…

Johann Baptist Lampi the Elder (1751, Romeno, South Tirol - 1830, Vienna) began his studies in Salzburg. After a short period working in his native South Tirol, he went then to Italy, where he worked with the Lorenzi Brothers in Verona, joining the Veronese Academy in 1773. He travelled throughout Italy painting commissioned religious works and portraits for the members of the high aristocracy. Back in Austria in the early 80's he found access to the higher circles of society through noble protecteurs. He painted several portraits of emperor Josef II, having joined the Academy of Arts in 1785, where he became Professor for historical painting. Attending an invitation to St. Petersburg he went to Russia to work as court painter, after a period of four years in Poland. Back in Vienna he was dubbed knight in 1798.
Johann Baptist von Lampi the Younger (1775 Trento - 1837 Vienna) was the son of the famous Italo-Austrian portrait painter Johann Baptist Lampi the Elder. In 1783 he came with his father to Vienna, where he studied at the Academy under Fueger and Maurer from 1786. In 1794 he left the Academy to continue his education under his father. In 1795 Lampi the Younger followed his father to St.Petersburg, where, in the same year, he was appointed to Agrée ("naznachenny") of St. Petersburg Imperial Academy of Fine Arts for a copy after the portrait of A.I. Samoylov and, in 1797, to Academician (full member of the Academy) for a portrait of historical painter I.A. Akimov. In September 1804, together with his wife and daughter, Lampi the Younger left St. Petersburg and returned to Vienna. Since that time he (and his family) lived with his father and, like the latter, established himself as a very popular portraitist of the noble society. In 1813, he became a member of the Viennese Academy and, later, also an Honorary Citizen of the City of Vienna.
Portraits by Johann Baptist von Lampi the Younger are often difficult to distinguish from those of his father.
mijanap08
Condition: good
Creation Year: 1804
Measurements: UNFRAMED:22,0x16,5cm/8,7x6,5in FRAMED: 26,3x21,3cm/10,4x8,4in
Object Type: Framed oil painting
Style: Old Master paintings
Technique: oil on tin (oval)
Inscription: verso: old legend with date of making '1804'
Creator: Johann Baptist von Lampi the Younger
To see other works by this artist click on the name above!
Creator Dates: 1775 Trento-1837 Vienna
Nationality: Austrian
SHIPPING COSTS UPON REQUEST:
office@wilnitsky.net
Click here for images free of watermark!
Click on images or on

to see larger pictures!