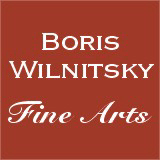 SALE!!! SAVE MONEY !! 1 EUR = 1 USD
# 29336
Alexander Molinari (1772-1831) "Portrait of Sergei Glinka", very important PUSHKINIANA!!, 1813
ON REQUEST
( for EUR price see date rate )
Please note: Shipping and insurance costs are not included in this promotion, ONLY ITEM PRICES!
(please note additional 13% tax applies for transactions concluded within the European Union)
According to the family legend of its previous owner, it was supposed to be a portrait of the Polish aristocrat and statesman, Prince Adam Jerzy Czartoryski (1770-1861). However, judging from all of his other known portraits, he looks entirely different. Moreover, in 1813 he was 43, which to some degree contradicts the younger age of the depicted man. Furthermore, the sitter is too modestly dressed (more likely he appears to be an artist or a poet) for a high aristocrat who was a close friend of Tsar Alexander I and who from 1804 for nearly 20 years served as the Minister of Foreign Affairs. Additionally, in 1813 Prince Czartoryski lived in Vienna and Warsaw, and could in no way pose for the author of this portrait, for in 1813 the latter lived in Russia (see Molinari's biography below). Our research returned successful results: we were able to locate our sitter among the Russian Bohemians of the first quarter of the 19th century. In 1813 he was 38 years old, a writer and a poet. What is most important, his portrait bears strong resemblance to the well known one by V.P. Langer (see our image nr.12), where he is depicted in ca. 1820, i.e. 7 years later. His name is Sergei Nikolaevich Glinka.
Sergei Nikolaevich Glinka was born on July 5, 1775 (he refers to "1776" in his autobiography) in the village Sutoky, Smolensk Government into a family of "pomeshchik" (landlord) Nikolai Ilych Glinka. In 1781, the Empress Catherina II, while passing with her retinue through the village of Kholm (country estate of the Glinka family), expressed her good will to Glinka-senior by enlisting both of his sons (including Sergei) into the ground Szlachta Cadet Corps in St. Petersburg. And so, in one year, a six-year-old Sergei was sent off to this institution. He was a diligent student and began writing poetry at a young age. He graduated the Corps in January of 1795 in the rank of "poruchik" (lieutenant) and was appointed to serve in one of Moscow battalions. Very soon he became an aide-de-camp (adjutant) of Prince Yuri Vladimirovich Dolgoruki, Commander of the Moscow Troops. In this early ("military") period of his life Glinka made numerous acquaintances with Moscow actors and writers, and became deeply engaged in literature himself. Among other tasks, he made a lot of translations from French for one of Moscow theatres.
In 1800 Glinka retreated from the military service in the rank of a major and returned to his village. In 1802 he re-visited Moscow, yet soon left again to undertake a teaching position for a landlord's family in Ukraine. Upon his return to Moscow Glinka continues to work intensively as a translator and theatre scriptwriter.
In 1808 he began publishing "Russki Vestnik" ("Russian Herald") - the famous publicist magazine (in print until 1824).
The Great Patriotic War of 1812 marked Glinka's outmost popularity. For his propagandist anti-Napoleonic activity he was awarded the order of St. Vladimir of 4th degree by Alexander I. Moreover, as a government agent he was allocated with an extraordinary large budget of 300000 rubles for further propagandistic tasks. An exceedingly honest and selfless person, Glinka has touched none of this sum.
In 1827 Glinka was appointed Censor of the Moscow Censorial Committee and worked in this function until 1830. Thereafter, he left Moscow and moved at first to Smolensk, then to St. Petersburg.
In his last years of life Glinka became blind. He died on April 5, 1847, in St. Petersburg.
One should also mention that Glinka was a close acquaintance of the poet Alexander Sergeevich Pushkin (he dedicated several poems and articles to him). In 1831 he visited Pushkin and his wife in their Moscow apartment on Arbat. Similarly, Pushkin himself wrote admiringly of Glinka in his notes.
Alexander Molinari (or Molinary) was born in 1772 in Berlin and died in 1831 in Dresden. He studied at the Berlin Academy, participating (as a student) at the Berlin Academic Exhibition of 1787 at the age of 15. He then spent some time in Italy (predominantly in Rome). In 1795 he arrived to Vienna, yet was soon extradited by the Austrian police for being "an alien with no means of subsistence" (his second incident with the Austrian police took place in 1797, when he travelled to Teplic (now Cieplic, Czech Republic) for health treatment). In 1796-1797 the artist worked in Glogau, Silesia, in 1800-1806 in Weimar and in 1806-1816 (sic!) - in Russia. Until 1812 Molinari lived (as an art teacher) at Count Buturlin's estate Belkino (he taught the countess to paint portrait miniatures). After 1812 he settled in St. Petersburg, where he opened a pastry shop on Nevsky Prospect (boulevard) in the same year.
During his "Russian" period the artist mainly painted oil and watercolour portraits and miniatures on ivory. He made several portraits of Tsar Alexander I and many portraits of high aristocracy. In 1817 he went to Poland and lived in Warsaw (there he worked exclusively as portraitist) until 1822; then moved to Dresden where he remained one year. In 1823-26 he lived in Berlin, then again in Dresden. In 1829-30 he was back in Warsaw, and then moved to Dresden where he died on 20 January 1831.
Works of Alexander Molinari belong today to world's most esteemed museum collections: the National Museums of Warsaw and Krakow, Moscow Historical Museum, Moscow Tretyakov Gallery, Moscow Kremlin Museum, Russian Museum of St. Petersburg, Museum "Albertina" in Vienna, etc., etc.
Provenance: private collection, East England; Auction House Bonhams/Ipswich, "The Autumn Athenaeum Sale" September 12 2007, Lot 382 (see our image nr.11).

Our images nr.13-19 show several other Molinari's works that he executed in Russia.

minovap07
Condition: good; in splendid original empire frame
Creation Year: 1813
Measurements: UNFRAMED:29,0x25,5cm/11,4x10,0in FRAMED: 48,7x45,7cm/19,2x18,0in
Object Type: Framed miniature
Style: Portrait Miniatures
Technique: charcoal and red chalk on paper (drawn in oval)
Inscription: signed and dated: Alex.Molinari 1813.
Creator: Alexander Molinari
To see other works by this artist click on the name above!
Creator Dates: 1772 Berlin-1831 Dresden
Nationality: German / Russian / Polish
2-3 days door-to-door shipment, professionally packed by Mail Boxes Etc and shipped with DHL (calculated for US): 194,22 EUR + insurance 1,8% of item price
Shipping cost to other destinations (worldwide) on request
Shipping price may be reduced if you dispense with the frame


Cheaper alternative (may be further reduced if you dispense with the frame): professionally packed by Mail Boxes Etc and shipped with regular Austrian mail - upon request under office@wilnitsky.net (OBS: In this case maximal refunded insurance value is EUR 500 if shipping destination was the US. In Europe sometimes more, depending on destination.)
Click here for images free of watermark!
Click on images or on

to see larger pictures!